I wrote the first entry in this blog on April 16th, 2008.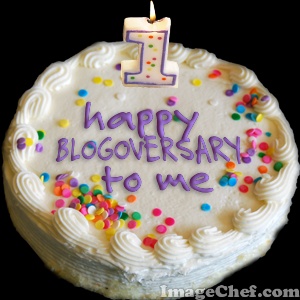 I spent most of April 16th, 2009, looking through my old posts, reflecting on what's happened this past year, and trying to think of something profound and clever to write about, but I just couldn't come up with anything!
What I did realize is that when I first started this blog, I meant for it to be a means to express my emotions and record my children's milestones… and for a while it was. Like what I wrote to my baby when she turned 9 months old.
But lately I feel like what I write has been lacking in substance. So many of my thoughts disappear somewhere between my head and my keyboard, and it's just so incredibly frustrating!
I think the culprit may be stress. We've been under major financial duress the past 8 months, and that has chipped away at my blogging mojo quite a bit.
But I'm happy to say that wonderful opportunities have come our way during the past month that will change what our future holds. So instead of looking back, I'd like to look forward and set some goals for myself, blog-wise.
Get more personal.
Post often.
Visit and comment on other blogs on a regular basis.
Write posts in advance.
Promote my new meme/blog carnival Sightseeing Sunday.
I've so enjoyed having a little corner of the Web to call my own, and am looking forward to many, many more blogoversaries to come.
Thanks for following me on this wonderful journey!