My girls aren't big juice drinkers. I don't usually keep much on hand, so they don't even ask for it. At home that is. When we go out to eat or to someone's house for a playdate – all bets are off. Those tiny 4oz juice boxes are prevalent at every kid-friendly get-together! I don't like them because Maya just sucks them down, and baby… well, she can't quiet hold the juice box right so she squeezes juice out all over the place.
When I was contacted about trying out First Juice, an organic fruit and vegetable juice beverage, I welcomed the idea, thinking it would be a great opportunity for them to try out something new that I wouldn't ordinarily buy.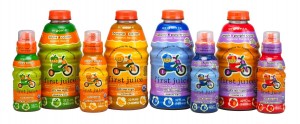 There are four varieties available:
–  apple + carrot
–  banana + carrot
–  blueberry + purple carrot
–  peach + purple carrot
Those last two flavors were just added to the lineup recently. I took a double take when I saw 'purple carrot' on the label – does such a thing even exist?! The answer is yes, and apparently they've been around even longer than our beloved orange carrots! Purple carrots have the same nutrients as the orange kind, but with the added benefit of a red-purple pigment called anthocyanin. It's the same antioxidant found in blueberries and grapes.
The fruits named on the bottles aren't the only thing found in these drinks – First Juice is a blend of purified water and many other fruits and vegetables. Looking at the labels of the bottles, the first thing I noticed is that every flavor is less than 50% juice, so no need to water it down like I usually do with my kids' beverages. This also means that it has 50% less sugar than most juices. Packed with nutrients, First Juice provides 60% of the daily value for vitamin C, 25% for vitamin A, and 10% for calcium and vitamin D. There is nothing artificial in these drinks – no added sugar, artificial sweeteners, preservatives, or high fructose corn syrup. In fact, First Juice is USDA Certified Organic!
I tasted the juice first, because I never give anything to my girls before trying it myself. My initial impression was that it isn't sweet at all. I honestly didn't think that they'd like it.
Boy, was I WRONG!
At least when it came to my toddler. She chugged that first bottle down like one of those little polar bears in the Coca-Cola commercials, and let out a delightful "Aaaaaah!" afterwards. In fact, there wasn't a single flavor that she didn't like.
My four-year old, on the other hand, is notoriously picky, and acted like Goldilocks when tasting the three bears' porridge – this one is NOT sweet (banana+carrot); this one has a weird color (peach+purple carrot); this one smells funny (blueberry+purple carrot); and this one is JUST right (apple+carrot)! Her opinions on food and drinks are usually not to be trusted since most of the time she judges before tasting, but I'd say that the apple+carrot juice is definitely my favorite as well, perhaps because it has a little extra zing of pear and pineapple. First Juice isn't sweet, which is how it was meant to be. It helps parents steer their children towards colorful fruits and veggies and introduce them to juice, while keeping them from cultivating a sweet tooth early on. Research indicates that children develop taste preferences by the age of 2, so it's important to develop healthy eating habits from the start.
First Juice is sold in 8 oz sippy-top bottles and 32 oz bottles. The sippy bottles are a-m-a-z-i-n-g! They're meant to be reused, refilled, and eventually recycled. BPA and phthalate-free, they can even be washed in the dishwasher. They don't leak at all, even when shaken or thrown on the floor, and the bottles fit perfectly in my todder's little hands. I'm not sure how First Juice does it, but other big-name sippy cup companies should take note. The 32 oz multi-serve bottles are meant to be used at home, and for refilling the sippys. The 8oz bottles are also sold in a 12 ct "Playgroup Pack" which is perfect for get-togethers and kid's birthday parties!
You know how I said I don't buy juice much? I'm not promising they'll be drinking First Juice everyday, but I'll definitely always try to keep some in stock when my girls need a little extra vitamin boost, or when their friends are over. Visit www.firstjuice.com to print a coupon and try First Juice. Your kids will love you for it!
First Juice is available at Whole Foods, Babies 'R Us, and Toys 'R Us stores nationwide, and online at www.diapers.com and www.firstjuice.com. An 8 oz bottle costs between $2-3 and a 32 oz bottle between $3-5, depending on the retailer.
P.S. Check out the fun games on the First Juice website! Matching and painting games, and coloring pages are available, as well as lots of info about purple carrots!
P.P.S Enter to win a delightful First Juice gift box! It's full of a variety of flavors for you and your kids to try. To enter, please visit First Juice, then come back here and leave a comment telling me something you learned – about purple carrots, for instance, or something else.
US entries only. This contest ends at 11:59 pm EST on March 21st, 2009. Winner will be chosen at random, and has 48 hours to claim their prize.