Last month I applied to be a brand ambassador for 4all, a golf, tennis and fitness apparel company that specializes in creating high quality performance apparel for women. To qualify, I wrote a post about the difference between inspiration and motivation. Go, read it. Now. It'll open in a new page so you can come back here when you're done.
Okay, so… I've lost an additional 4 pounds since I wrote that!
[Patting myself on the back]
AND
I made the team!
I was honestly surprised. After the application deadline passed, I Googled "Team 4all" and found a bunch of entries (20-30 maybe?), mostly from super-fit athlete types with fitness blogs. They wrote about how they had run marathons and stuff like that. Yeah, I didn't think I had a chance. When you're a blogger you develop a thick skin and get used to rejection. Still that doesn't make it any easier. But…
I made the team!
I'll be working with 4all throughout the year, sharing all the latest 4all news with you, including product reviews, sneak peeks at new apparel, and giveaways, discount codes, and fitness tips for YOU!
I've worked with great brands in the past, but I'm particularly excited about this project. I received my first package yesterday, after giving them my sizing information just last week. I'm kind of in between sizes, so I did a little measuring and gave my best estimate. 4all claims to make "garments which provide the perfect fit for all women" but I was still nervous…
What if the clothes didn't fit? I'd feel like a fool. So embarrassed!
I had absolutely nothing to worry about as everything fit me perfectly! Made of a blend of polyester and spandex Jo-Dry jersey, the fabric of these garments is breathable and has just enough stretch. The Knit Capri is SO comfortable, as is the V-Neck Tank, but my favorite, favorite, favorite piece is the Thumbs Up Jacket. It just looks really sleek, zips from the bottom and the top, and has a cool thumb-hole feature which will keep the sleeves in place and my hands covered a bit when I run!
Speaking of running, somehow the ladies at 4all guessed my favorite color combination – black and pink – and matched my running shoes perfectly! Maybe they read that far back in my blog, or it was just a lucky guess. Who knows!
Loving the color helps, but I find the fit of the clothes to be incredibly flattering as well. I never look at myself in a full-length mirror, but I'm liking what I see! It definitely gave me a boost of confidence.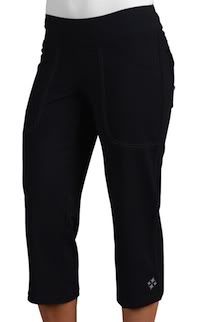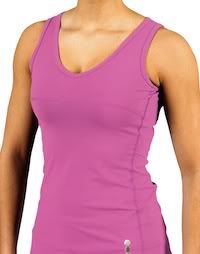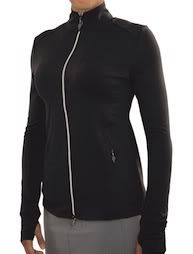 Also in the box was a new Flip cam!! It may sound silly, but I almost cried when I saw it. I lost my precious Flip just 10 days ago, backstage at New York Fashion Week, and was crushed! I called the Command Center there everyday for 5 days straight to see if it had come up. Nada. While the videos I lost are irreplaceable, I'm truly blessed to have a new camera. Plus, it's the newest version (and HD!) so it's even better than the one I had!
If you want to get to know the other 10 members of Team 4all, please visit their blogs, listed below, and find them on Twitter! They are an inspiring group! I'll update you with my progress again next Friday.
Disclosure: As part of my participation in the ongoing Team 4all program, I was provided with the apparel pictured above, but all opinions are my own. Photos of garments are from 4all website.