I forgot to weigh in yesterday morning before I went to IHOP for breakfast, so my 'Fitness Friday' post is just a tiny bit late this week! I'm down another pound. Was hoping for two, but slow and steady wins this race. I've lost 26 pounds in an 18-month period, after all. That's something to be proud of!
IHOP is just down the street, but we haven't been going there very often because their offerings are just not very healthy. I love the Swedish crepes. And Nutella crepes. If I ordered either of those, that would be over half of my daily calories in just one meal!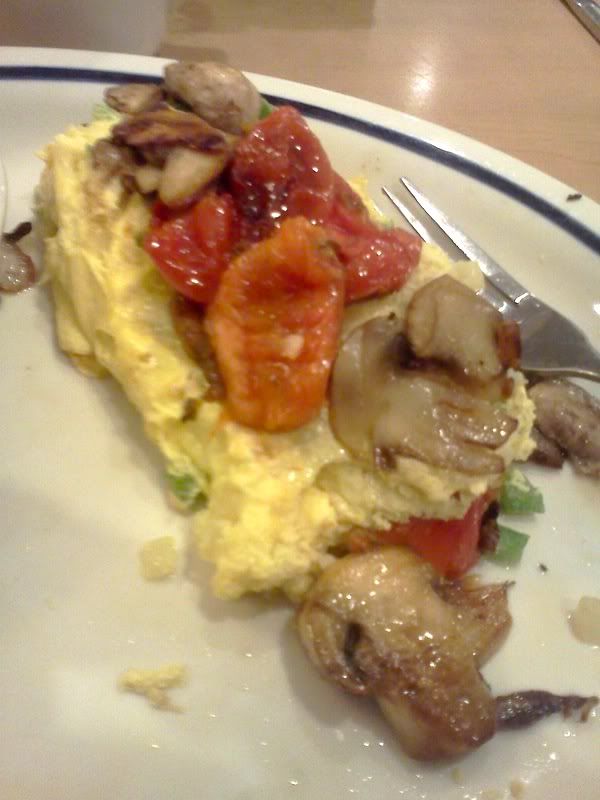 I downloaded the nutritional information for IHOP's entire menu yesterday morning and decided what I would order before leaving the house. The Simple & Fit Veggie Omelette. Served with a bowl of fruit, the omelette was quite good after I drizzled it with some hot sauce! LOL! Filled with tons of mushrooms, green peppers, onions, and oven-roasted tomatoes, I was satisfied enough after eating it that I took the fruit home for a mid-morning snack. At 320 calories (including the fruit), the veggie omelette was a good choice. My husband ordered the Spinach & Mushroom Omelette – over 900 calories – and while he only ate half of it, he followed it with a side order of Swedish pancakes (600 calories?). I can see how most people easily eat over 3000 calories in a day.
What was a little disappointing was that my entree was more expensive than my husband's, even though the portion was considerably less, the ingredients minimal and likely not as costly. Why does healthy have to equal more expensive? Not really fair, if you ask me.
Now for the actual 'fitness' part of this post! Since the end of January I've been using a little gadget called a Fitbit to track my steps, exercises, calories burned, weight, and sometimes, sleep. I can view my progress on the Fitbit website, which is free to use. You can also track all the food you consume on the website, but that's just not my thing.
The Fitbit is really simple to use. I wear it on my waistband all day, everyday. It holds its charge for around 10 days (give or take a few days), and can be recharged by putting it in its dock, which is plugged into my computer. It'll sync wirelessly with this dock on a daily basis, updating my personal Fitbit website within seconds usually, and then updating Facebook and Twitter shortly after, with my numbers for the previous day. As insignificant as this may sound, it's been a great motivator, as my friends and family comment on my progress on a daily basis.
The reason I bought the Fitbit in the first place was to motivate me to move more, and it's doing just that. The extra tracking features are just a bonus! I've gone from walking an average of 2500 to 3000 steps a day, to more than 6000 on most days. I often find myself running up and down the stairs a few times at the end of the night, trying to get a few more steps in.
Maya, my 6-year-old, is always asking to see my Fitbit. "How big is your flower?" she asks. The Fitbit measures how active I am with a flower on the display. It starts off short, with only one little leaf, and grows and shrinks throughout the day, depending on how active I am. The girls think it's the coolest thing! My level of activity seems to be a little all over the place, though, so I'm working on being more consistent. The Fitbit cost me $99 at Best Buy, though you can also buy it online at Fitbit.com.