I've been sitting on a little secret for around 10 days now… but am thrilled that I finally get to announce it! I'm a Frigidaire Test Drive Mom! You're probably thinking, "Um… okay, what does that mean??"
This month Frigidaire is rolling out a new collection of more than 250 kitchen and laundry appliances, just in time for Mother's Day! They designed these high-performance products with easy-to-use, time-saving features to give Moms more free time away from the kitchen and laundry room. And isn't that what we need? More time for ourselves!
I'm delighted to be one of only a handful of moms that will get to test drive some of these appliances in the comfort of our own homes. What do I get to try out? The new Frigidaire Affinity washer and dryer!! And I get to KEEP them! Yes, I've hit the motherload, so to speak!
I've never had a new washer and dryer, so this is big! Like so many people, I've just made do with the set that was in our house when we moved in. And to tell you that what we have now is ancient would be an understatement. I mean, the machines do their job… I can't really complain. But are they efficient? Not so much. It takes around 55 minutes for an average load of laundry to dry. I thought this was normal until I read that the Affinity dryer has a 25-minute dry cycle! This means that my drying time will potentially be cut by more than half. How amazing is that!? Just thinking about how much I'll save on my gas bill is giving me chills… and with the new TimeWise technology that makes the dryer and washing cycle equal, gone will be the days where I have a wet clothes just sitting in the washer, waiting for the previous load to be dried!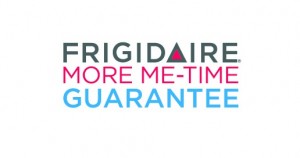 Frigidaire has SO much confidence in the efficiency of these new products that they are offering a "More Me-Time" Guarantee: Moms will reduce the amount of time they typically spend on housework by at least 8 hours a month using a combination of three or more select Frigidaire appliances or they can return the appliances to their place of purchase within 30 days and get their money back!
What you would do if you had an extra hour of "me-time"? Frigidaire wants to know! Starting today, moms can go to Frigidaire.com to report the 5 things they would do with an extra hour each day. All participants will be entered for a chance to win an entire suite of NEW Frigidaire appliances. Plus, check out other prizes you can win – like a gorgeous new Frigidaire Affinity washer/dryer like the set I'll be receiving!
Aren't they beautiful?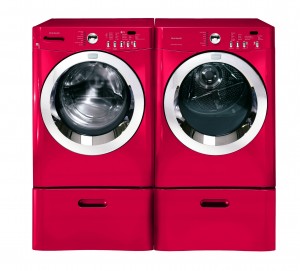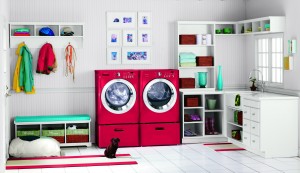 And they look darling in my dream laundry room!
I was going to take a "before" picture of my laundry room, but I don't want to give you nightmares… just the piles of dirty clothes are enough to scare anyone away!
But for the next several months, I will be posting regularly about my experiences using my new Affinity washer and dryer and taking lots of photos (and even video!) so you'll just have to come back and see how it goes!
Visit the Frigidaire Facebook page, become a fan, and meet some of the other Test Drive Moms!

Thanks so much to Frigidaire and Mom Central for this phenomenal opportunity!