I love walking in to a house that smells good. It's the first impression that guests get when they walk in the door. I've tried just about every brand of air freshener out there, yet I always seem to go back to Glade again and again! There's a Glade Spray in each bathroom and candles scattered throughout my house.
I'm delighted to introduce you to a new Glade product – Glade Sense & Spray! It's a smart air freshener that detects movement and automatically freshens only when and where the action is.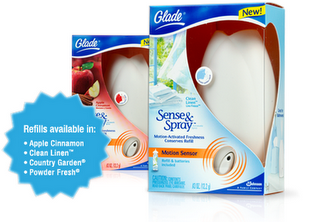 The fact that it's motion-activated is great because it's not constantly releasing the scent all day, so I can imagine it'll last much longer than traditional air fresheners – up to 30 days, according to Glade. After spraying, it has a unique 30 minute lock-out feature to help conserve refills. After that half-hour goes by, it re-enters "active" mode, ready to seek motion for the next spray.
If you want fragrance instantly, all it takes is a push of the "boost button" on the front of the device. When I first took it out of the box, I pressed that button and scared myself! Make sure you don't have it near your face when you do that. (Not that I did)
Glade Sense & Spray is battery-operated, so you can put it up high, out of the reach of children, or you can move it from room to room as needed. It can even be hung up on a wall. I like that it's effortless. There's no need to be manually adjusting how strong you want the fragrance to be. You just let it do all the work! I plan on having mine in the guest bathroom for now. When someone walks in it'll do it's thing and make the bathroom smell lovely all over again. Now that I think about it, it would also be great near the baby's changing area and at our front door where everyone takes off their stinky shoes. And near the cat's litter box. Okay, we don't have a cat, but if we did…
I tried the Apple Cinnamon and it smells yummy – like homemade applesauce. The scent lingers in the room but isn't overpowering at all. Glade Sense & Spray is available in 3 other fragrances as well: Clean Linen, Powder Fresh and Country Garden. You can find it at Target, Wal-Mart, and at grocery and drug stores nationwide. The starter kit includes one smart spray unit, one refill and two AA batteries and retails for $8.99. Visit the Glade website to print out a buy-one-get-one-free coupon!
Giveaway is closed.
One of my readers is going to win one of these new Glade Sense & Spray starter kits!
Just leave a comment telling me which room in your house you'd most need to use it.
For extra entries:
Blog about this giveaway, linking back to this post and to the Glade website.
Subscribe to my feed (or let me know if you already do).
Grab my button and link to me in your sidebar or blog roll.
Please leave a separate comment for each entry and leave a valid email address or blog URL in your comment. US and Canadian entries only. This contests ends at 11:59 pm EST on February 18th, 2009. Winner will be chosen at random, and has 48 hours to claim their prize.
This post was written for Family Review Network as part of a program by SC Johnson, who also supplied the product for review and giveaway.