My 4-year old isn't in preschool, so I'm always looking for unique educational products that I can use at home with her. Goosie Cards sent me a sample of their flash cards, and I am truly impressed.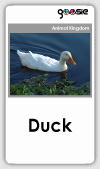 Launched just over 2 years ago, Goosie Cards is a new online company that was founded by Jennifer Marchetti. You know how I love creative mompreneurs! Jennifer was inspired by her son Zach, then 6 months old, after they spent some time looking at generic flash cards during his mealtime. She wanted to teach her son about people and things that are familiar to him, and realized she could do this with personalized flash cards. Goosie just happens to be her son's nickname!
These cards are the first and only custom flash cards for children on the market today. Learning should be fun for everyone, and with Goosie Cards parents can blend learning time with bonding time. They are the perfect tool to initiate communication and helps kids learn visual object recognition in a fun, playful manner. From infancy on up through the elementary years, Goosie Cards can grow with your child. As they develop their reading, language, and communication skills, they'll be able to use the flash cards in different ways.
What blew me away is the quality of the cards themselves. They are made in the USA and are big, flexible, yet very sturdy. The text is large and easy to read. The cards are bright, with good photo quality, and since Goosie Cards are coated with a highly-durable non-toxic plastic, they are easy to wipe clean and can withstand the abuse of a teething baby. It's the little details that got me. The rounded corners, the cute logo, and the colorful backing of each card really show how much thought was put into creating this product.
While I'm here in Texas visiting family, I've been running around taking silly photos of everyone so that I can make a custom set of Goosie Cards for my girls. There are some relatives that we only see once a year (if that), so having their faces on flash cards will ensure that my daughters are always familiar with who they are.
Making the cards is fun, and can be done in minutes! All you do is upload your photos, select your card set, and then design the cards themselves, which consists of choosing what photo and text you'd like on each card. There is an ever-present live preview in the window so you can see exactly what you're getting. Once your order is placed, you receive the cards in 3 days. That's amazing, if you ask me! Usually anything personalized takes weeks to produce.
If you're not much of a photography hound, no worries. The site offers the very handy Goosie Gallery, which provides you with over 150 free, full color, professional photos to help design your cards. You can even create a set with a combination of your photos and stock photos.
With 5 lines of text available on each Goosie Card, and up to 13 characters per line, you can create more than just the typical one-word flash card. I plan on writing a short little story on each card, with words that progressively get harder line by line. There are so many possibilities, though! The more I think about it, a personalized set of ABCs would be quite useful, as would a set for designated chores. A great feature of the Goosie website is that you can save your project and go back to it, so that indecisive people like me can make several changes before checking out!
Goosie Cards may just be my new go-to baby shower gift, but they would also be wonderful for birthdays, holidays, or just about any other special occasion. You can create 10, 20, or 26 custom cards, ranging in price from $28 to $46, or they can be purchased "as is", with 11 different categories to choose from. In addition to purchasing them online, they can also be found at FAO Schwarz and Learning Express stores.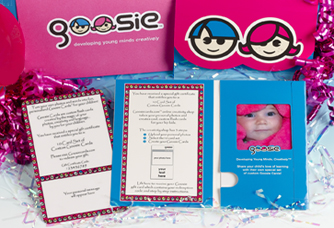 Gift certificates are available on the website and can be personalized free for any occasion. What is really unique is that the gift certificate itself comes on a flash card! It's laid out in a cute little folder with a sample card to refer to… a darling presentation, I must say!
The price of the gift certificate includes the cost of the completed set plus delivery to anywhere in the U.S., which is a feature I've never before seen in a GC.

Thanks to Goosie Cards for the opportunity to review this fun product!