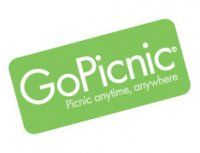 I'm not ashamed to admit that I buy a lot of convenience foods. The time involved in preparing food is a big factor – there just aren't enough hours in the day for me to make 3 meals from scratch and still have time for everything else that I have to do! I also like to have snacks available that I can just throw in my diaper bag when we go out. It's amazing how quickly an 18-month quiets down when you give her a cracker! One thing I've learned is that convenience doesn't necessarily mean you have to sacrifice nutrition. The following company is proof of that.
GoPicnic offers a full line of ready-made boxed meals – over 20 to choose from – that contain no trans fats, high fructose corn syrup, or MSG. No refrigeration or heating is required, and everything you need, even utensils, is in the box so the meals can literally be eaten anytime, anywhere. There are vegetarian, kosher, halal, and even gluten-free options, and all the kids meals are peanut free.
We had the opportunity to try a few of the meals and I am truly impressed. In each box is a collection of different products that will appeal to everyone, children and adults alike. From simple foods like crackers and applesauce, to more gourmet fare like beef steak nuggets and an adorable jar of raspberry preserves imported from France, everything we tasted was delicious! Some of the products I've seen before, and some were new to me. One that stood out, and is included in several of the meals, is Sunbutter – a spread made out of sunflower seeds, very similar to peanut butter. My whole family loved it and I'll probably continue to buy it.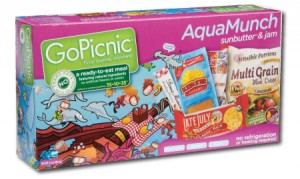 The MightyMunch kids meals are great! Definitely a hit with my 4-year old. Each box comes packed with fun, kid-friendly food that contains a balance of protein, whole grains, and fruit. There's even a sweet treat for dessert, a little surprise (a temporary tattoo), as well as a collapsible spork and a wet towelette. Printed inside the box are fun food facts, jokes, and a puzzle. All of the MightyMunch meals fit 35-10-35 guidelines, which means that: 35% or less of the calories in the meal come from fat; 10% or less of the calories are from saturated fat; and 35% or less of the total weight of the meal is from sugar. We tried the SportsMunch and AquaMunch meals, and Maya devoured every last bit. She's a very picky eater, but there was nothing that she didn't like, and I noticed it was a lot of fun for her to eat. I love the "Try This" idea printed on the box, with a suggestion of how to combine the food – Sunbutter and jam on a cracker, for instance. AquaMunch has 7 grams of fiber – almost 30% of a child's daily requirement! Sometimes it's hard to make sure kids get enough fiber in their diets, so this impressed me. Lunchables have nothing on MightyMunch kids meals!
Go meals come in a small-enough box that you can just through one in your briefcase or purse, but they still contain 5 or 6 food items. With eight different Go meals to choose from, you could have a different one each day of the week! I really liked the GoPower meal, which comes with bagel chips, garden vegetable cheese spread, a fruit & nut bar, dried cranberries, and a petite palmier pastry. I felt guilty eating the pastry; it was that good. The entire meal was surprisingly filling and could be a good pick-me-up after a workout or to break up a long workday.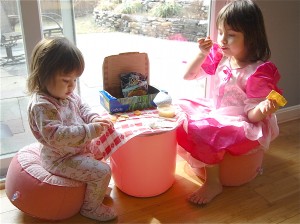 If you're looking for something bigger, the Break meals are it. There are eight different varieties with menus that work for breakfast, lunch, dinner and snacktime. Each one contains six or seven food items, plus a set of utensils, a gingham picnic napkin, moist towelette and a natural peppermint. My girls shared the SunnyBreak meal (shown in the photo) and it was more than enough for the two of them. Maya insisted on using the napkin as tablecloth, pretending to have a picnic indoors since it was too cold to go outside. The AnywhereBreak was SO good! Chips and salsa, beef steak nuggets, white cheddar cheese, and a collection of sweets (including dark chocolate!) made it feel like a real treat. That one was all mine.
GoPicnic also provides meals for a wide variety of markets, including hotels, conventions, corporate & personal events, tour groups, zoos, museums, and camps. I'd love to see these meals served on airplanes as a substitute for those $5 snack boxes that are full of cookies and M&Ms. Virgin and a few other airlines already do, but more should follow! I know what we'll be snacking on this summer when we take the long (17 hour) train trip to Chicago for BlogHer!
If GoPicnic meals look like something you might be interested in, items range in price from $3.99 for a single Go meal to $28.99 for a MightyMunch sampler pack. There's a sale section with meals that are up to 40% off, and if you follow @GoPicnic on Twitter, you'll learn about those great deals as they happen!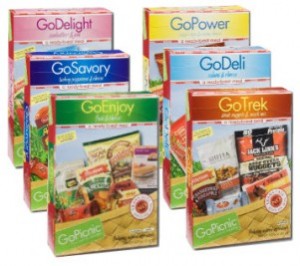 I'm thrilled to tell you that one of my readers will win a GoMeals Sampler, which includes 6 delicious Go Meals: GoDeli, GoEnjoy, GoTrek, GoDelight, GoSavory and GoPrimo. To enter, visit GoPicnic, take a look around, then come back and leave a comment on this post telling me which meal appeals to you the most! I can assure you it's a hard choice to make, that's why the sampler packs are such a great idea!
Please leave a separate comment for each entry and leave a valid email address or blog URL in your comment. US entries only. This contest ends at 11:59 pm EST on March 17th, 2009. Winner will be chosen at random, and has 48 hours to claim their prize.