Last weekend I attended Green Festival with the girls. This is the nation's largest green living event. More than 125 speakers took the stage, and 350 green businesses exhibited. There were great how-to workshops, green films, a Fair Trade pavilion, yoga classes, organic beer, organic cuisine and live music.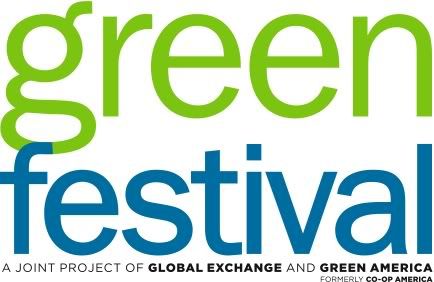 The girls loved the snacks, interactive activities, and did I mention… the snacks?

Green Festival provides discounts for participants using greener modes of transportation. Just display your subway fare card or bike valet ticket at registration (yes, they offer valet parking for your bike!) I had my Metro Card in hand when a lovely lady in front of me turned around and gave me a free pass. I gave the $10 I saved to Maya so she could buy whatever she wanted inside.
We spent a lot of time at the Organic Valley Green Kids' Zone. There were fun, hands-on activities all day long, including crafts (water bottle jewelry!), games, and workshops… oh, and samples! Organic Valley Chocolate Soy Milk and a variety of different cheeses. The chocolate milk was heavenly. I've never really been a fan of soy milk, but I've been converted. Maya was just as impressed. She saw they were giving out coupons, and screamed at the top of her lungs "MOM! They have COUPONSSSS." and grabbed a handful. I put (most) of them back. Harris Teeter and Whole Foods, you better stock up because here we come! We also had the opportunity to make butter, but I'll leave that for another post.
Green Festival strives to become a zero-waste event, and I think they do a pretty good job at it. Everything that can be recycled at the event is recycled. There were countless recycling and composting bins scattered across the event floor. Enthusiastic volunteers and staff were available to assist attendees in this process. Maya enjoyed going up to the bins and trying to figure out what cup/wrapper/napkin went in what bin and why. By the end of the afternoon, she didn't have to ask anymore. I'll take that as a true learning experience.
Just a few of the many, many booths we visited:
ALL-ETT Billfolds – I never thought about the fact that many men have back problems because they sit on their bulky wallets all day. These billfolds claim to be "the world's thinnest wallets." One of these may go in my hubby's stocking this Christmas…
Aura Cacia – Aromatherapy products. Maya decided to spend her $10 here. She bought several items from the Aura Cacia Kids line (on sale!!) – Cheering Foam Bath, Kids Bubble Bath, and Kids Hand Wash – and loves it ALL. Everything has an amazing sweet orange scent.
Ben & Jerry's – They use Fair Trade Certified ingredients in their ice cream. And it's good. SO good.
Bum Boosa Bamboo Baby Products – Baby wipes made out of bamboo. Seriously. This is a unique, 100% biodegradable product. I was given a sample and they feel just as soft as any other wipe. Oh, and they plant a tree for every package of 8o count wipes sold. How cool is that? They also sell diaper rash ointment.
Clif Bar – One of Green Festival's biggest sponsors. Simple, delicious energy bars. The newest flavor – White Chocolate Macadamia – is so yummy!
Eco-Kids – They sell fun eco-dough and fingerpaint and had tables set up so kids could try it out. Lots of fun!
IsaBooties – Eco-friendly soft-soled baby shoes. Very cute.
Kiwi Magazine – A fun way to learn more about natural and organic living.
Paper to Pearls – Beautiful bead jewelry made out of PAPER by women in the internal refugee camps of northern Uganda. So beautiful!
Really Raw Honey – Never heated, filtered, or strained, this honey is pure and delicious!
Repax – A reusable packing system. Why didn't anyone think of this before? Moving boxes are such a waste!
SodaStream – I was first introduced to Soda-Club at last year's Green Festival. You might remember my review of the SodaStream drinks maker. I still use it a year later. Now they have a sleeker version.
Theo Chocolate – I cannot get ENOUGH of their Coconut Curry Milk Chocolate. It's sweet. Spicy. Addicting. Well, all their chocolate is.
Vermont Clothing Company – Organic apparel. I was about to buy a pink 'Feel Me, I'm Organic' t-shirt, but ran out of money. 🙁
YoKid – A non-profit organization that provides low- and no-cost yoga instruction for all kids of all ages. Programs are run at schools and community centers.
There are so many other companies I'd love to mention; you can take a look at the list of exhibitors if you'd like. We left after 3 hours or so, stuffed and eager to learn more about what we had just seen inside.
Green Festival is headed to San Francisco next month.