Who likes lugging those big, heavy bottles or cans of soda home from the grocery store? Not me. And now, with my new home soda maker, I may never have to do so again!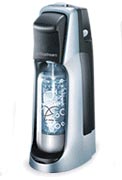 The SodaStream Fountain Jet Home Soda Maker has got to be one of my favorite new gadgets! I can now turn fresh water into soda in seconds, literally. Fill, Fizz, Flavor, Enjoy – four easy steps is all it takes! You fill up the carbonating bottle with water and screw it into the machine, press the button a few times to carbonate the water, remove the bottle, add the flavoring, and shake it up… and ta-da! You have half a liter of soda. It couldn't be any easier.
The SodaStream Home Soda Maker :
is earth-friendly. There are no bottles or cans to recycle or throw away, and it doesn't run on batteries or electricity. Imagine all the energy that is wasted everyday by transporting billions of gallons of soda from place to place! With this product, you're doing your part (albeit small) to minimize your carbon footprint. Take a look at this fact sheet for more information on the environmental costs of the soda and sparkling water you drink.
looks nice on my kitchen counter. At 18.5 inches tall, it's sleek and modern, and fits in with my stainless steel appliances. The two carbonating bottles that come with it are small enough to fit easily in my fridge, and are reusable for up to 3 years!
produces delicious soda! There are a wide variety of flavors available, and you can even mix and match flavors to come up with something new. This soda is a real treat. With no high-fructose corn syrup, it has less sugar than standard sodas. You can easily adjust how much syrup you add and there are many diet flavors to choose from, all sweetened with Splenda. The Energy Drink flavor tastes just like a very popular (and pricey) name-brand energy drink. I'd have to say it's my favorite so far. I also like the Diet Pink Grapefruit, Root Beer, well, you get the picture. Adjusting the amount of carbonation is super easy – you just press the button more or less times, depending on your tastes. The first bottle of soda I made was still bubbly 24 hours later. The subsequent ones haven't lasted that long!
Keep the bottles stocked with water in the fridge, and the SodaStream is ready to go at anytime. Now that I have my very own 'soda fountain' it's so convenient when I have guests over to offer them a glass of soda, and let them choose what flavor to boot. I'm looking forward to using this for our holiday get-togethers!
Really, I could go on and on raving about Sodastream. I was pleasantly surprised at how easy this is to use and how great the quality of the soda is. It would be a great gift for a family that is trying to go green, or perhaps for a newlywed couple as a housewarming present. Anyone can use this fountain; no special skills are necessary so, in fact, it would be a great gift for just about everyone on your list!
You can find SodaStream Home Soda Makers at the SodaStream online store. There are three models, starting at $79.99. Use the promo code DCGREEN to get $25 off any model. This deal expires December 31st, so act fast!