I didn't make any New Year's resolutions, but I am making an effort to eat better and make wise choices when it comes to what I feed my family.
Because the first step to making healthier choices begins in the grocery store, Stop & Shop supermarket and their sister store, Giant Food, have launched Healthy Ideas, a new on-shelf symbol that helps customers easily identify foods that are healthy. This program is meant to take the guesswork out of making healthy food choices.
With Healthy Ideas, shoppers can look for over 3,000 items tagged with the Healthy Ideas Symbol. A panel, including physicians and nutrition experts from Harvard Medical School, identified these items as "healthy" according to the USDA guidelines.
To be considered for the Healthy Ideas label, a product must: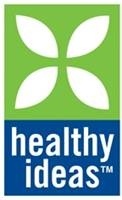 Be limited in total fat
Be limited in saturated fat
Be limited in cholesterol
Be limited in sodium
Contain at least 10 percent of the Daily Value for one or more of vitamin A, vitamin C, calcium, iron, protein or fiber
I remember Andrea Astrachan, consumer advisor for Stop & Shop and Giant Food, telling me a few months back that the best way to shop is to stick to the grocery store's perimeter. This is where all the fresh, unprocessed food tends to be stocked. That advice stuck with me, and I've shopped that way ever since. I also look for products that have a short list of ingredients, and don't include sugar or high-fructose corn syrup in the first few lines. With two restless kids in tow, I don't have the time or the patience to read nutrition labels so the Healthy Ideas symbol really comes in handy.
Healthy Ideas works effortlessly with the Peapod website as well! I find this grocery-delivery service to be a godsend, especially in the winter months. Once you log-in to Peapod.com, all you do is choose "Healthy Ideas" with the NutriFilter tool, and when you're browsing the virtual aisles all the products with the Healthy Ideas symbol will automatically come up first on your page. It's great!
So the next time you stop by a Stop & Shop or Giant Food near you, or order groceries online from Peapod, look for the Healthy Ideas symbol and you'll know you're making a good choice. The initiative has already rolled out in some cities across the country and will be all stores soon.
Massachusetts-based Stop & Shop operates stores in Massachusetts, Connecticut, Rhode Island, Maine, New Hampshire, New York and New Jersey. Maryland-based Giant Food operates 182 supermarkets in Virginia, Maryland, Delaware and Washington, DC.
**This post was written as part of a Mom Central blog tour**