Click on a category: Imaginative | Creative | Learning | Dolls | Animals | Cars & Trains
IMAGINATIVE PLAY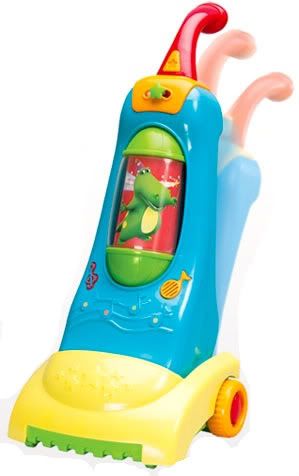 Baby Genius
Musical Vacuum
For 2 years & up
Now kids can dance to Mozart as they vacuum along with mommy. It makes pretend-cleaning that much more fun! With back and forth motion, spinning action, light up notes, and classical music at the touch of a button, this vacuum is the perfect size for a toddler, yet fun for a preschooler to play with as well. Available exclusively at Wal-Mart stores nationwide. Stay tuned for an in-depth review of several of the new Baby Genius toys.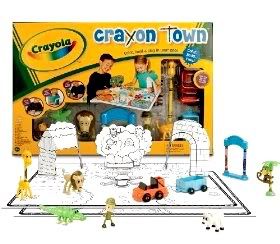 Crayola Crayon Town
For 3 years & up
Probably the most unique way of playing with crayons that I've seen to date! These sets let kids create an entire town – all using crayons! Ideal for rainy days or any indoor playtime, each set comes with a playmat, Crayola crayons, pop-up buildings, vehicles, figures and accessories. Kids can use the crayons not only to color the three-dimensional buildings, but also to build animals, and people, which they can then play with. A good way to resurrect broken crayons! Coloring mats are not reusable, but more can be downloaded for free from www.crayon-town.com. Sets range in price from $14.95 for the Intro playset, to $79.95 for the Ultimate Crayon Town Bundle. Click here to buy online.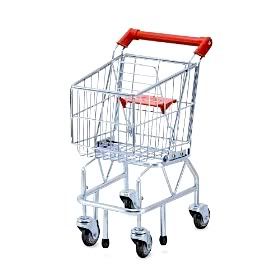 Melissa & Doug
Shopping Cart
For 3 years & up
With this amazing shopping cart, your kids can really shop 'til they drop! With pivoting front wheels, a folding doll seat, and protective corner bumpers, this metal shopping cart is just like the real thing. It's heavy duty, yet assembles in minutes. The American Specialty Toy Retailing Association (ASTRA) voted this one of the Best Toys for Kids for 2009, and I can see why. Retails for $49.99. Click here to buy online.
CREATIVE PLAY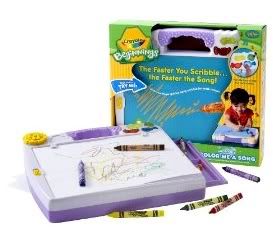 Crayola Beginnings
Color Me a Song
For ages 2 – 6

A fun way for kids to explore color and music! Turn it on, place a sheet of paper on the drawing surface, and kids are ready to create a musical masterpiece. The faster they color, the faster the tempo of the song, so little ones make music and art at the same time! It plays 4 original songs – salsa, rock, swing and country – and four instrument buttons can be activated to layer in sounds and create unique tunes. With a handle for easy portability, and a handy storage space underneath, Color Me A Song comes with 8 triangular crayons (easier to hold, and they don't roll to the floor!), and a clip to hold the paper in place. Just add a few sheets of any 8 ½" x 11" paper (3 sheets are included). Santa's bringing this to MJ for Christmas! (Shhh! Don't tell her!) Retails for $24.99. Click here to buy it online.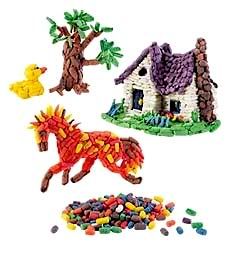 EnviroBLOX
For 3 years & up
Completely bio-degradable and made from cornstarch, EnviroBLOX are the perfect craft / building blocks, because they are mess-free and environmentally friendly. Simply moisten a piece and connect it to another for a firm, instant hold and endless building fun! The only limit is your imagination! I always have a bag on hand for rainy days. Sometimes Maya will go back and add on to her creations and make them even grander! New this year are kid-safe, completely compostable EnviroBLOX Tools that let kids personalize their designs. Made in the USA from 100% natural materials, EnviroBLOX cost from $6.99 on up, depending on set size. Click here to buy online.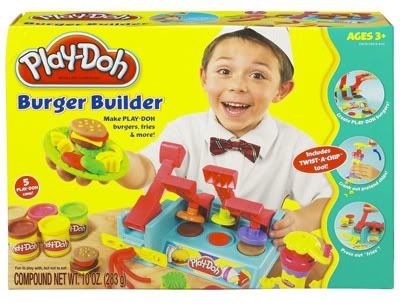 Play-Doh Burger Builder
For 3 years & up
Cook up sizzlin' fun with this Play-Doh set and all its burger-building accessories! Mold pretend "burger patties", "onions", "lettuce", "pickles" and more. You can even press out "fries" and use a special Twist-a-Chip tool to crank out pretend potato chips! It all comes out looking good enough to eat! With cans of Play-Doh compound included, and easy setup, you can start playing as soon as you open the box! Our favorite thing to do is have a contest to see who can make the tallest burger, and laugh when it falls over. For photos of my daughter's creations, please read my full review of the Burger Builder from earlier this year. Retails for $15.99. Click here to buy it online.
LEARNING
LeapFrog Tag Junior
For ages 2 – 4
Tag Junior is designed to encourage toddlers' natural desire to explore, while introducing preschool skills through playful book-based activities. The Tag Junior Reading system includes one board book, and the Book Pal, an easy-to-grasp device that can hold audio for up to five books. Each book teaches a different age-appropriate skill such as sharing, counting numbers, or learning the alphabet. Open-ended questions and fun sound effects encourage children to take charge, as they touch any part of any page to bring words, pictures or activities to life. You can see your child's progress by plugging the Book Pal into the computer and visiting the online LeapFrog Learning Path. Retails for $34.99. Click here to buy it.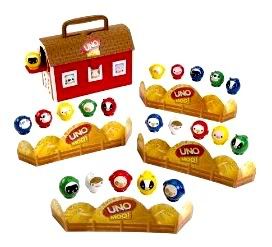 Uno Moo!
For 3 years & up
Uno is a family favorite, so when I saw that there's a new version especially for kids, I knew it would be a hit! With a farm animal theme, Uno Moo! will be appealing to toddlers and preschoolers alike. The object of the game is to be the first to get rid of all your barnyard animals by matching colors and figures to get them into the barn. Have a farmer? He's wild and matches anything. When the players are down to one figure, they must yell "UNO Moo!" which is the hardest thing for my child to remember! The barn-designed case doubles as storage for the 28 adorable farm animal figures, and comes equipped with a handle, making the game practical and portable. Retails for $19.99. Click here to buy it.
Mickey's Mouse-ke-Tag
For 3 years & up
Do your kids like playing tag? Then this is the game for them. Keep kids moving and having fun, all while quizzing them about colors, letters, character names and character descriptions. It's easy to set up the Mouse-ke-TAG game; simply spread out the Mouse-ke-friends and place them upright on their bases. The Clubhouse tagger calls out different clues depending on the level setting and the player runs to "tag" the correct Mouse-ke-friend by placing the tagger over it. Up to six players can play indoors or outdoors, solo or in teams. Two bonus games are included: Treasure Hunt and Memory Mouse-ke-TAG. Retails for $29.99. Click here to buy it.
DOLLS
Strawberry Shortcake
Sweet Surprise Doll
For 3 years & up
Strawberry Shortcake is all the rage right now! My daughters are both crazy about her. This lovely redhead has the signature Strawberry Shortcake scent, flowing hair, and cute outfit, but the sweet surprise is that you can use a "magic" pen to reveal her eye shadow, lip color and berry beauty mark! She also comes with hair extensions and fun sticker accessories. Retails for $24.99. Unlike other "magic" color-changing toys, this one actually works! Read all about this and other Strawberry Shortcake products. Click here to buy it.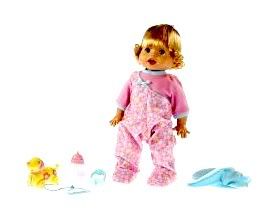 Little Mommy
Walk & Giggle Doll
For 3 years & up
I fell in love with this doll at the Time to Play showcase last month. What little girl doesn't want a baby doll that can walk and talk on their holiday wish list? Little Mommy Walk & Giggle features a ton of fun activities, including Peek-a-Boo, walking with included puppy toy, and more than 60 phrases, songs, and sounds. All you need is to touch her hand to get her talking and giggling. I was surprised that she can go from sitting, to standing, to walking, all by herself! Like any toddler, she does fall every once in a while. The practice of helping the doll – from feeding her to lending a hand when she falls down – encourages nurturing behavior in children. Retails for $69.99. Caucasian and African-American dolls available. Click here to buy it.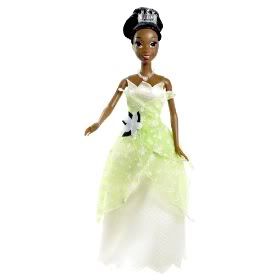 The Princess and the Frog
Princess Tiana Doll
For ages 3 – 9
From Disney's new movie, The Princess and the Frog, comes the beautiful Princess Tiana doll, dressed in her bayou wedding dress with lots of shimmering details, tiara with veil, and matching necklace. With the movie coming out soon (exciting!!), I can just imagine girls will love playing out scenes with their doll. Retails for $12.99. It's been out of stock at a lot of stores, so call ahead. Click here to buy it.
ANIMAL FRIENDS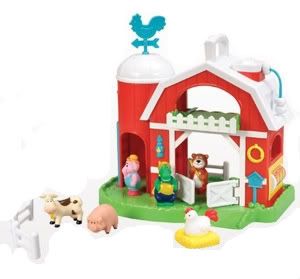 Baby Genius
Old McVinko's Musical Farm
For 2 years & up
Lots of different activities that will keep kids entertained can be found on Old McVinko's Musical Farm. Watch the chicken lay pretend eggs, feed the animals, and milk the cows, all while singing along to a version of Old MacDonald. The set, based on Baby Genius' preschool DVDs, includes six Baby Genius friends. With a handle on the roof, it's easy to carry from room to room. Available exclusively at Wal-Mart stores nationwide. Stay tuned for an in-depth review of several of the new Baby Genius toys.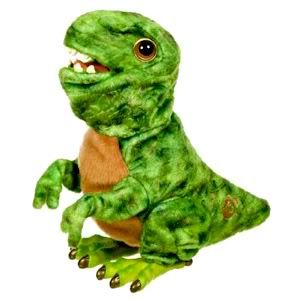 Kota & Pals Hatchlings
For 3 years & up
Would you imagine a baby T-Rex to be soft and snuggly? Yeah, me neither, but that's exactly what this adorable hatchling is. All it takes to wake baby T-Rex up is a light touch of its little tongue, whether it be with a finger or a spoon. (Yes, my toddler pretends to feed him like a baby.) He roars like a real dino and moves his arms to let you know he's excited! He comes with a discovery sheet so kids can learn a few interesting facts about their new friend. Retails for $14.99. A Pterodactyl, Stegosaurus, and Triceratops are also available. I have a feeling Santa will be adding to our collection! 🙂 Read my review (with video). Click here to buy it.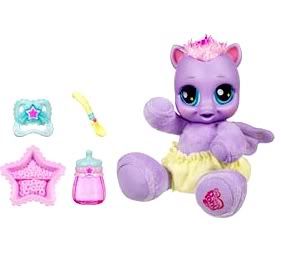 My Little Pony So Soft
Sleep & Twinkle Starsong
For 3 years & up
A super-cute twist on a traditional baby doll! Soft and huggable, this Starsong pony doll sings a sweet lullaby and says several phrases, as the star on her tummy lights up and twinkles. "I love you mommy!", "I'm tired!", "Starsong sleepy", and more! She comes with a bottle, pacifier, blanket, bowl and spoon for lots of pretend fun. When you lay her down, her eyes will close as she goes to sleep! Retails for $34.99. Take a look at some photos of my toddler playing with it. Click here to buy it.
CARS & TRAINS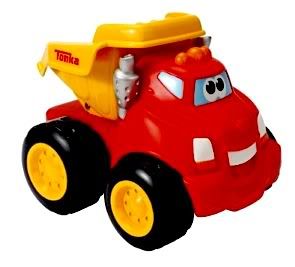 Chuck My Talking Truck
For 2 years & up
The giggles from my girls when they saw Chuck drive around the playroom for the first time could've been heard for miles! This friendly little dump truck can say over 40 phrases and sounds, including, "Let's roll!" and "Time to find some dirt!" He's voice-activated, so when your kids call him, he'll start driving. You never know what he'll say, or where he'll go next! Chuck's so excited to work, that his bumper moves and his dump bed wiggles! Made of soft rubber, he won't hurt toddlers in collisions (or scratch up walls/floors). Comes with storybook and retails for $39.99. Click here to buy it.
Mickey's Magic Choo Choo
For 3 years & up
Inspired by a special episode of one of my daughters' favorite shows, Mickey Mouse Clubhouse Rides the Choo-Choo Express, Mickey's Magic Choo Choo is a fun toy that any train-crazy child would love! There are two modes: Classic, where you just set up the track and take Mickey for a ride, and Magic Mode, in which the train lays its own tracks. A fun choo choo song plays throughout, and the whistle blows, among other fun sound effects! Retails for $49.99. Click here to buy it.
Strawberry Shortcake
Berry Sweet Roadster
For 4 years & up
This is one of Maya's favorite toys at the moment! The adorable and berry-pink convertible car is perfect for driving around her Strawberry Shortcake dolls in style. Buckle up the seatbelts, and press the steering wheel for a puff of sweet strawberry scent. The car can comfortably seat 2 figures. One Strawberry Shortcake doll is included, with a dress, hat, map and suitcase accessories. Retails for $14.99. Read all about this and other Strawberry Shortcake products. Click here to buy it.