Click on a category: Food-Related | Electronics | Fun & Games
FOOD-RELATED

Girl Gourmet
For 8 years & up
Last Christmas, the Girl Gourmet Cupcake Maker was at the top of many a little girl's wishlist. This year, Girl Gourmet continues to innovate the food play category with the new Girl Gourmet Cake Bakery and Girl Gourmet Sweets lines. The Girl Gourmet Cake Bakery, created with celebrity baker Duff Goldman of Food Network's Ace of Cakes, lets young chefs create mini 2-tiered fondant cakes in just 30 seconds in the microwave. With Girl Gourmet Sweets, kids can design, bake, wear AND eat candy jewelry such as necklaces, bracelets and rings. For those that like a little bling on their fingers, I'll have a review of the Girl Gourmet Sweets Candy Ring Maker coming up soon! Sets retail for $7.99 for a small jewelery kit, to $34.99 for the big Cake Bakery. Click here to buy online.
5-in-1 Tasty Baker
For 8 years & up with adult supervision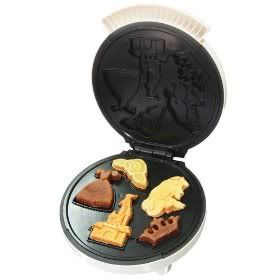 We tried out the Disney Princess 5-in-1 Tasty Baker, and it's so fun! Basically a waffle iron, this unique all-in-one Princess oven bakes pancakes, waffles, muffins, quick-breads and more in five enchanting shapes. So simple to use, you just pour batter into the molds and close the top. We've made pancakes and chocolate cake in it so far, and both turned out perfectly! Best thing is that it cooks in one third the time and works with virtually any batter! It even makes eggs. A fun twist to breakfast and snacktime, I'm sure it'll get used when my daughters celebrate their birthdays. The five kid-friendly molds include a tiara, rose, gown, princess and castle. There's also a Mickey theme, and a standard one, which includes birthday cake, dog, cat, train, heart, smile face, and blocks shapes. Visit www.poparttoaster.com for more information. The Tasty Baker retails for $34.99. A delicious review coming up! Click here to buy online.
ELECTRONICS

Disney Netpal
For ages 6 – 12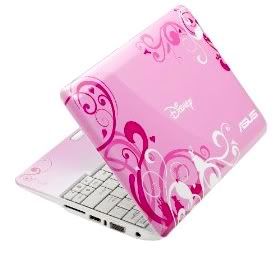 If money were no object, I'd definitely get this for my daughter! Made by ASUS, this portable computer is designed to be fun, web-safe, and easy to use. With 5 hours of battery life, it features more than 40 parental control options, an 8.9-inch LCD display, Wi-Fi capabilities, Windows XP, and kid-friendly software featuring Disney characters. The compact and light weight chassis makes it easy to carry to school or a play date. It is rugged and durable, with a spill-proof keyboard that protects against accidental messes. The Disney Netpal features two choices of stylishly designed lids; Disney Princess Pink with pink florals and Disney Magic Blue with rows of miniature Mickey Mouse icons. Retails for $349.99. Click here to buy it online.
EyeClops Mini Projector
For 8 years & up
Now your kids can watch movies on their bedroom ceiling or invite their friends over for a "drive in" movie night, projected on the side of your house. They can even play video games outside in a backyard tent. All this is possible with the EyeClops Mini Projector, a tiny, but powerful gadget that fits in the palm of your hand. It's lightweight and runs on "D" batteries (included), so you can take it anywhere – indoors or out. It uses LED illumination to project movies, television shows, video games and more up to 60 inches in size from any multi-media device: DVD players, MP3 players, digital cameras, video game consoles, etc. You can even route your cable or satellite box through it and watch the big game outside while you BBQ! The batteries provide 5+ hours of life, or get unlimited power with the included DC adapter. Retails for $99.99. On sale for $79.97! Click here to buy online.
WowWee
FlyTech Hoverpod
For 8 years & up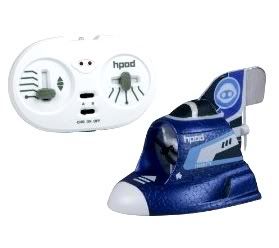 Featuring a two-channel remote control and a tail rudder for directional movement, the FlyTech Hoverpod racer can jet across most smooth surfaces including low-pile carpet! Made from durable, lightweight materials, the racer is designed to be crash resistant and can be controlled to maneuver around obstacles. The dual-band infrared control allows for two FlyTech Hoverpod racers to compete at once – and you can even build an obstacle course to up the ante! Only downside is that a 10-minute charge will last for only five minutes of play. Retails for $19.99. Requires four "AA" batteries (not included).
iPod Nano
For 10 years & up

The new iPod Nano has everything you could possibly want in an MP3 player! Plus it now has a built-in video camera that lets you spontaneously shoot video wherever you are. There's also a pedometer to count your steps, and a built-in FM radio. The new Nano has a polished anodized aluminum finish and a larger screen. Beautiful! The 8 GB capacity can hold up to 2,000 songs, 7,000 photos, or 8 hours of video. The charge lasts long – up to 24 hours of music playback or 5 hours of video playback. For those that are afraid your tween isn't quite responsible enough for an iPod, there's a one-year limited warranty. Retails for $149. On sale for $139.99! 16GB version also available. Click here to buy it online.
Lego Electronics
For All Ages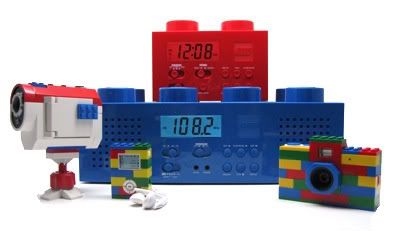 It's no secret that kids of all ages love their LEGO bricks! Digital Blue has capitalized on this fact, and created an entire line of Lego electronics. You'll find a fully functional 3MP digital camera, 2 GB MP3 player, Walkie Talkies and a Stop- Animation Video Camera, all made from classic LEGO bricks. You can't take the devices apart, but can add more Legos to them! I'd totally make a tripod out of Legos! There's also a CD Boom Box and an Alarm Clock Radio that feature classic LEGO brick elements scaled to oversized proportions. Products retail for $19.99 for the walkie talkies, to $79.99 for the stop animation video camera. Click here to buy online.
FUN & GAMES

Mindflex
For 8 years & up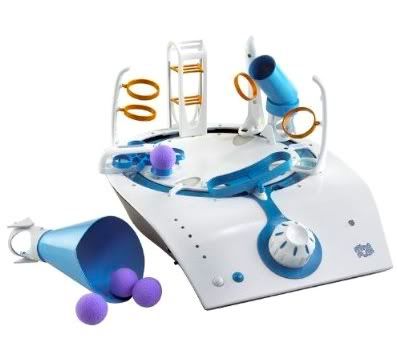 This would be a great gift for any kid that loves a challenge. Good luck finding it in stores, though! I tried it out and was hooked after only a few minutes. To think that you can use the power of your mind to play a game! Very cool. This new mental acuity game from Mattel comes with a lightweight headset that contains sensors for the forehead and earlobes which measure your brainwave activity. When you focus your concentration, a small foam ball will levitate above the game base on a gentle stream of air. Break concentration and the ball will descend. By using a combination of physical and mental coordination, you must guide the ball through a customizable obstacle course – which can be configured hundreds of ways. You can even challenge your friends and family to see who can achieve the highest scores! Retails for $79.99. On sale for $59.99!
Ryan Oakes
Magic Lunchbox Set
For 8 years & up
I've heard that children should be taught magic tricks to boost their confidence and self-discipline. There's nothing better than that feeling of accomplishment once you make your audience ooh and ahh! Kids can learn how to amaze their family and friends with a step-by-step DVD featuring talented illusionist Ryan Oakes. Create incredible illusions with everyday props – turn spoons into forks, for example. The Magic Lunch Box has plenty of tricks to challenge a young magician and a big secret that will astound audiences. Retails for $24.99. Click here to buy it.
Shred Sled
For 8 years & up
This is the first 4-wheel inline caster board available. It combines the movements of snowboarding, surfing and skateboarding into one unique experience. Two decks, connected by a flexible middle component, revolve around horizontal and vertical axes, and make the Shred Sled smoother and easier for kids and adults to use. Instead of pushing off the board like a regular skateboard, riders use their hips, legs and arms to move the board, similar to movements used to propel surfboards and snowboards. For better control, each deck has a grip surface to maximize traction and stability while the concave decks make for better foot control. Available in your choice of three colors: black, blue or red, the Shred Sled retails for $119.99 is on sale for $89.95! I'm still working on mastering my Shred Sled, but a review will be up soon! * Riders should always wear a helmet and safety gear when using The Shred Sled. Click here to buy it.