The reviewer has been compensated in the form of a Best Buy Gift Card
and/or received the product/service at a reduced price or for free.
It's no secret I love trying out new gadgets… especially super practical ones like Bluetooth speakers! I listen to music and podcasts off and on throughout the day, so I've found the following portable speakers really useful.
Insignia Portable Bluetooth Speaker
This cute Insignia portable Bluetooth speaker is great for listening to your music at home or on the go. It features Bluetooth technology for easy wireless audio streaming. Pairing it with my phone and my iPad took mere seconds! You can attach it just about anywhere with the silicone strap, and the ultra lightweight, compact design won't weigh you down. I've hung it on my backpack when out and about, on my belt loop while playing outside with my dog, and on the cabinet above my sink when washing dishes, as seen below. My daughter likes to attach it to her bike's handlebars, with her iPod comfortably in her pocket. Clever!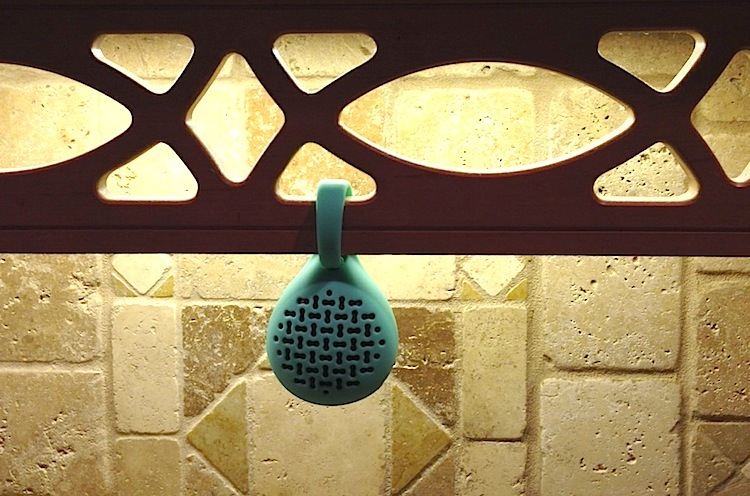 What's cool is that when you pair it with your phone, this Insignia speaker actually works as a Bluetooth speaker phone. When you get a call, you'll hear the caller through the speaker itself, and the caller can hear you. This makes it good for use in the car, or when your hands are full at home.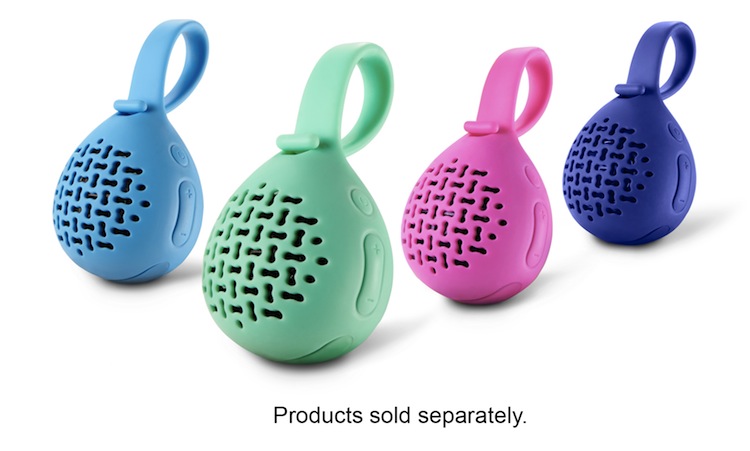 I was surprised by the sound quality, even outside! This little speaker is powerful enough for the beach, laying by the pool or listening to music in your backyard, and its splash-proof design means you won't have to worry about water, rain or spilled drinks drowning out your tunes. Once the battery is getting low, simply power it up via its USB charging port. The instructions say that the rechargeable lithium battery provides up to 6 hours of playback time on a full charge, which I found to be about right.
Right now, through September 5th, you can get 30% off the Insignia Bluetooth Speaker; use code 4331899 online, though the sale is going on in-store as well. This will make it $13.99 – so affordable that you can get one in different colors! Mine is a pretty sea green color.
Insignia Plug-In Bluetooth Speaker
If you're looking for something a little bigger and more powerful, but can also be easily moved from room to room, the Insignia Plug-In Bluetooth Speaker might be just the product for you!
It allows you to wirelessly stream your favorite audio in any room of your home and plugs directly into your wall outlets – no wires, shelf space or expensive receiver needed. And no special app is needed either! Just turn on your Bluetooth-enabled device and it pairs seamlessly. If you don't have a Bluetooth device, no worries! Plug your device into the auxiliary audio input jack, as you can see below, for more listening options.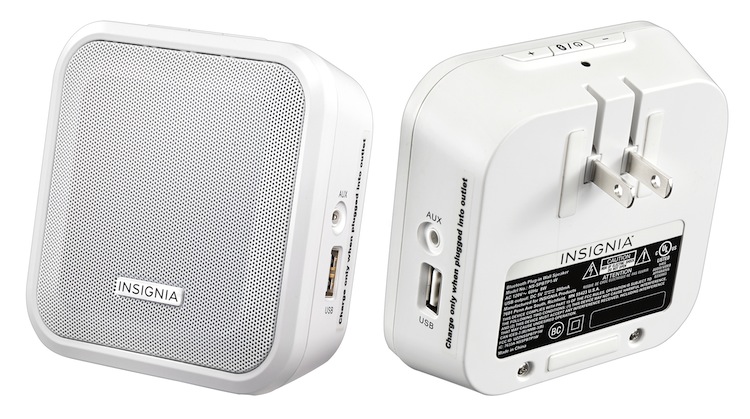 The built-in power adapter allows the speaker to stay plugged into a wall outlet to maintain a full charge BUT, unlike some other higher priced plug-in Bluetooth speakers, this one doesn't need to be plugged in at all times to work. In fact, the built-in rechargeable battery allows for over 2 hours of audio playback. From my personal use, I found that the battery lasted even longer! What I think is great is that the USB charging port will actually keep your electronic device powered up, so you can continue enjoying your favorite songs for as long as you want. Speakers like this usually do the opposite and drain the battery!
I'm really pleased with this speaker. Its sleek, white design blends in to your home and its portability makes it perfect for taking it with you while you're on the go. My husband likes it so much he's been taking it to work!
BUY IT!
Both the colorful Insignia Bluetooth Speaker and the Insignia Plug-In Bluetooth Speaker would make a great gift for just about any one – or why not buy one for yourself? You'll find both at BestBuy.com and at your local Best Buy store.
What cool gadgets have you discovered lately?