My little sister, Monica, is one of my favorite people in the whole world. We talk every day. About everything. She's my person… my best friend, my biggest supporter, an awesome aunt to my daughters, and now a contributor to my blog, too. Monica's a 5th grade teacher, a new mom, and just moved halfway across the country to start a new life with her husband and baby girl, so I think she'll have a LOT to say. 😉 This is her first post. – Mariana
_______
I still wake up every morning wanting to pinch myself! I can't believe I got married in October 2014 and here I am a little over a year later with a 2 ½ month old. Viv was born just a few days before our first wedding anniversary. My husband and I had planned a romantic getaway to celebrate our first year, but little did we know that Viv was going to be our gift!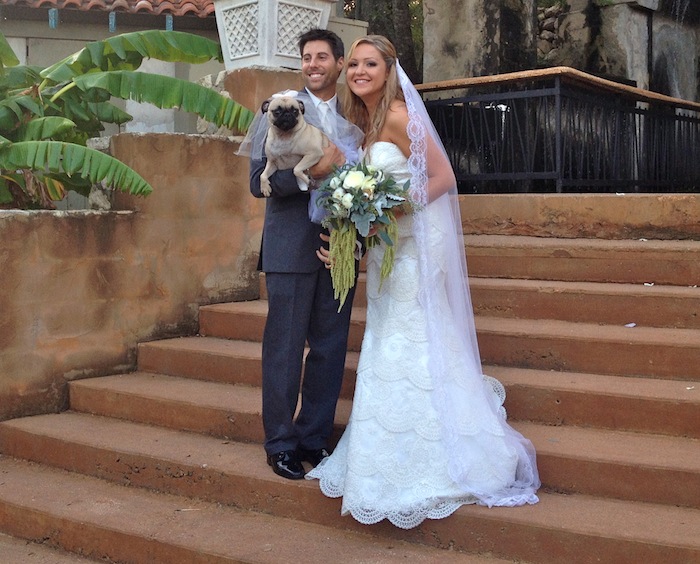 I stopped taking birth control in early December, just a few months after we were married, and figured it would take us a while to conceive. Around mid-January, I felt so tired that I was literally going to bed at 6:00 pm every night. I figured it was my intense work schedule! One day, I woke my husband early in the morning demanding biscuits!! Not just any biscuits, but from Cracker Barrel! We drove 35 minutes to satisfy my craving! My husband said to me out of the blue, "I think you're pregnant," while I was stuffing myself with biscuits. Apparently I yelled at him and gave an excuse that I just really craved them, but I thought about his comment all day and night! The following morning, before he woke up, I took a test. YES! I looked at the test stick intensely for several minutes waiting for the second line to disappear. Nope. It did not.
Who was the first person I called while in the bathroom? My sister! She is my confidante and best friend. She assured me that pregnancy tests rarely give false positives. While we did want a baby, I didn't expect it was going to be this soon. I literally had to say F$%* out loud!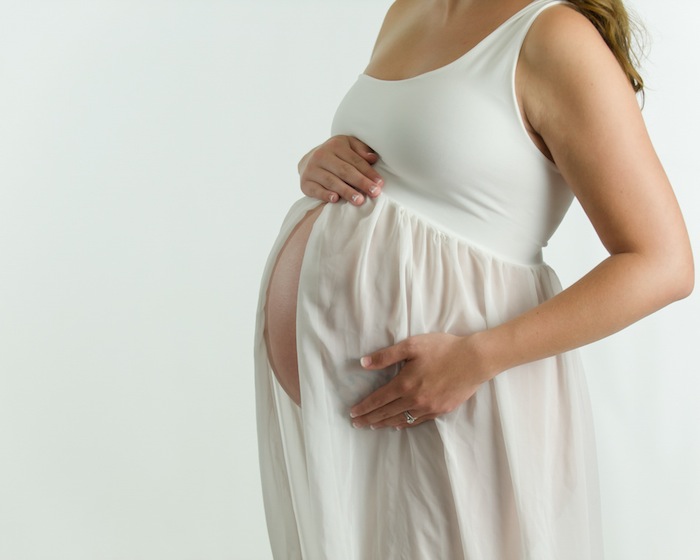 As the weeks went by, I started to feel all the symptoms you read about online. However, we decided to wait until Valentine's day to tell immediate family. Little did I know that my father-in-law would post our announcement via Facebook a few hours later and tag me on top of that. Gotta love social media!! Within several hours, the post had about 200 likes… and there went our announcement to friends and relatives.
My pregnancy was a breeze compared to what I read about in blogs and from experiences other family members shared with me. I had no morning sickness or even felt bloated. I did however crave Chipotle and ice chips like crazy! Towards the end of my pregnancy, Viv decided she didn't want to come out, so I eventually had to be induced. No one really tells you about the pain of giving birth, but it sure makes you not want to have kids for a while!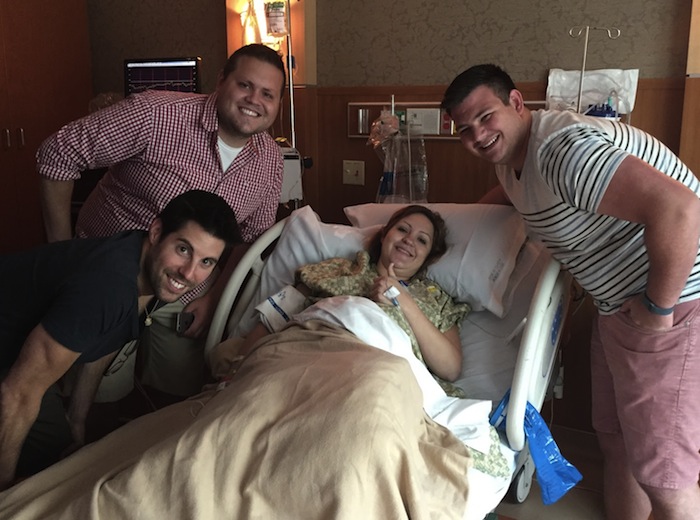 The first two weeks postpartum were extremely difficult for me. It was nothing like I had imagined. The pain from giving birth lingered for a while and I was only sleeping roughly 2-3 hours max each night. I had difficulty breastfeeding as well. Viv was latching on properly, but more for comfort than for feeding! She would latch on for an hour or so and gave me an hour break in between. After 2 weeks of that, I had to stop or else I would have gone mad! A lactation consultant recommended exclusively pumping. I was hesitant at first, but knew it would give me peace of mind knowing how much more milk Viv would be getting at every feeding. I used the Medela Pump in Style for several weeks, but felt like a milking cow due to the noise level. I was also waking up my husband constantly at night. My sister recommended renting a hospital-grade pump. At first I didn't feel the need to rent one, especially since my husband and I decided I would pump for only 3 months. The price of $84 a month scared me as well. However, considering the cost of formula, we figured it would be worth every penny and this helped us reach an answer. It was the best decision I could have made! It's been worth the cost and labor of washing all the bottles and parts every night. The machine is so silent and I'm able to pump much more in a short period of time. That means more time spent with Viv!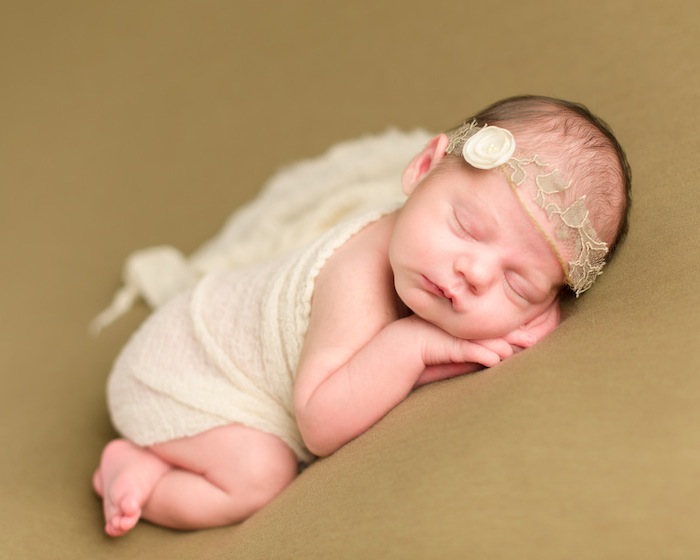 After a good solid month and a half, I was eventually able to get into a routine of pumping, feeding, and taking care of Viv. I also finally felt like a human being again as well.
Although Viv is only 2 ½ months old, I've grown so much as a mother and continue to be amazed at each one of her milestones! Over the next few months, I'm looking forward to sharing all the great baby gear, books, and other baby-related things I find here on the blog.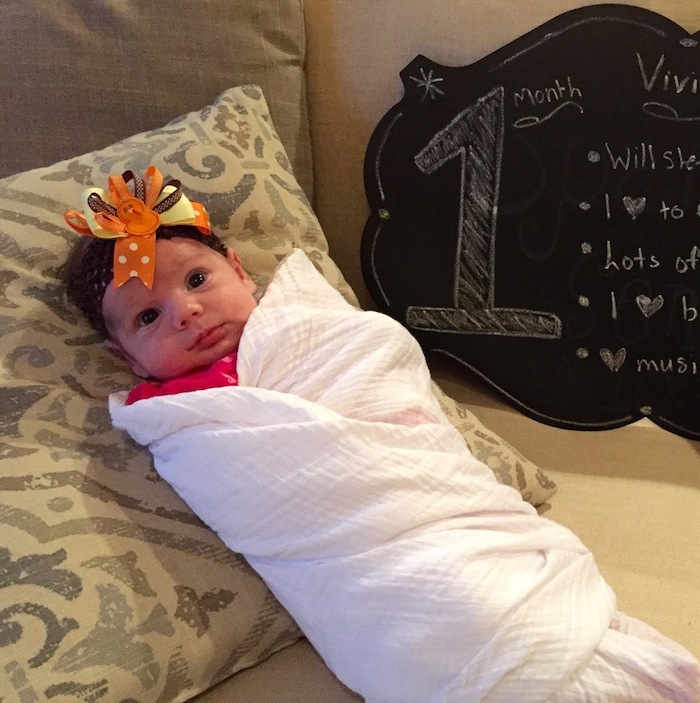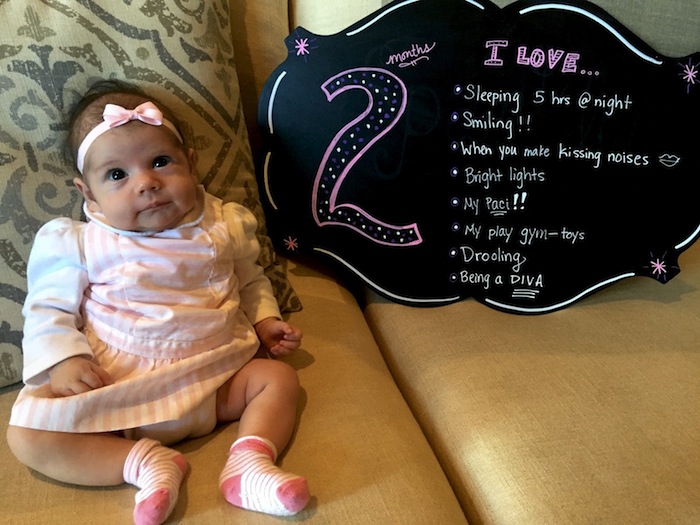 Right now, for Viv's daily exercises, I use an app called Baby Sparks. It helps me know which activities are appropriate for each developmental stage. The app gives me suggestions for gross motor, fine motor, cognitive, speech, sensory, self care, and social-emotional exercises. Each activity comes with a video and a small description with its objective and materials (if any). Currently, the recommended daily activities are as follows:
Speech- Read to your baby, talk to your baby, and imitate baby sounds.
Sensory- Move toy, rattle, recognize the human face, and find the sound source.
Gross motor- Movement and equilibrium, scratch sheets, and improving grip.
Cognitive- Recognize other people.
Self Care- Hold the bottle.
Social- Exploring mom's face.
Another resource that has helped keep my sanity is a book called, The Sh!t No One Tells You: A Guide to Surviving Your Baby's First Year by Dawn Dais. Yes, it may sound silly, but this book has been a blessing! My sister, of course, gave it to me as a gift a few weeks before Viv was born and it has been a lifesaver on those days where I wanted to put myself down or give up on pumping or just thought I wasn't doing enough. The author gives hilarious anecdotes and tips from other mothers out there!
What are some of your most favorite or useful baby items that you recommend for a new mom like me?