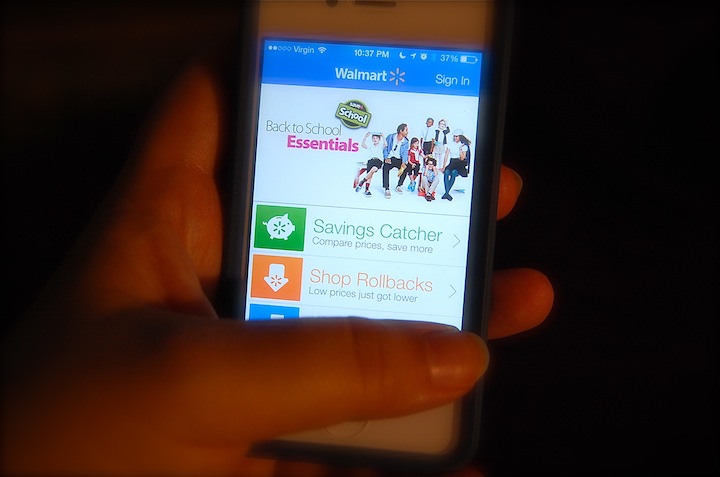 This is a sponsored post written on behalf of Walmart and MamásLatinas, but all opinions are my own.
I consider myself a budget conscious shopper. Before I go to the store, I always look at several circulars to compare prices and clip lots of coupons. BUT I'm also time-conscious. I like to go to ONE store to do my shopping. That's why I love shopping at Walmart. I can find everything I need in one place, whether it be groceries, clothes, or school supplies, and all at reasonable prices!
Have you heard about Walmart's new Savings Catcher?
It's a simple tool that automatically compares what you bought at Walmart with advertised prices from the top stores all around town. If there's a lower advertised price, Walmart will give you the difference on an eGift card. How awesome is that? So you can do MORE shopping!
HOW IT WORKS
Download the Walmart app onto your smartphone.
Tap the Savings Catcher button.
Scan your receipt. It can't be more than 7 days old. So, you know… no trying to get back $ from your holiday shopping! 😉
If there's a lower advertised price on any of your items, you'll be issued an eGift card within a few days.
Watch your savings add up, or spend it immediately, online or in-store! You can submit up to 7 receipts per week.
Don't have a smartphone? Now worries. You can go to Walmart.com/SavingsCatcher, log into your account, and enter your receipt number instead.
No more shopping around town and no need to ad match. I love it. Shopping at Walmart is definitely shopping confidence. There's no need to go anywhere else! If you're serious about saving time AND money, check out www.walmart.com/SavingsCatcher. Stay tuned for an upcoming post where I'll share what my first experience with the new Savings Catcher was like!
Have you tried the Savings Catcher yet?
What did you think of it?