I love shoes. I have a closet full of them. I can't remember when I bought my last pair, though, because these days I live vicariously through my daughters. There are so many adorable shoes available for little girls now! It's dangerously easy to find the perfect pair for any outfit. My new favorite is the My Shoes collection by Jack and Lily.
Maura has been wearing her new Jack and Lily saddle shoes for a week. With over 30 different styles for girls, I had a hard time deciding, but loved the classic look of this pair. They are black and white with beautiful scalloped edging, tiny teardrop cutouts, and contrasting white top stitching. They come in the cutest little pink box, complete with a ribbon carrying handle. Maura made it into her purse. But back to the shoes! They are advertised as "a true soft-sole shoe" that can be used indoors and out and is recommended by podiatrists, so I of course had to bend the sole to see for myself exactly how flexible they really are. All I can say it that Jack and Lily delivers! Not only is the sole cushioned, bendable, and skid-resistant, the inside of the shoes is velvety-soft suede. Made of 100% cowhide leather, they seem to be so comfortable, cozy, and very breathable. Maura has worn them with and without socks; no sweaty or stinky feet either way!
The true test was whether or not baby actually liked the shoes. She can't exactly tell me flat out because she can't talk yet, but I know she loves them. How do I know this? Because she didn't try to take them off. Usually she'll remove her shoes as soon as we step in the door. Sometimes she'll even manage to kick them off when she's sitting in her car seat, stroller, or shopping cart… out of boredom, I suppose. But not her Jack and Lily shoes! Since the strap is secured with velcro and has a little give to it, I'm sure she could slip them off if she tried, but she doesn't even make the attempt! They are so soft and light that I can only presume she forgets she's wearing shoes. Don't we all want a pair like that?
'My Shoes' cost $30 a pair, which may seem pricey, but it's competitive with other high-quality brands and definitely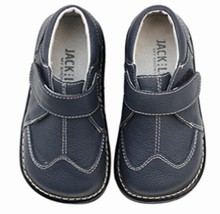 worth it. My baby deserves nothing but the best! There are a bunch of styles for little boys in the collection as well. My husband even asked me if the little number to the left comes in his size! For infants on up, Jack and Lily offers The Original Collection, a variety of slip-on baby shoes very similar to the popular Robeez.
If you're looking for the perfect baby shower gift, or an adorable stocking stuffer for a child on your list, don't look any further. At Jack and Lily you can find the shoe that fits your little prince or princess to a T. If you buy any two pairs of shoes you can get free shipping. Just enter code: FREESHIP. But this deal doesn't last forever, so shop now: www.jackandlily.com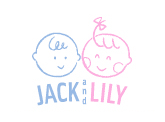 *Thank you to Jack and Lily for letting us try these great shoes!*