I'm spending my Friday night dancing! In the comfort of my living room.
Just Dance 3 hit store shelves today! Developed by Ubisoft Paris and Ubisoft Montreal, it's rated "E-10+" by the ESRB and is now available in North America on Kinect for Xbox 360 and the Wii system from Nintendo. The rest of the world gets it next week, and the Playstation Move version will come out later on this year. All for the same price of $39.99.
I pre-ordered Just Dance 3 for Kinect online from Best Buy and stopped to pick it up this evening. I thought about buying from Amazon (free guaranteed delivery on the release date) as having it shipped to my house would have been great, but I wanted the two free Katy Perry songs that the Best Buy edition has. I'm greedy. Plus I didn't have to go search for it or wait in line since I bought and paid for it ahead of time online. Target also has a special offer that gets you two free songs… from Rihanna, I believe.
Just Dance 3 is the third game in the multi-million selling Just Dance franchise, but the first version that expands across all three motion-controlled platforms. It features more than 40 tracks across a wide range of musical genres, including pop, hip-hop, rock, R&B, country, disco, funk, and more, including top Billboard tracks like Party Rock Anthem by LMFAO, California Gurlz by Katy Perry featuring Snoop Dogg, and Forget You by Cee Lo Green, just to name a few.
FIRST IMPRESSIONS
Having no remote to hold makes me feel so free! (And maybe a little naked?) The only time I missed the Wiimote was when it came to selecting songs. I picked the wrong one a few times. It takes some getting used to. The songs are a good mixture of both new and old, but I can see why the game has an "E-10+" rating. Some of the songs aren't exactly appropriate for little ones. Promiscuous, by Nelly Furtado, for example. If you're worried about this, there's always Just Dance Kids 2, out October 25th.
Four players can play at the same time now, but I foresee this being a little crowded, particularly with the Kinect. Maya and I kept dancing in front of each other, which I'm assuming affected our scores. On that note, I'm happy that I no longer have to "pretend" to dance badly just so that Maya can win a few rounds. Just Dance 3 gives you the option of switching to an easier mode just by raising your hand. I stayed on Normal with Maya on Easy, and found that are scores were very close. Love this. Scrolling through the options, I found playlists! I think I'll really like this feature since I hate going through and selecting individual songs.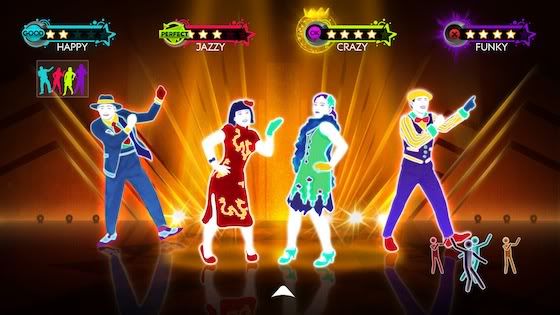 I only played the game for a half hour (going back to it as soon as I post this!) so I haven't tried all the features yet, but I'll update this post as that happens. There are several Kinect-exclusive features that take advantage of the unique Kinect Sensor:
Four-player simultaneous gameplay. For the first-time ever on a Kinect dance video game!
All-new "Just Create" mode. Players are able to choreograph and record their own dance routines right into the game, and challenge friends and share online.
Shout Out! Give your sweet dance moves a voice with this Kinect feature that lets you belt out your favorite lyrics for more points and total party fun.
Play Your Way. With individual player difficulty settings, short-version song selection and player jump in/jump out capability, Just Dance 3 on Kinect allows you to tailor the game to how you want to play.
Just Sweat. Just Dance is not only fun, but it can be a workout. This popular mode gets an upgrade with more workout plans and playlists. Accumulate sweat points, feel good, and Just Sweat!
Freestyle. If you don't want to follow a Just Dance Coach, turn on Freestyle mode in Just Create and record your own dance moves to show the world how well you can Pop 'n Lock, Dip and Jerk.
Share Online. Challenge the world to your Freestyle dances by uploading them to the Just Create website for everyone to preview, vote, comment on, download, and share.
Gallery. Access your Just Create dances in the gallery to play over and over again and compete against your friends. Dances from the Just Create website are also available for download in the Just Create menu.
Dance-Off. A wacky and fun 1-4 player game mode that remixes Just Dance choreography with one of your own.
Playlists. Bye Bye Mr DJ! Just Dance 3 offers a variety of playlists to fit your mood! And if a song is not to your taste, you can easily skip to the next!
Unlock dance mash-ups as you progress through the game. This fun feature lets you enjoy different dancing styles on a single song, making it a unique experience each time.
A more detailed scoring system. Players are now rated on different criterion, including being able to see who has the most energy or style!
I haven't tried it, but I know that the Wii version of Just Dance 3 also includes four-player concurrent dance routines so your family or crew can really break it down and an improved "Just Sweat" mode to track personal progress making playing the game true exercise-in-disguise. The game still has everyone's favorite modes like Classic Mode, Duet Mode, Medley, Simon Says and more. If you have both consoles, go for the Kinect version. It's a no-brainer. I'm sure it won't disappoint on the Wii, however, as you know how much I loved Just Dance and Just Dance 2! 😉
The track list for Just Dance 3 includes:
1. 2 Unlimited – "No Limit"
2. a-ha – "Take On Me"
3. African Ladies – "Pata Pata"
4. Anja – "Dance All Nite"
5. Bananarama – "Venus"
6. The Black Eyed Peas – "Pump It"
7. Bollywood Rainbow – "Kurio ko uddah le jana"
8. Brahms by Just Dance Classical Orchestra – "Hungarian Dance No. 5"
9. Cee Lo Green – "Forget You"
10. Countdown Mix Masters – "Beautiful Liar"
11. Daft Punk – "Da Funk"
12. Danny Elfman – "This is Halloween"
13. Donna Summer – "I Feel Love"
14. Dr. Creole – "Baby Zouk"
15. Duck Sauce – "Barbra Streisand"
16. Girls Aloud – "Jump (For My Love)"
17. Groove Century – "Boogie Wonderland"
18. Gwen Stefani – "What You Waiting For?"
19. Inspector Marceau – "The Master Blaster"
20. Janelle Monae – "Tightrope (Solo Version)"
21. Jessie J featuring B.o.B – "Price Tag"
22. Katy Perry featuring Snoop Dogg – "California Gurls"
23. Kiss – "I Was Made For Lovin' You"
24. Konshens – "Jamaican Dance"
25. Latino Sunset – "Mamasita"
26. Laura Bell Bundy – "Giddy On Up (Giddy On Out)"
27. LMFAO featuring Lauren Bennett and GoonRock – "Party Rock Anthem"
28. Madness – "Night Boat To Cairo"
29. MIKA – "Lollipop"
30. Nelly Furtado featuring Timbaland – "Promiscuous"
31. Pointer Sisters – "I'm So Excited"
32. Queen – "Crazy Little Thing Called Love"
33. Reggaeton Storm – "Boom"
34. Robbie Williams and Nicole Kidman – "Somethin' Stupid"
35. Scissor Sisters – "I Don't Feel Like Dancin'"
36. Sweat Invaders – "Gonna Make You Sweat (Everybody Dance Now)"
37. Taio Cruz – "Dynamite"
38. The Buggles – "Video Killed The Radio Star"
39. The Chemical Brothers – "Hey Boy Hey Girl"
40. The Girly Team – "Baby One More Time"
41. The London Theatre Orchestra & Cast – "Think"
42. The Sugarhill Gang – "Apache (Jump On It)"
43. Tommy Sparks – "She's Got Me Dancing"
44. Wilson Pickett – "Land of 1000 Dances"
45. Katy Perry  – "Teenage Dream" (Best Buy exclusive)
46. Katy Perry  – "E.T." (Best Buy exclusive)
For the latest information on Just Dance 3, please visit www.justdancegame.com. Here's the link to buy it on Amazon.com (free and fast shipping!)
FYI: Just Dance's YouTube Channel has short previews of many of the songs!
I'm So Excited by The Pointer Sisters:

What You Waiting For by Gwen Stefani:

Best Buy exclusive Katy Perry tracks: