I love doing puzzles. Crosswords, logic problems, Sudoku – you name it. I can go through one of those jumbo puzzle books in a few days. I love pulling a puzzle out in bed at night. I feel like it clears my mind and I sleep better because of it.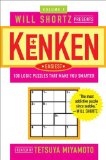 KENKEN might be my new addiction! If you're a fan of Sudoku, there's no doubt that you'll love KENKEN. It's very similar, actually, in that you put numbers in a grid, and can't repeat the same number in a row or column. KENKEN has the added challenge of basic math operations.
It was invented by Japanese mathematics teacher Tetsuya Miyamoto, innovator of the theory "The Art Of Teaching Without Teaching," as an "instruction-free" method of training the brain.  Miyamoto first introduced the puzzles into his weekend tutorials to help improve his students' numeric skills, their powers of concentration and perseverance. The name comes from "Ken," the Japanese word for wisdom, and KENKEN translates as "wisdom squared."
You can find sample puzzles to download and print out at www.kenken.com or play online in the puzzle section of The New York Times web edition. If you like KENKEN, or know someone who might, they've come out with 6 official books! I like that they come in different levels of difficulty. The books costs between $7.95 and $9.95, and can be found on Amazon.com and other online retailers.
Win it! Leave me a comment telling me what your favorite type of puzzle is to win a copy of a KENKEN book.
US entries only. Please leave a valid email address or blog URL in your comment. This contests ends at 11:59 pm EST on December 11th, 2008. Winner will be chosen via random.org, and has 48 hours to claim their prize.