My toddler loves Elmo, as you can see from this photo.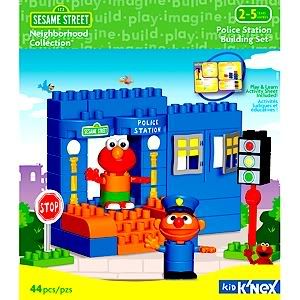 We were sent one of the K'NEX Sesame Street Neighborhood Collection Building Sets to try out, and she was especially thrilled! Made for kids ages 2-5, these sets let children build and then play with their favorite Sesame Street friends, including Elmo, Cookie Monster and Ernie. I like that this is a toy that both her and her 5-year-old sister can play with at the same time. That's hard to come by.
The police station set is very cute! It comes with 44 parts, including buildable Elmo and Ernie figures. My girls first tried to make the design on the box, pictured below almost complete. There's also a "Play & Learn" activity sheet with additional building ideas. It gives simple suggestions for play, like "make a pile of blue parts," to more complex pattern-building challenges. The colorful chunky parts make it easy for small hands to snap, stack and plug together.
The girls have played with the police station set for hours, both alone and with their friends. The only thing I'd change about this set is the packaging. Including a heavy duty zippered bag or a sturdier box would make it much easier to store all the pieces. Other than that, it's a great toy. You can collect all 4 Neighborhood Collection sets and your child can build his or her own Sesame Street neighborhood! Available online and at Target, Wal-Mart, and Toys "R" Us, the Police Station and the Brownstone building set each retail for $19.99, while the police car and ice cream truck cost $9.99.
Do you already have a set of K'NEX at home? K'NEX is holding a Make a K'NEXion contest, giving kids the chance to imagine, build and play – and win prizes! Up for grabs are over $1,000 worth of K'NEX Toys and the opportunity to be featured on the KNEX.com website. How? Make a video and include select K'NEX products. The possibilities are endless. Construct your own story or showcase your child's K'NEX building skills – use your imagination! Contest ends on December 7th. Visit www.knex.com for the official rules.
Written for Team Mom as part of a campaign for K'NEX, who supplied the product for review. Other than a product sample, no compensation was received for this post.