I received LISTERINE® Brand products and a Walgreens gift card from Johnson & Johnson Healthcare Products Division of McNEIL-PPC, Inc. and The Motherhood as part of my participation in the LISTERINE® 21-Day Challenge. All thoughts and opinions expressed in this post are my own.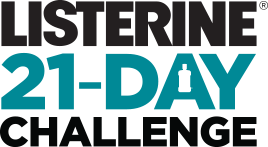 I can't believe it's already been 3 weeks since I began the LISTERINE® 21-Day Challenge. Time flies! The 21-Day Challenge consisted of brushing, flossing and rinsing with Listerine twice a day for three weeks. Though I did use a rinse daily before this – especially in the morning – when I discovered that brushing misses 75% of your mouth, I knew I had to focus more on swishing after every time I brushed and flossed. After all, germs are in your mouth all day, every day, and one swish only protects you for 12 hours!
Now that I've completed the LISTERINE® 21-Day Challenge, my mouth feels different. Rinsing twice a day makes it feel cleaner and fresher. In fact, over 98% of people who took the challenge feel like they had a healthier mouth after 21 days. I'm happy that I'm taking control of my oral health and establishing healthy habits and feel confident that I'm doing everything I can to keep germs at bay.
This challenge has also been a good way to foster good oral care habits for my kids. Before, it was a battle to get my kids to floss and rinse after brushing because there are just so many other things to get done before the lights go out. 3 weeks later, it's become a habit. My suggestion is to all crowd into the bathroom and do it together! It makes it fun and keeps us accountable.
At the beginning of this challenge I was also able to choose a fitness expert and received daily personalized emails with tips, video content and guidance to establish good habits in this area. This emails were much appreciated, as I need that daily push to get up and moving!
My favorite products
LISTERINE® Brand has the right products to help your whole family reach different oral care goals, from cleaning your gums, to protecting your enamel, whitening your teeth, or ensuring that your child's teeth are protected from cavities!
My husband and I both use LISTERINE® WHITENING Original Gel Fluoride Anticavity Toothpaste. Did you even know that LISTERINE® makes toothpaste?! It's great.
LISTERINE® Antiseptic Mouthwash, of course. We both use this as well, though I prefer the Cool Mint flavor and he likes the original. He seems to think it has less sugar, but I doubt there's a difference.
My kids use LISTERINE SMART RINSE® – a post-brush mouthwash specifically designed for children ages 6-12. The Frozen theme on the bottle makes it fun, and the 'Bubble Blast' flavor, the girls both love. The built-in measuring cup is awesome! It's also available in Avengers and Barbie.
LISTERINE® ULTRACLEAN™ Floss – there are 5 different varieties so you can experiment and find the one that works best for you. Personally, I like the LISTERINE® ULTRACLEAN™ Flosser the most, as it allows me to reach back teeth that would be a challenge with a floss pick or just using my hands.
And to extend my oral care routine past the sink, I carry LISTERINE POCKETPAKS® in my purse. You've probably seen these – small strips that freshen breath on the go.
Try the LISTERINE® 21-Day Challenge
It only takes 3 weeks to form a habit. Visit the LISTERINE® 21-Day Challenge site where you can find tips from experts on how to stay healthy, organized and meet your goals! By participating in this challenge, you can not only make a huge impact on your health, but also inspire your family to make the positive changes they need in their lives!

Walgreens can help you along your journey to sticking with any healthy habit, as they offer a wide range of wellness products, including LISTERINE®! This week, make sure to visit your local Walgreens store to purchase LISTERINE® Antiseptic for only $4.49; it's a great price to get you started with your own LISTERINE® 21-Day Challenge, or help keep you going with your new rinsing habit!
#Listerine Twitter party
Join The Motherhood for a fun Twitter chat tomorrow. Hear about my 21-Day Challenge experience and chat about how your family can develop healthier habits for the chance to win prizes! WHEN: March 3 at 1 p.m. ET. WHERE: Twitter, with hashtag #LISTERINE
What healthy habits have you committed to this year?