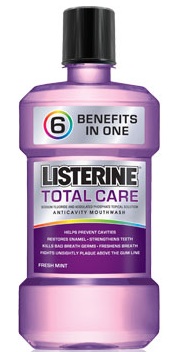 How many times have you found yourself lecturing your kids about something to find that you don't actually do it yourself? We tell our kids about the importance of brushing, flossing, rinsing twice daily, and visiting the dentist twice a year, but with our ever growing to-do lists, often neglect to do so ourselves. Did you know that 92% of adults ages 20 to 64 experiencing dental decay in our permanent teeth at some point? That leads to bigger problems down the line that require painful oral procedures and may cost thousands of dollars.
Listerine Total Care Anticavity Fluoride Mouthwash, now available, is the only fluoride mouthwash that contains six benefits in one, to give you a cleaner, healthier mouth. No other fluoride mouthwash is more complete!
Listerine Total Care:
Helps to prevent cavities
Restores minerals to weakened areas in enamel
Strengthens teeth by incorporating fluoride into the tooth surface
Kills germs in your mouth that produce bad breath
Freshens breath
Fights unsightly plaque above the gum line
To help prevent dental cavities and achieve a "whole mouth clean", all you do is swish it around in your mouth for a minute and then spit it out, twice daily after brushing your teeth. The purple color threw me off at first, but I found the Fresh Mint flavor to be refreshing and not overly strong. You can taste a hint of fluoride, but nothing like the awful stuff they give you at the dentist. My mouth definitely felt clean and tingly afterwards!
Intended for adults and children ages 12 and up, Listerine Total Care can be purchased at your local food, drug and mass merchandise outlets. It ranges in size from an 8.5oz bottle perfect for traveling, to a one liter family-size, costing between $3-$6.79 respectively. Visit www.listerine.com for more information and to print a coupon for $2 off!
Thank you to Mom Central and Johnson's for this review opportunity!