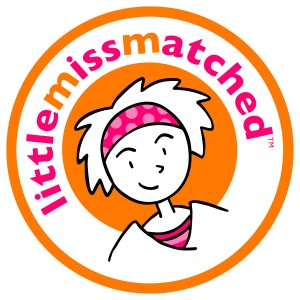 My 4-year old, Maya, got the cutest tee from a company called LittleMissMatched! I had never heard of the company before, but the designs seemed vaguely familiar, so I'm thinking maybe I saw some of their products in a store.
The tee fits her to a T, not just in size, but personality as well! It says "dots are the new pink" on the front and is covered with polka dots and matching stripes on the sleeves. The cotton is so soft and the tee is tagless, which is great because I usually have to cut them out to appease my "itchy" daughter. She usually likes to dress herself, and can match this tee with so many of her pants, shorts, and skirts.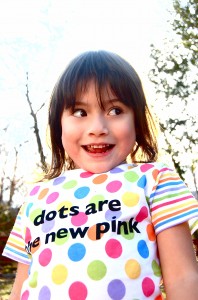 Maya's definitely developed her own style, and doesn't always match perfectly, but she always provides me with some kind of logic to what she's chosen to wear – "Blue and yellow make green, so I can wear this blue skirt with green tights and my cowboy boots!" Um… what? But okay, it works.
This is why I love this company's concept of "missmatching"!
The polka dot tee is adorable, and figured out that the print is called "Zany" so I typed that into the search box on www.littlemissmatched.com to see what else I could find. Lo and behold, I found matching socks, shorts, a water bottle, PJs, lounge pants, a reversible belt, bags, undies, a headband, flip flops, and so much more – even shoelaces!
But LittleMissMatched doesn't just carry stuff for kids – you can find something for the whole family, and even furniture and home decor! I can't decide on a favorite product because there are so many fun things, but I must say I like the socks quite a bit. We've left the house many a time wearing mismatched socks, but none as cute as these. They come in pairs of 3 so you can mix and match… and if one happens to get misplaced, it's not a total loss.
The Bed-in-a-Bags are great as well. I've seen reversible comforters before, but here you get reversible everything – sheets and pillowcases, too! The prices are competitive with anything you can buy at regular department stores, but the products are a lot more fun, and shipping is free with a $75+ purchase. My mouse always tends to wander towards the sale section when I shop online, and the LittleMissMatched Online Outlet doesn't disappoint! Items are up to 50% off. My daughter thinks I should get the black and white tights that are on sale, but I'm not sure if I'm crazy enough to wear tights with two totally different legs, at least not in public! I've got my eye on the two-side black and red scarf, which is still fun, but more subdued. Visit LittleMissMatched and tell me what you think!
Oh… and don't miss checking out the LittleMissMatched Fun Site where you and your kids can watch videos, play games, do puzzles, and even download sock and PJ templates so your little budding designers can get to work thinking up the next great missmatch. It's terrific!
Thank you to LittleMissMatched for this review op!