When I saw the shadow of someone outside my door last night, I knew it was the UPS guy with my holiday cards. I managed to open the door before he even got a chance to knock. Now that I have my MagnetStreet cards in hand, I can absolutely tell you that I LOVE them!
The photos below don't do them justice. Even my hubby commented on how good the photo quality is. They are smooth, glossy, and the resolution is great. The matching seals and address labels are perfect, as well. I'm relieved to know that all I have to do is address and stuff the envelopes, plop a stamp on them, and my cards are ready to go!
It all came carefully packaged with lots of bubble wrap to keep the magnets from moving around in the box. Also included in the package were samples of MagnetStreet's paper products. Everything is of such high quality and oh-so-pretty!
So here it is: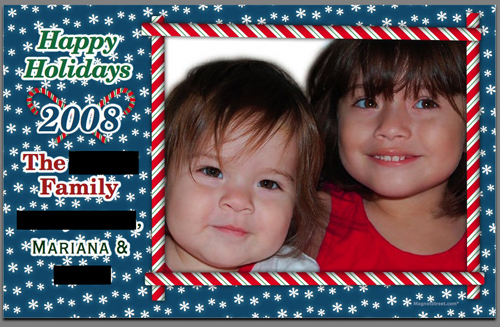 I gave up on getting a photo of both girls looking at the camera at the same time. This was the best I could do! Sorry about the blacking-out of our names. It kind of ruins the card, I know.
Maya saw the card and immediately ran to put it on the fridge with the other million magnets she's collected. That must mean she approves!