My toddler asked me for a peanut butter and jelly sandwich for lunch today. I sighed, as I knew we were out of jelly. When I told her this, she didn't give up – "'How 'bout a peanut butter and ham sandwich?" she asked. Um, yeah, she likes peanut butter that much. We reached a compromise – a ham & cheese sandwich with a side of sliced apples smeared with her beloved peanut butter…
It's no secret nuts are good for you. They're a good source of protein and fiber, and full of "good" fats, yet contain no cholesterol. MaraNatha Nut Butters, the makers of organic and natural nut butters, have launched a new promotion to help people save money on that pantry staple we love—peanut butter! It's the "spread the word, spread the savings" promotion and you can save up to $3 off their products by signing up for their newsletter: offers.maranathafoods.com. You can also enter to win a year's supply of MaraNatha products and a recipe booklet.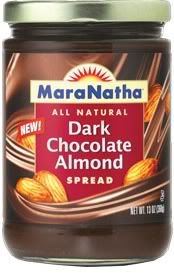 My favorite way to eat pretty much any nut butter is straight out of the jar, with a big spoon. I know that's not a good example for my kids, though, so I also enjoy a spoonful on crackers or a banana. I recently tried MaraNatha products for the first time. I had never tasted almond butter before this, so I have nothing to compare it to – but I'm a convert. It has the distinct almond roastiness, yet a more subtle flavor than peanut butter. And the Dark Chocolate Almond Spread? Delicious. It reminded me of a certain big-name hazelnut spread, but healthier, perhaps? I'd have to compare the nutrition facts on the labels to be sure. A bonus – the almond, cashew, and macadamia nut butters are a good alternative for those that are allergic to peanuts!
MaraNatha products can be found at Whole Foods, and maybe even at your local grocery store (like Safeway). You just have to look. You can also shop online at maranathafoods.com.
So that you, my readers, can try MaraNatha Nut Butter for yourselves, three of you will receive two coupons each for $5 off any MaraNatha product. Depending on the size of the jar, this could make it free. Almond is more expensive than peanut butter, but oh-so-good! To enter, please visit www.maranathafoods.com and leave a comment telling me what variety you think you'd like, or if you've already tried MaraNatha products, tell me what your favorite is.
For extra entries:
Subscribe to my feed by feed reader or email (or let me know if you already do).
Follow me on Twitter (@OhMariana) and tweet about this giveaway (one time): Food giveaway! Win coupons for free MaraNatha Nut Butter from @ohMariana! https://tiny.cc/nutbutter
Grab my button (at the bottom of the page) and link to me in your sidebar or blog roll.
MaraNatha provided me with discount coupons to facilitate this review and giveaway. Contest ends: February 26th, 2010 11:59 pm EST. US entries only. One person per household may enter. Leave a separate comment for each entry & a valid email address. Winners, chosen at random, have 3 days to claim their prize.