When I first heard of the new Marie Callender's Home-Style Creations, I immediately thought of my sister. She works at Wal-Mart, and only gets a short break during her shift for lunch. Having worked there myself many, many years ago, I know exactly how easy it is to reach for a candy bar in the break room instead of eating a healthy meal.
Home-Style Creations capture the homemade flavor Marie Callender's is famous for in a convenient, microwavable meal that stores easily in a pantry or desk – requiring no refrigeration or freezing. Similar to Healthy Choice Fresh Mixers, Home-Style Creations use patented tray-in-tray steaming technology that creates fresh-tasting flavor by separating ingredients during preparation. They are available in six home-style varieties, including: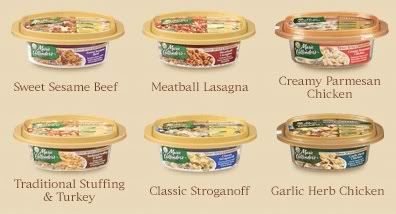 I was sent a sample of the Garlic Herb Chicken and Traditional Stuffing & Turkey meals and tried them out this weekend with my daughters. I have to admit it was nice to have a break from fixing lunch! I started with the Garlic Herb Chicken, which is pictured in the photos below. My girls shared it and ate it all up! The 5-year-old said "it tastes like chicken soup." Nothing more home-style than that, right? I had the Stuffing & Turkey, and it was good. It tasted exactly like the Stovetop stuffing that I make ever so often. I probably would use a little less water if I were to eat this again, though. I found it to be a little mushy. Overall, I found the meals to be hearty and very filling. The container may look small, but it holds quite a bit! The meals were easy to prepare and we ready to eat in minutes, with only 3 basic steps:
1) Prep.
2) Cook and strain.
3) Mix and serve!
Marie Callender's Home-Style Creations can be found in the pasta or soup aisle of your local grocery store, at the suggested retail price of $3.49 each, though I've seen them cheaper. For more information, please visit www.madewithloveandcare.com.
One of my readers will win two Marie Callender's Home-Style Creations meals. The same ones that I received – Garlic Herb Chicken and Traditional Stuffing & Turkey. To enter, please leave a comment telling me which variety you think you'd like the most!
Contest ends: November 15th, 2009 11:59 pm EST. US entries only. Leave a separate comment for each entry & a valid email address/blog URL. Winner, chosen at random, has 3 days to claim their prize. Other than a product sample, no compensation was received for this post.