I've loved Lucy Liu every since I first saw her in Allie McBeal way back in the late 90's. She's done a lot since then, including Charlie's Angels, Kill Bill, Ugly Betty, Cashmere Mafia, Dirty Sexy Money, and the voices of half a dozen animated characters, but is still the same Lucy – beautiful and full of personality. She's hardly aged since her years on Allie McBeal!
Her latest role is as the lead in "Marry Me," a two-night mini-series airing on Lifetime starting this Sunday at 9pm EST. Liu stars as Rae Ann Carter, an aspiring-artist-turned-social-worker whose clock is ticking. She's looking for that fairytale romance that so many women only dream of. It's Lucy Liu's first romantic comedy, and I have a feeling it won't be her last.
I have to admit that this is not the kind of movie my husband would sit down and watch with me. It's a romantic comedy. A chick flick, he'd call it. This is the kind of movie that you'd want to watch with a bunch of your girlfriends, though, and that's exactly what I did. I should have written this post last night, but a few friends came over for the second night in a row to watch the second part of "Marry Me" and we stayed up a little past our bedtimes. 😉
In "Marry Me," Lucy Liu's character Rae falls for a new guy, Luke (Steven Pasquale), after her long-term relationship with Adam (Bobby Cannavale) falls apart. Luke proposes almost immediately, Adam realizes he made a mistake and runs back to her, and then a third man, Harry (Enrique Murciano), unexpectedly sweeps her off her feet. Talk about complicated!
To say that Rae doesn't know what she wants is an understatement! One of my favorite parts of the movie is when she is discussing the pros and cons of each of her suitors in the conference room at work and her best friend is furiously scribbling down notes on a white board. You can see why it's so hard for her to choose; you fall in love with each guy right along with her. As much as I'd like to sympathize with Rae, it's a little hard to do so. I mean, she has three handsome men pursuing her, and each guy is great in his own way!
While the plot could be considered predictable, it had me thoroughly entertained. Lucy Liu is in every scene of the movie – she just lights up the screen – and the script is great. Lots of witty dialogue.
A few other highlights from the movie:
The Supporting Cast. Annie Potts is both endearing and hilarious as Rae's Southern (adoptive) mama. Immy is wonderful as Rae's foster daughter, and so many of the other characters – down to her adorable little dog – also play their roles perfectly. Rae's best friend Candice, her crazy sister… I could go on and on.
The Fashions. Rae Carter is very fashionable without overdoing it. I recognized several Victoria Beckham designs, like the teal number she wears on a date with Luke (the zipper on the back gave it away).
The Music. With songs from KT Tunstall, Bruno Mars, and others, I'd love the soundtrack to this movie. It's very current, yet fits the movie's theme.
So who ends up being Rae's Prince Charming? Does she get her fairytale ending and live happily ever after? I'm not telling. LOL! You'll have to watch on Sunday and see for yourself! Be sure to tune in for the conclusion on Monday night as well, as the first part ends with a big cliffhanger. You'll think you know who Rae is going to choose, but then… you'll have your doubts. If you want to learn more, Lucy Liu will be on Chelsea Lately tonight to talk about the miniseries.
Since the premiere is a few days away, there's still time to plan a little viewing party of your own. You could have a Bachelorette party theme, with veils for every attendee (my daughter is playing with one of my party favors below). Here's a recipe for a delicious cocktail to whet your appetite:
MarryMeTini
*3 oz vodka
*1 oz Pom pomegranate/blueberry juice
*3 blueberries
Preparation:
Pour the vodka and juice into a cocktail shaker with ice.
Shake vigorously, cold is key here.
Strain liquid into a chilled cocktail glass.
Garnish with 3 blueberries on a cocktail skewer.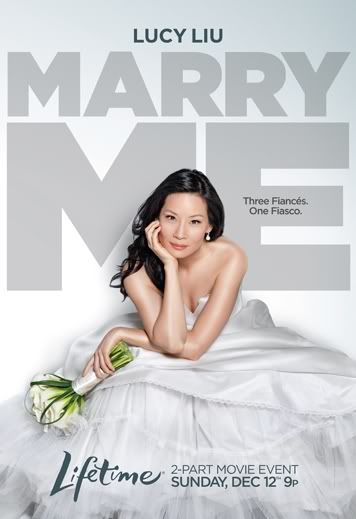 Disclosure: Lifetime provided me with a screener of the movie and all the supplies I needed to throw a fabulous viewing party for my friends, including a gift card to cover the cost of food and drinks, but all opinions about the film are my own.