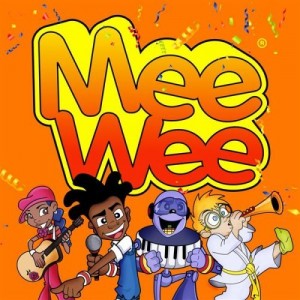 MeeWee is a hip-hop production company that creates uplifting, inspiring, and fun music for kids. Co-founder Danny Klein, a former teacher, now devotes his time to help kids express themselves through hip-hop in schools throughout the U.S.
Every song is linked to a value, such as optimism, cooperation, or love, and deals with day-to-day issues that children face. I love the optimism of "I Can Be Anything" and "HipHop-O-Potamus" is just plain fun. Maya really liked "I Need a Hug", and even sang along after only listening to it one time. "Jumping Jacks" got us up dancing and well, doing jumping jacks! And those are only a few of the songs on MeeWee's first album.
The MeeWee characters are great! Each one has their own unique style and positive message. Maya's favorite is Jenny Guitara, far left on the album cover, who spends many hours each day practicing her flamenco guitar in her garage. I'm not sure if it's her guitar or her pretty voice, but there's definitely something there that she identifies with.
These songs reach kids in an extraordinary way! Teachers have been using them to inspire their students, and now you can do the same with your kids. Listen to some sample tracks on www.meewee.com, read the lyrics, and buy the album on Amazon.com and iTunes.
Thanks to MeeWee for this review opportunity.