Music is blasting all day at our house, and you can usually find us dancing randomly throughout the day. Even Dad gets into it! I have to say that Maya is a little picky when it comes to music, however, preferring tunes that she can easily sing and dance to. But when she finds something she likes, she really likes it, listening to it over and over and over again!
We just discovered a great new kid's band: MILKSHAKE!
Milkshake began in 2002, when singer Lisa Mathews and guitarist Mikel Gehl, formerly of the rock band Love Riot, started to write songs inspired by their children… what they like to do, eat, play, etc. In the 6 years since, they've released three award-winning CDs and their music videos have appeared on Noggin, PBS KIDS and Discovery Kids.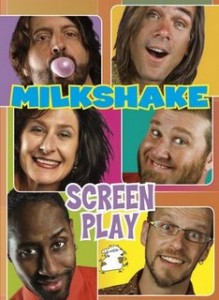 They recently released their first DVD, called Screen Play. It's a video compilation of live-action, animation, live performance and bonus tracks, including two videos created for PBS KIDS. If you've never heard Milkshake's music before, this is a perfect introduction, and if you're already a fan, it's a wonderful way to see what things are like behind the scenes.
So what's Milkshake's music like? You can listen to a few of the songs on their website to get a taste! Singing about everything from rainy days to bluebirds and pirates, this music relates to any child and with its rock sound, is enjoyable for parents as well.
From the DVD's main menu you have the option of watching it all, or choosing what specific track you want to watch. We usually start by watching it in its entirety, and then go back to our favorite songs once or twice for good measure. The DVD plays for a total of 42 minutes, but I can usually squeeze at least an hour of fun out of it!
Maya loves to have her friends over to play "band" with her – one gets on the drums, the other on a keyboard, and she grabs a microphone – so the song "We Got A Band" really struck a chord. "The first song is my really favorite one," she says. You can download the lyrics to many of the songs from the website so you can sing along with your kids. She's so impressed when I know all the words! For my part, I can't get "Bluebird" out of my head, and love the video that goes along with it. The use of animation throughout the DVD is great! It's different from one track to the next, so unique and engaging for kids of all ages.
Being so close to Baltimore, I can't believe I hadn't heard of Milkshake before! I'm looking forward to seeing them soon in Virginia, or perhaps when they play at Baltimore's Lyric Opera House this coming May. I'll let you know how it goes! There's nothing better than seeing a bunch of preschoolers rockin' out to great music!
Milkshake music is available at Amazon, Borders, Barnes & Noble and other stores nationwide, but if you buy from their online store, for a limited time you can get a free Milkshake Beachball Baseball with your purchase.
You have the chance to see for yourself how great this DVD is right here! One reader will win a copy of Screen Play. To enter, just visit MilkshakeMusic.com and listen to a song or two. Let me know (in a comment) what you think!
Please leave a separate comment for each entry and leave a valid email address or blog URL in your comment. US entries only. This contest ends at 11:59 pm EST on February 28th, 2009. Winner will be chosen at random, and has 48 hours to claim their prize.