Winnie the Pooh opens in theaters everywhere this Friday, July 15th!
Inspired by three stories from A.A. Milne's books in Disney's classic, hand-drawn art style, Walt Disney Animation Studios'
Winnie the Pooh
reunites audiences with the honey-loving, philosophical bear and friends Tigger, Rabbit, Piglet, Owl, Kanga, Roo and Eeyore in a wild quest to save Christopher Robin from an imaginary culprit… it turns out to be a very busy day for a bear who simply set out to find some honey! Rated G, and at only 68 minutes long, this film definitely seems like one that you can take all your kids to.
Did you know that actress Zooey Deschanel sings the theme song?
I didn't even know she sang! It's lovely.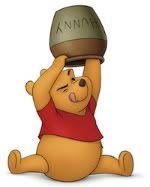 Who's your favorite Winnie the Pooh character?
Will you be going to see the new movie?