We all know that YouTube can make you a star. This is one of those success stories.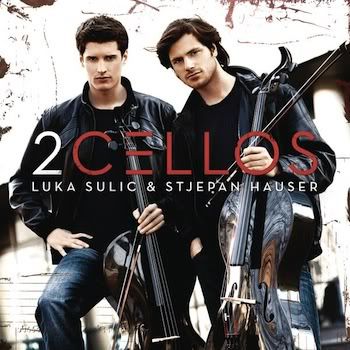 Hailing from a small town in Croatia, 24-year-old music students and good friends Luka Sulic and Stjepan Hauser have been playing the cello since childhood. But when they posted a self-made music video earlier this year – of them performing Michael Jackson's "Smooth Criminal" on their cellos – they received more attention than they ever expected! Discovered via Youtube after their amazing cello cover garnered millions of views in just a few days, their band 2CELLOS is currently touring with Elton John. Classically trained, their debut album was released last month and features Sulic & Hauser's unique spin on hits by Guns N' Roses, U2, Coldplay and Kings of Leon, among others.
This is the video that made them famous, their cover of "Smooth Criminal."
And this is "Welcome To The Jungle."
For more information on 2CELLOS (Sulic & Hauser) visit:
Buy their album on Amazon.com or iTunes (where you get a bonus track!)
Full Track Listing

Where The Streets Have No Name (U2)
Miserlou / Pulp Fiction Theme (Dick Dale)
Use Somebody (Kings of Leon)
Smooth Criminal (Michael Jackson)
Fragile (Sting)
The Resistance (Muse)
Hurt (Trent Reznor/Johnny Cash)
Welcome To The Jungle (Guns N' Roses)
Human Nature (Michael Jackson)
Viva La Vida (Coldplay)
Smells Like Teen Spirit (Nirvana)
With or Without You (U2)

Upcoming Tour Stops

09/03/11 Bethel, NY
09/04/11 Saratoga Springs, NY
09/07/11 Noblesville, IN
09/08/11 Cuyahoga Falls, OH
09/15/11 Clarkston, MI
09/23/11 Rio De Janeiro, Brazil
09/28-10/23/11 Las Vegas, NV
Then a world tour with Elton.
What music are you listening to these days?