This post is sponsored by Disney Music and One2OneNetwork, but all opinions are my own.

I just adore Disney music! Just think… what would all those beloved Disney films be like without the songs we know and love? The songs are how we carry the memories of the movies with us. They're timeless and transport us back to our childhoods in a way nothing else can (other than maybe a visit to Walt Disney World!)
Disney songs are almost like a soundtrack to our lives. I remember singing "Baby mine don't you cry…," that sweet song from Dumbo, as I rocked Maya to sleep when she was only a few days old. "Just whistle while you work…" gets me dancing around with a broom, and is a fun way to encourage the girls to clean up their toys. "A spoonful of sugar" always helps the medicine go down with a BIG smile, and asking if "you want to build a snowman" inevitable causes someone in the house to break into song.
The girls always laugh when I'm cooking and singing "Le poissons, le poissons, how I love le poissons! Hee hee hee, ho ho ho!" and setting the table for dinner is more enjoyable when you're singing "Be our guest!" Don't believe me? Ask the dishes. When Maya and Maura are fighting, me singing "Let it go, let it gooooo" at the top of my lungs is usually all it takes for them to stop. Not because they're ready to 'let it go', but more because they just want me to stop singing. 😉
"A Dream is a Wish Your Heart Makes" has replaced "Baby Mine" as our bedtime song, but otherwise, not much has changed over the years. These songs all helped multiple generations of my family fall in love with the magic of Disney and encourage us to keep dreaming.
Now, combine classic Disney songs with a little jazz, and you have something really special! I've been listening to the new Jazz Loves Disney album on repeat the last few days, and really love it. Think big band jazz covers of some of the sweetest Disney tunes and you'll have an idea of what these songs are like.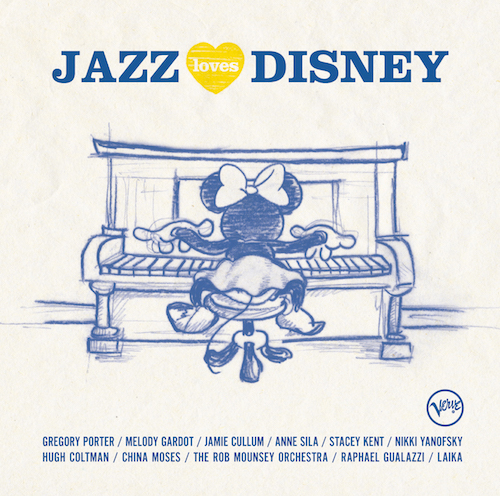 For me, the highlights of Jazz Loves Disney are "Bibbidi Bobbidi Boo" by Stacey Kent, "Everybody Wants to Be a Cat," sung by Jamie Cullum, and the instrumental "A Dream Is A Wish Your Heart Makes," performed by The Rob Mounsey Orchestra.
The bossa nova spin on "Bibbidi Bobbidi Boo" is amazing! It has the feel of "The Girl from Ipanema" with a Disney twist. "Everybody Wants to Be a Cat" is just fun and stays true to the feel of the film. "A Dream Is A Wish Your Heart Makes" is one of my favorites, and listening to just the music will give you a different appreciation of the song.
I rarely love an entire album, but I could listen to these songs all day long! While they are all very different, the songs just flow from one to the next in a beautiful way. It's no secret that Walt Disney loved jazz, so this album pays a nice tribute to him and his work.
Jazz Loves Disney will be released on November 18th.
Pre-order it now on iTunes or Amazon!
__________________________________________________
The complete track listing for Jazz Loves Disney:
1.  Jamie Cullum – "Everybody Wants To Be A Cat" – from The Aristocats
2.  Melody Gardot – "He's A Tramp" – from Lady And The Tramp
3.  Stacey Kent – "Bibbidi Bobbidi Boo" (French version) – from Cinderella YES
4.  Gregory Porter – "When You Wish Upon A Star" – from Pinocchio
5.  China Moses – "Why Don't You Do Right" – from Who Framed Roger Rabbit?
6.  Raphaël Gualazzi – "I Wanna Be Like You" – from The Jungle Book
7.  The Rob Mounsey Orchestra – "A Dream Is A Wish Your Heart Makes" – from Cinderella
8.  Hugh Coltman – "You've Got A Friend In Me" – from Toy Story
9.  Anne Sila – "Let It Go" – from Frozen
10.  Melody Gardot & Raphaël Gualazzi – "The Bare Necessities" – from The Jungle Book
11.  Laika – "Once Upon A Dream" – from Sleeping Beauty
12.  Nikki Yanofsky -"Someday My Prince Will Come" – from Snow White & The Seven Dwarfs
13. The Hot Sardines – I Wanna Be Like You (French & English version) – from The Jungle Book (US release only)
What's your favorite Disney song?