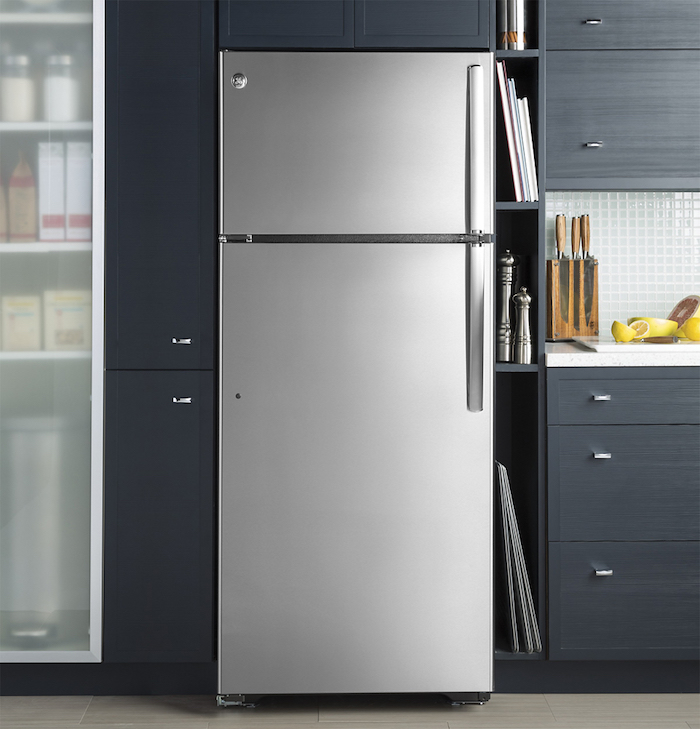 The reviewer has been compensated in the form of a Best Buy Gift Card
and/or received the product/service at a reduced price or for free.
I always thought a new refrigerator would cost us thousands of dollars, so it's a purchase we kept putting off. Our old fridge was almost 20 years old and barely running, having been installed in 1997 when the kitchen was redone, just a few years before we bought our house.
In this case, the waiting paid off. Thanks to Best Buy, we received a GE Top-Freezer Refrigerator with Autofill Pitcher this summer and we're so happy with it! Yes, you read that right… it has an autofill pitcher for water, yet it's still a good value, retailing for under $1000. I'll go into this cool feature in more detail down below, but first, let me tell you about the design!
DESIGN
This GE Top-Freezer refrigerator feels super sturdy. Our old fridge was white and kind of blah, so having one with a stainless steel finish is a dream! It looks much more modern and expensive than what we had. While it does show fingerprints, we already had a stainless steel microwave, oven, and hood, so I knew what to expect. Honestly, my kids were more hesitant about this new fridge because they were afraid that magnets wouldn't work on the stainless steel as they've seen in other homes, but they DO! It's a shiny, blank slate for all the new artwork they'll bring home from school this year.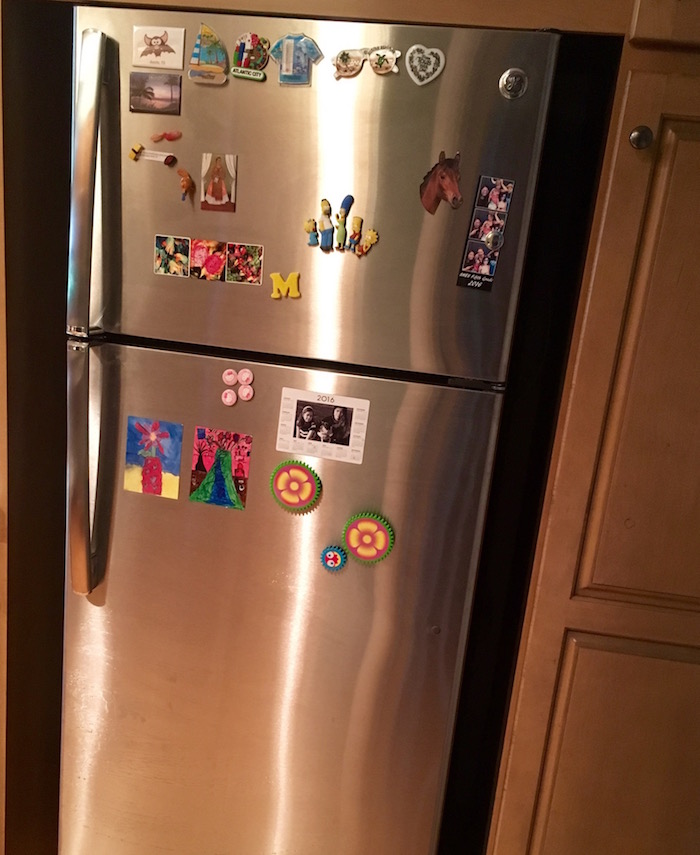 The inside is pretty basic – you have your three main shelves, deli and crisper drawers, and three shelves in the door, along with a butter bin. At 17.5 cubic feet, this refrigerator isn't the biggest, but I actually don't mind! It means I have to be a little more thoughtful when buying groceries each week and clean out the fridge more often, but that's a good thing.
The refrigerator is deep, so we still have plenty of space for food. The shelves can be moved to different levels as needed to make space for bigger items. The door shelves are quite spacious and feel solid, which is nice. It might sound silly, but I always felt that the door on my old fridge would fall off if I put too much stuff in the door, haha!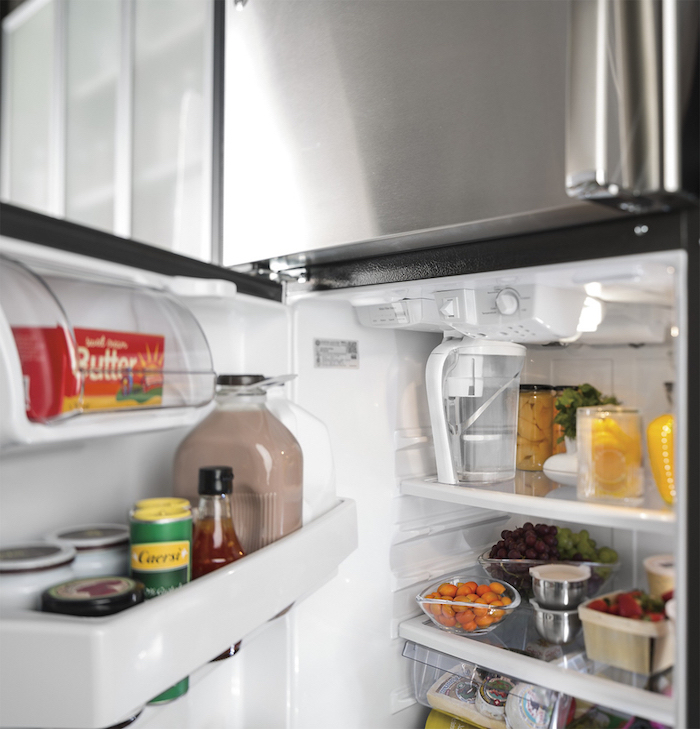 Speaking of doors, the refrigerator and freezer doors are reversible on this model, so it'll work with any kitchen layout. I think most refrigerators have this option now, but it's still good to know it's possible. This is a simple switch that can make life so much easier!
FEATURES
What sets this GE Top-Freezer refrigerator apart from pretty much every other refrigerator I've ever seen is the autofill pitcher! There's a dock inside the refrigerator where you place a special pitcher that comes included with your purchase. It automatically refills with water when placed in the dock so now we always have a pitcher of filtered water at the ready. It's amazing! The filter is NSF-certified to reduce chlorine taste and odor and can be replaced.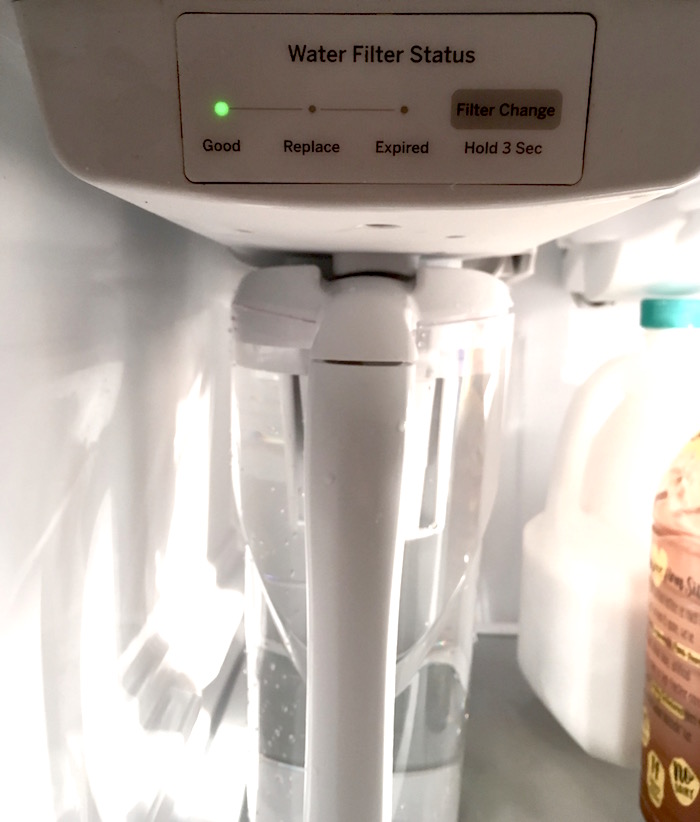 It's so convenient to be able to pull the pitcher out now and offer cold water to our guests as soon as they walk through the door! It takes less than a minute to fill up and has a sensor so that the water shuts off automatically when it reaches its limit, which means no overflowing. Since the pitcher is inside the fridge, the water is always nice and cold, which has been great during these last few weeks of summer.
On that note, this refrigerator gets COLD. And I love that. I didn't realize how not cold my old fridge was until filling up this new one. My kids enjoy having a big glass of ice-cold milk now! I like the simplicity of having only one temperature control for both the refrigerator and freezer and found the middle – and recommended – "colder" setting to be perfect for us.
Other than the unique autofill pitcher, this is a traditional refrigerator that offers everything we need! The spill-proof shelves are easy to move and clean, and the bright lighting illuminates the entire interior so we can always find what we're looking for. I'm looking forward to adding an ice maker soon. It's sold separately, but I'm so tired of those ice cube trays that no one refills but me!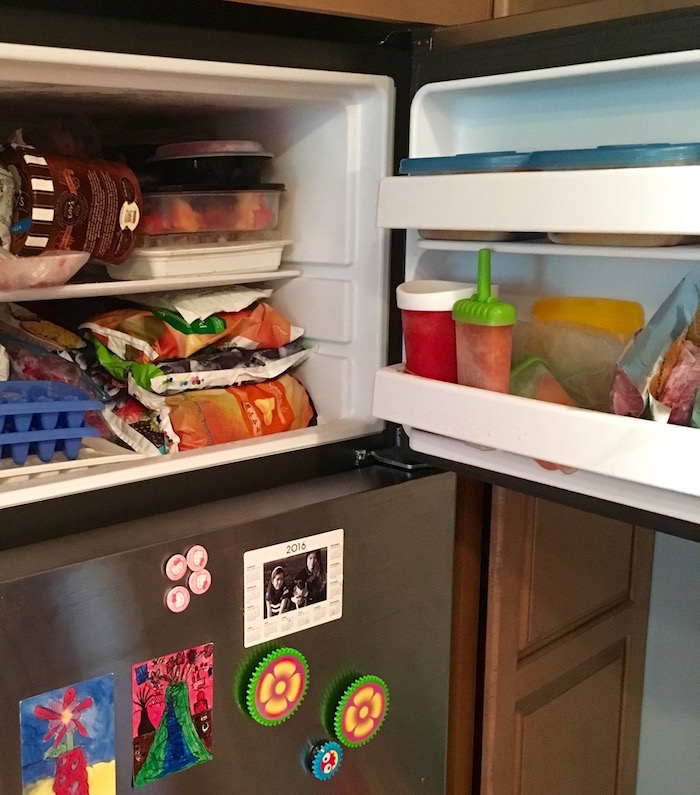 BUY IT!
Choosing a new refrigerator can be overwhelming, but it doesn't have to be! Learn more about the GE Top-Freezer Refrigerator with Autofill Pitcher HERE. It's on sale right now at Best Buy for $200 off – only $799 – plus free delivery! If you want to see it in person, I mean, I'd totally invite you over, but you can actually go to the Best Buy website and see what store near you has it on display. It's a cool feature!
What's the last appliance you got for your kitchen?