My daughters have two new friends – their names are Nana Star and the Moonman. They are the main characters in an award-winning series of children's books that we recently had the chance to review.

Written by sisters Elizabeth Sills and Elena Patrice and illustrated by their mom, Linda Saker, Nana Star tells the tale of a little girl that goes on a magical adventure to bring a lost baby star home. The story is simple enough that my 4-year old could summarize it after the first time we read it together, but powerful at the same time, encouraging compassion and generosity in such a beautiful manner.
Nana Star and the Moonman is the second inspiring story in the series. It starts where the first story left off, with Nana Star beginning her journey to help baby star find his way home. Before she knows it, night falls and the world has gone to bed without her. She feels scared and alone in the dark, but with the help of her new friend the Moonman, she learns that she is never alone. He is always watching over and guiding her along, even if she can't see him.
The books are well-made and the illustrations are beautiful, yet accessible to kids. What I mean by that is that the artwork is obviously done by hand and could inspire little girls (and boys!) do draw their own versions of Nana Star and the Moonman. To foster their reading skills, each Nana Star storybook includes a mistake in the text for young readers to find. When children send Nana Star a note correcting the mistake, they become special members of her Little Twinkles Club. Each member receives an autographed photo of the real Nana Star with a personalized message, as well as a certificate of membership.
The Nana Star series of children's books has won various awards, and I can see why. This is such a well-rounded product line! I love the seamless integration of book, plush, CD, and companion website.
The Nana Star doll is poseable and soft, and even comes with little extras that tie in with the story. Maya was captivated by her blue dress, which she always associates with being a princess. The Moonman plush isn't just a lovey, he's a nightlight, glowing when you squeeze him. He plays a lullaby when hugged, and has such a comforting quality about him. Just looking at his sweet face makes you feel calm!
Included with every book is a companion CD. I loaded both CDs on to my iPod so Maya can read along with the books whenever the mood strikes. The story is short enough that it keeps her attention, yet still gives me a few minutes of quiet time because she usually likes to hear it more than once. The only thing I'd change would be to maybe add some kind of chime or page-turning sound so that she knows when she should turn to the next page. She'll be reading before I know it, though, with the help of Nana Star! The CDs also include the Nana Star and Moonman themes, respectively, which are sweet, shorter versions of the stories told in the books.
On the Nana Star website you can find videos, song lyrics, and meet all of Nana Star's friends. In an effort to be fully available to children of all needs, Nana Star stories and songs are interpreted in sign language as well. Parents and educators can download and print coloring pages and learning lessons from the website, which I found particularly helpful since we're homeschooling at the moment.
Nana Star and the Moonman really came to us at the perfect time. Maya's been increasingly scared of the dark over the past few weeks. The messages contained in the books, particularly the second one in the series, have been very effective. She's slept with the Moonman by her side for several nights now, and hasn't woken up crying in the middle of the night as she was so frequently doing before. MJ instantly fell in love with the Moonman the moment she saw him, so much so that I was almost tempted to buy a second one for her. We've managed to develop a system where she plays with the Moonman throughout the day and he goes to bed with Maya at night, so it's all working out nicely.
I noticed that Nana Star lives right here in Northern Virginia, so we may just get a chance to meet her and the Moonman in real life one of these days! I'm also looking forward to adding to our collection when Nana Star and the Blue Wolf is released in the Spring. It always feels good to buy a product that is unique and inherently valuable, but also gives back, and Nana Star does this and more – a portion of all book and merchandise sales go directly to the Nana Star Foundation, which is dedicated to raising funds for terminally ill children and raising awareness of the crippling problems facing children that attend under-resourced, inner-city schools. Nana Star books are distributed to hospitals and inner-city schools throughout the United States, and I'm sure they've brought smiles to the faces of many a child!
The Nana Star line is recommended for ages 3-7, and I completely agree with that suggestion. Although my toddler loves the Moonman, she can't activate the light and music features without my help. The music could also be a bit loud for babies' little ears. The Nana Star doll includes small elements that could be ingested by children under 3. MJ does enjoy listening to the stories, though I'm sure she doesn't understand the concepts just yet. The entire Nana Star line of products can be purchased from NanaStar.com and the books can also be found on Amazon.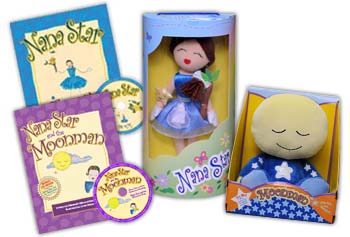 One lucky reader is going to win this entire set, including the Nana Star doll, Moonman lovey, and both books. To enter, please visit Nana Star and leave a comment on this post telling me what you like most about the product line.
Please leave a separate comment for each entry. US entries only. A valid email address or blog URL must be provided so that I can contact you if you win. This contests ends at 11:59 pm EST on February 7th, 2009. Winner will be chosen at random, and has 48 hours to claim their prize.
Thank you to Elizabeth and Elena for this review opportunity!