While I love hosting holiday get-togethers and parties at my house, I often feel I spend more time doing the cooking, serving, and cleaning up than I do mingling with my guests. I'm sure many of you can relate!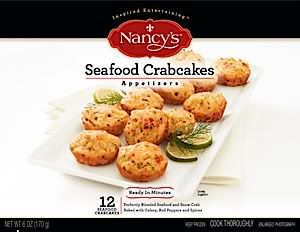 Frozen appetizers and desserts are a convenient option to consider. From cheese soufflés, to mushroom turnovers, crabcakes, petite quiches, and pastry tarts, the Nancy's line has something for everyone. With the price-point of $4 to $13 per package, they can fit easily within your budget. Ready in just minutes, you can take the time to focus on your party and delight in catching up with family and friends.
My favorite product are the petite quiches. I try to keep some on hand in case we guest surprise guests. They're also good for serving at playgroups. However, I'm looking forward to trying something new at our family
get-together in a couple of weeks. Maybe the crabcakes! Perfect for a party, just make sure you have at least 6-8 pieces per person, and sprinkle some chopped parsley on top before you take the appetizers to the table for a last minute personal touch! Pecan pie is my absolute favorite dessert, so I'll definitely be picking up a box of the pecan tarts as well! But that'll be just for me. 😉
Locate the nearest store that carries Nancy's appetizers and desserts at www.Nancys.com, where you'll also find entertaining tips and recipes.
WIN IT!
One reader will win a coupon for a free Nancy's product. To enter, please visit www.Nancys.com, come back, and leave a comment telling me which one you'd like to try. I'll pick a winner on Friday, 12/18.
I wrote this review while participating in a blog tour campaign by Mom Central on behalf of Nancy's and received a free product coupon for myself, and one for giveaway.