I remember how happy Maya and Maura were when the Olivia television series premiered on Nick Jr a while back. The fun adventures that before were limited to the pages of a children's book – and my daughters' imaginations – was now on the screen! It made them love Olivia that much more.
Now, the girls get to play out Olivia's adventures with their toys! We've been playing with the new Olivia 2-in-1 Transforming Playset and an Olivia plush, and have been having so much fun with both! Made by Spin Master, these creative toys are made for children ages 4 and up.

Olivia 2-in-1 Transforming Playset
The Olivia 2-in-1 Transforming Playset comes with an Olivia figure, 23 fun accessories, and a sheet of stickers to decorate Olivia's room and more. It may be small, but it really is two playsets in one! I love that it's easy to pack up and carry to a friend's house with the convenient handle.
In the best-selling book, Olivia invites kids into both aspects of her life – reality and fantasy – and this playset touches on that concept perfectly. Open up the playset and you can peek into Olivia's house. Close it, flip it around, and it magically opens up into a pirate ship.
The girls have been enjoying hours of imaginative play with this dollhouse. They started by decorating it with stickers. Then they arranged all the furniture and Olivia was ready to move in! Olivia barely had a chance to put up her feet on her little sofa before the girls transformed the house into a pirate ship. It's a lot of fun to play with. My only criticism would be that a few of the pieces are tiny… teeny tiny… so watch out if baby siblings are crawling around!
Olivia Plush Doll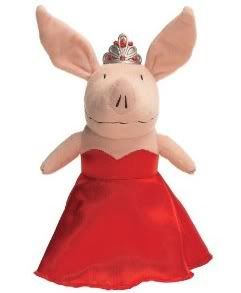 This is my favorite toy of the two, because she's just so gosh darn cute! The Plush Doll comes in a variety of different styles – wearing some of Olivia's favorite outfits from the television series. We got the Cow plush, an outfit you may recognize from the episode (and later the book) 'Olivia Acts Out' where Olivia plays the role of "Cow Number 2" in a school play. The 18-inch plush is well made, with intricate details and adorable bendable ears. Maura hasn't put her down!
Disclosure: Team Mom provided us with the product samples pictured above to facilitate our review. All opinions are our own.