Does your PC take a long time to start up? Does it freeze when you have multiple windows or programs open? You might think it's time to buy a new computer, but that might not be the case. All it may need is a little tune-up.
This is where Norton by Symantec comes in. The company recently launched Norton Premium Services, which allows you to connect with Norton experts, who will talk to you one-on-one, listen to the problems you're encountering, and then directly access your computer via the Internet so they can run diagnostic tests and fix the problems while you sit back and watch.
They offer a variety of services:
Green PC Service – Save electricity by helping reduce your PC's power consumption
Spyware & Virus Removal Service – Detect and eliminate dangerous threats, and learn how to stay safe online.
Expert Installation Service – Custom Norton software installed, according to your needs.
PC Tune-Up Service – Boost your PC's speed, performance, and overall operation.
Jump Start Service – Save time and money with a combination of two services – Expert Installation and PC Tune Up.
All you need is an Internet connection, Internet Explorer, and a PC running Windows. These services aren't cheap, but are certainly much less expensive than hiring a stranger to come to your house to check your computer out. You don't have to haul it anywhere to fix it, either. It's all done from the comfort of your own home.
Mom Central gave me the opportunity to try the Norton PC Tune-Up. I don't have a PC, so I chose to give it to my brother as an early Christmas present. I've used his computer, and trust me, it needed the tune-up.
What the PC Tune-Up does:
A full scan to evaluate issues affecting performance.
Fine-tune key areas to improve speed and stability.
Free up memory space.
Assess security issues.
Recommend steps to ensure top performance.
All you do is call a 1-800 number, talk to a representative, and in a half-hour (maybe more), your computer will be running like new. It really is a no-hassle, convenient way to give your computer much-needed maintenance. Your car gets a periodic oil change, right? So should your computer!
I'd definitely recommend the PC Tune-Up to someone who doesn't know much about computers. You'll learn a lot over the phone from the Norton expert. These services are available 24/7, so not having the time during the day is no excuse. The solution to your PC problems may only be a phone call away!
Actually, for you – it may only be a comment away! Enter to win your own Norton PC Tune-Up service. I have 3 to give away. Use it for yourself or give it as a gift – it's a $69.99 value! All you have to do is leave me a comment telling me a problem you have with your PC.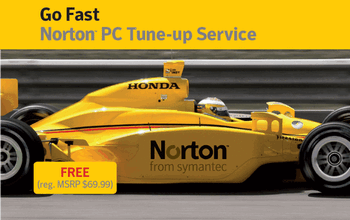 Please leave a valid email address or blog URL in your comment. This contests ends at 11:59 pm EST on December 9th, 2008. Winners will be chosen via random.org, and have 48 hours to claim their prize.