How cool is it that I can chat with Everyday Food Magazine's editor-in-chief Deb Puchalla on Twitter? And she read my blog. A while back I also talked to assistant food editor Emma Feigenbaum about a little incident she had with her iPhone – accidentally baking it while testing a recipe.
I guess you can say I'm a little star-struck!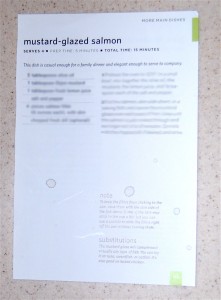 I remember reading the very first issue of Everyday Food way back in early 2003. I've been a loyal reader ever since, except for maybe 1-2 years when Maya was a baby and I had no time (or motivation) to cook much.
One of the recipes from that first issue is still in our regular rotation – the mustard-glazed salmon. It's my hubby's absolute favorite dish. I've tried preparing it other ways, but ultimately we always revert back to that.
I subscribe to a lot of magazines, but Everyday Food is dearest to me. I love the compactness of it. I used to just tear out recipes I liked, but now I save all the issues and pull out the ones pertaining to the current season when I'm in need of inspiration. The regular features are excellent. "Have You Tried?" has encouraged me to try new foods, with "Wine Basics" I can impress my husband my pairing the perfect wine with dinner, "Kitchen Tips" are always valuable, and "In Season" reminds me of what I should look for at the grocery store.
I've gifted Everyday Food to family and friends several times, and it's always a hit! An affordable one, at that. Just on my street, there are 3 of us that subscribe, which is great because we can share our experiences – "Have you tried making the apple crisp from so-and-so issue?" for example.
The Everyday Food show on PBS is my preferred cooking show on TV at the moment. It doesn't have any of the pretense of the programming on other channels. No gimmicks, just good food. I watch it every Sunday morning along with Maya and always look forward to a new episode. If you've never seen it, check your local PBS listings.
Do you have a favorite cooking magazine?