My babies aren't babies anymore, but they still love to crawl around and play on the floor, so I try to vacuum, sweep, and/or mop often to keep it as clean as possible. It's hard to tell if it's really clean, though. There can be more germs on household floor surfaces than on toilet seats, kitchen counters and bathroom tiles combined.* This is why I was so interested in reviewing the Oreck Halo.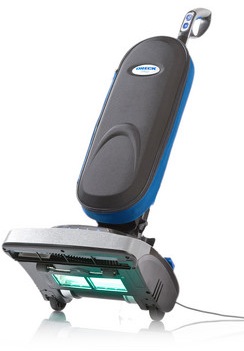 The Oreck Halo is a new vacuum that features UV-C technology, the same type of germicidal light used for sterilization in hospitals and water purification plants. This UV-C light kills germs, bacteria, viruses, allergens, and mold, all without the use of any chemicals.
This all sounds very technical, but in reality this vacuum is just as easy to use as any other upright vacuum.
After unpacking it, it's ready to use in minutes. You just have to screw the handle in, connect a couple of other parts, and put the attachments in their designated spots.
It turns on with a button located on the handle. I like that I don't have to reach down or use my foot to turn it on.
Set the carpet height on the side of the vacuum. This setting will be saved for when you use it again.
Press the foot lever to incline the handle.
Hold the trigger in the handle to activate the UV-C light. The Oreck Halo logo will light up indicating that it's working.
Vacuum as you normally would. It weighs 17 lbs and has a 29-foot power cord, so it's not terribly hard to move from room to room. You can turn the brushroll off with the flick of a button on the handle, to move seamlessly from carpet to hard floors.
This video shows you what it's all about:
So does it work?
The Oreck Halo UV-C technology has been tested by industry-leading scientific experts* that have found that it kills many common microorganisms and viruses instantly upon exposure… more than 99 percent of many common types of germs! As for its vacuuming capabilities, this vacuum is excellent at picking up dirt and debris from my carpet and floor. It glides nicely over my carpet, without much effort on my part. Much better than the Dirt Devil that I was previously using. It's kind of nice not having to empty out a canister and inhale all the dust that inevitably would rise up from it! The Oreck Halo has a HEPA 13 filter bag that's made of a tightly woven fiber that won't let anything escape. I'm not sure how long I can go between changing bags, but at around $3 a bag, the price of replacements isn't too bad. The attachments are what typically come with an upright vacuum – a detachable hose, crevice tool, and brush. The hose can reach up to 13 feet, which is great for getting into corners and under furniture.
Is it safe?
We all know that direct exposure to UV-C light can be dangerous, but the Oreck Halo has built-in safety features to ensure that proper use will not cause any harm to people or pets.
You have to press a trigger in the handle to activate the UV-C light. If you let go, the UV-C light will automatically turn off even though the vacuum will keep operating.
The hatch on the light chamber must be tightly closed. If it opens for some reason, the UV-C light automatically turns off.
All four wheels must remain flat on the ground. If one of the wheels loses contact with the ground, the UV-C light automatically turns off.
Buy it!
Ideal for parents worried about their kids crawling and eating something off the floor, for pet owners, or for those people that suffer from indoor allergies, the Oreck Halo retails for $599.95 and can be purchased online or at your nearest Oreck Clean Home Center. Oreck offers a 3 year warranty on the vacuum, including three free tune-ups, and a 5 year warranty on the UV-C light bulb. It's easily serviced at any one of the 450 Oreck stores across the United States.
Of course I can't tell if the Oreck Halo is truly killing 99.9% of the bacteria found in my carpet and on my floors, but the peace of mind that it gives me and just the quality of the vacuum itself is worth the purchase price. I love that I'm vacuuming and killing germs in one step.
I can see your Halo Halo Halo…
Oreck is allowing me to give one of these vacuums away to one very lucky reader! To enter, please visit the Oreck Halo website, take a look around, and leave a comment below naming one of the microorganisms that the Oreck Halo kills with its UV-C light. I'll announce the winner 3 weeks from today, at midnight on July 23rd… after a night of partying at BlogHer!
For extra entries:
Blog about this giveaway, linking back to this post and to the Oreck Halo website.
Subscribe to my feed (or let me know if you already do).
Become a fan of Riding With No Hands on Facebook.
Follow me on Twitter (@OhMariana) and tweet about this giveaway: Enter to win an @Oreck Halo vacuum from @ohMariana! It uses UV-C technology. A $600 value. https://bit.ly/eV6WH
Grab my button and link to me in your sidebar or blog roll.
Add my blog to your Technorati Favorites by clicking on the button in my sidebar.
Please leave a separate comment for each entry and leave a valid email address or blog URL in your comment. US entries only. This contest ends at 11:59 pm CST on Thursday, July 23rd, 2009. Winner will be chosen at random, and has 3 days to claim their prize.
P.S. Visit The Mom Buzz for another chance to win this amazing vacuum!
*Source: Dr. Charles P. Gerba, from the University of Arizona, a nationally recognized expert on immunology and environmental microbiology, with particular expertise in bacteria and viruses.