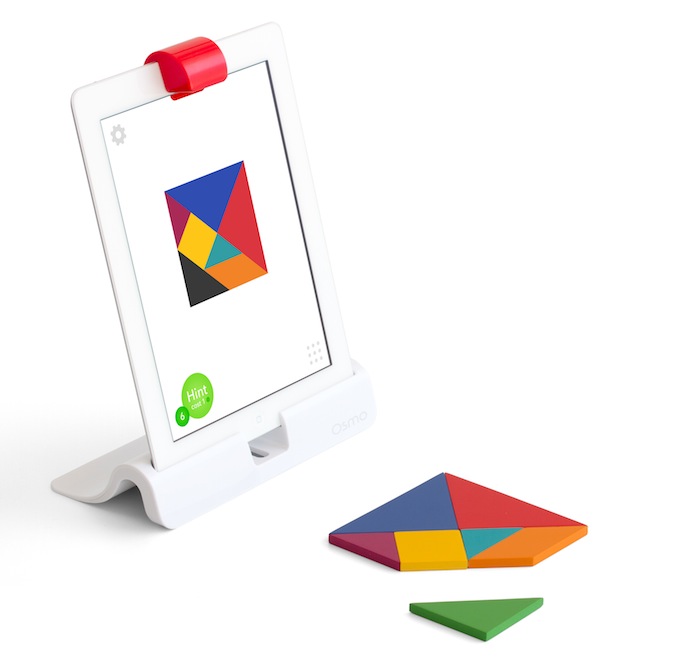 The reviewer has been compensated in the form of a Best Buy Gift Card
and/or received the product/service at a reduced price or for free.
My kids have had an iPad for years, but lately they haven't been using it for much more than playing Minecraft or watching YouTube videos. This is why I was so excited to try out Osmo, a unique game system that changes the way kids interact with their iPad by opening it up to hands-on play, providing them with a fun, exciting, and creative way to explore science, words, art, numbers, and more!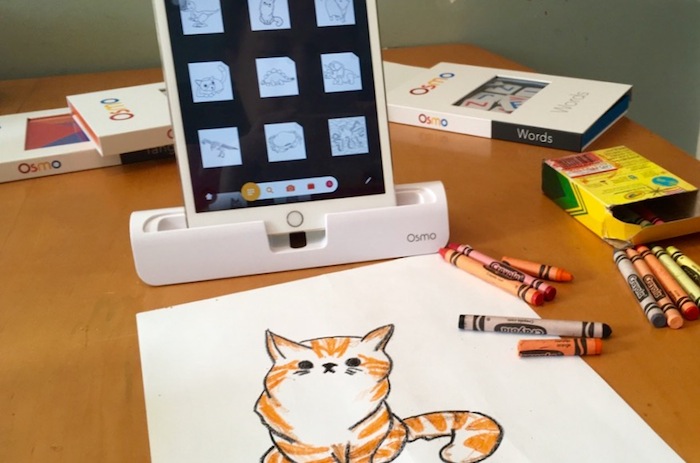 SET UP
First off, you must have an iPad to use this game system. Osmo is compatible with the Apple iPad 2, 3, 4, all versions of the iPad mini and iPad Air, and the 9.7-inch iPad Pro. You do have to remove the case from the iPad, so we've been using Osmo with my mini instead of the girls' big iPad which has a protective case that's hard to take on and off. I believe that Osmo is working on a solution for this, however.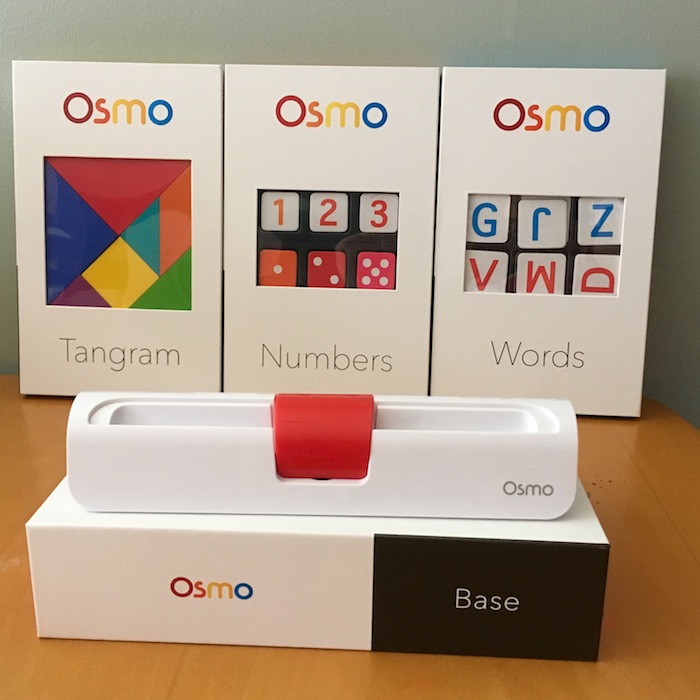 The set includes a mirror, a sturdy base and game pieces. You must download 5 game apps (for free) from the App Store; they don't take up much memory at all. You should also have a supply of white paper (or a white dry-erase board), pencils, crayons, or markers for drawing, and a solid colored surface for playing.
Set up is simple. You put the iPad vertically in the white Osmo base and place the red reflector centered over the front camera. Now the iPad can see what's in front of it and it's time to PLAY!
I had to create a myOsmo account first, and was given an activation code for my iPad which can be used for other devices as well. Then I created profiles for everyone in my family, since we're all of different ages and skill levels. The girls can easily change to their profile when they start playing a game and pick up right where they left off! I get weekly emails with updates on their recent activity.
The Osmo Genius Kit we have comes with 5 games – Words, Masterpiece, Tangram, Newton, and Numbers – which are specifically designed to foster creativity, problem solving, and social intelligence skills.
Tangram: The purpose of this game is to arrange wooden puzzle pieces into matching on-screen shapes. Osmo continues to challenge you with more advanced levels and acts as your mentor by lighting up with each correct move. There are over 400 puzzles to unlock!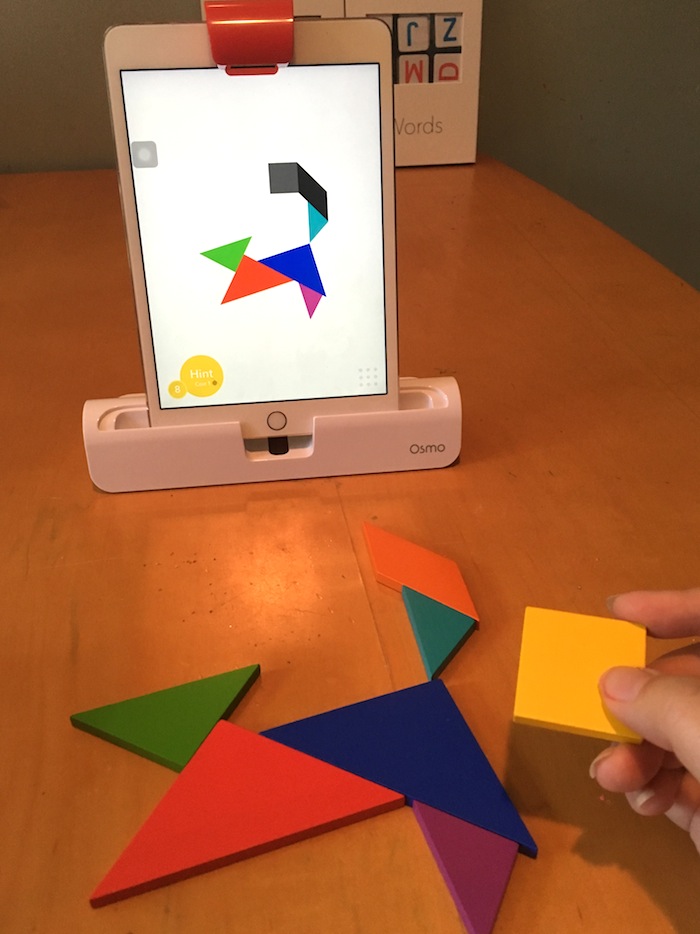 Newton: This game is all about using creativity, problem-solving, and logic skills to guide falling on-screen balls into targeted zones. Kids must draw or find objects that will help them reach their goal and place them in front of the screen to manipulate the balls to go where they want them to go. It's fun to use some of the Tangram pieces for this!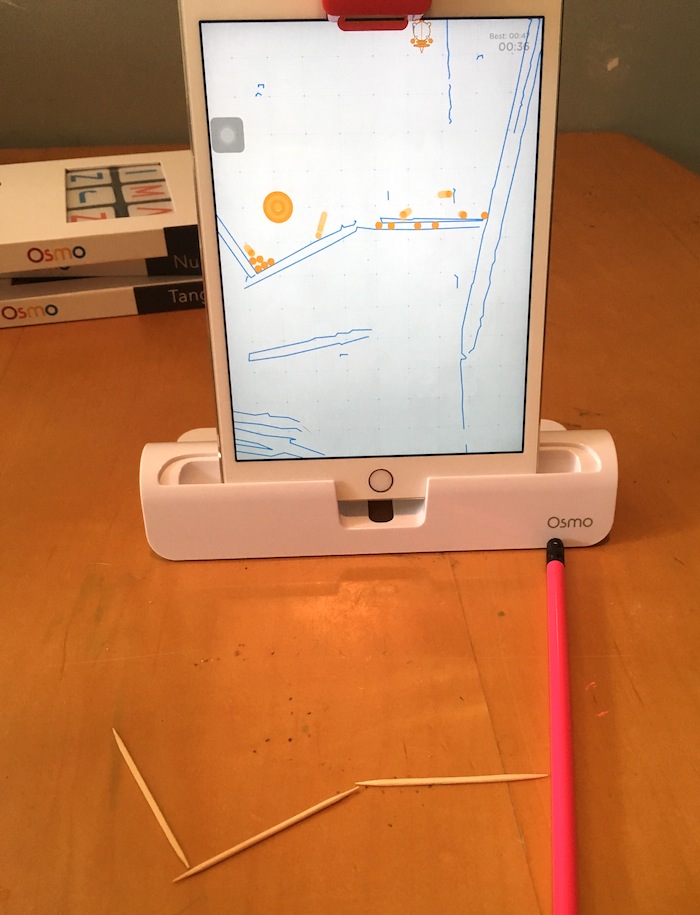 Words: Being the first to guess and spell-out the hidden word on-screen is the purpose of this game. It's kind of like Hangman. Play by yourself, or toss down real-life letters faster than your friends using a picture as a clue. You can download free content or upload your own words.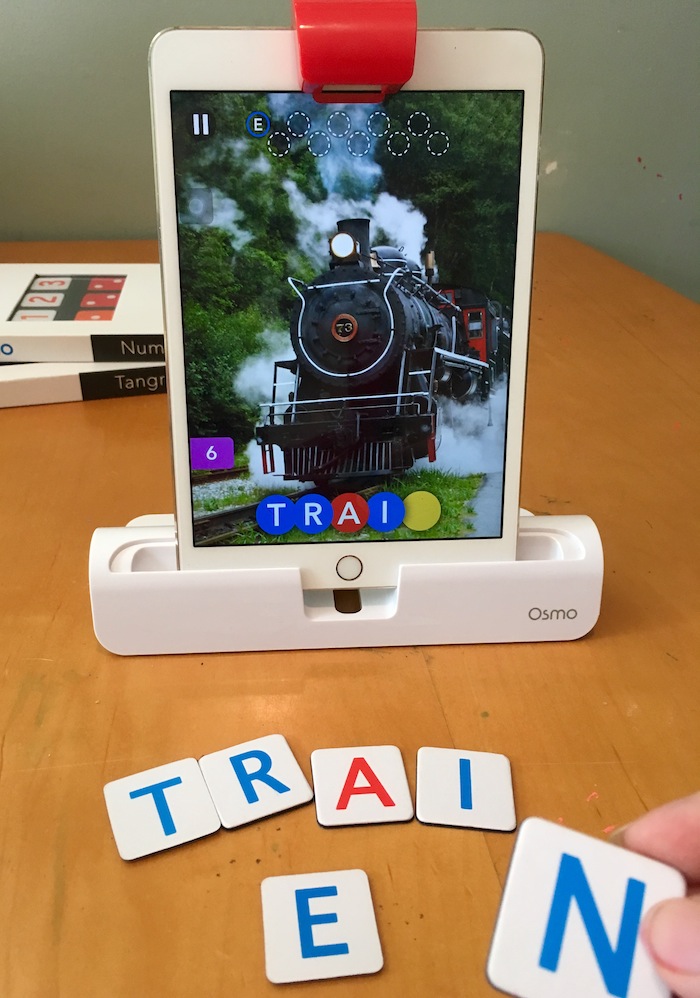 Numbers: With counting, addition and multiplication modes, there is a challenge for everyone in this fish-themed game. As kids get more confident in one mode, they can move on to the next one, allowing them to learn at their own pace. While this game is fun, it's the one my kids use the least because… math.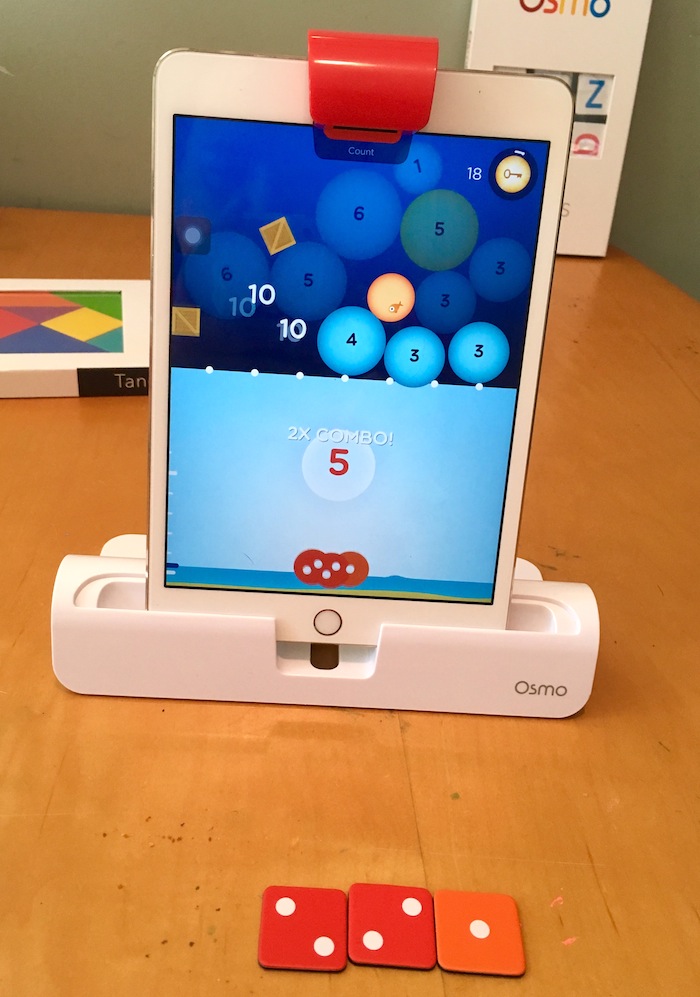 Masterpiece: This is my favorite because I just love to draw! It's the app that makes Osmo stand out, in my opinion. You pick any image from your camera, a web search, or the Osmo gallery and Masterpiece transforms it into easy-to-follow lines, then guides you as you draw it to perfection. (Well, almost… it does take some practice!) When you're done you can share the cool time-lapse video of your masterpiece with your friends and family. It's a great way for kids (and adults!) to improve their drawing skills.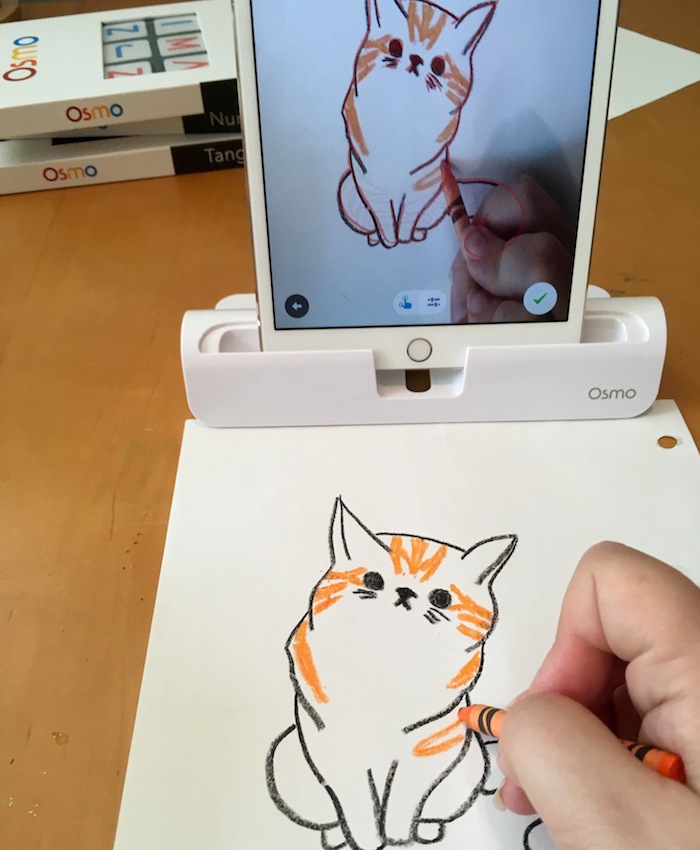 This is the time lapse video Osmo made of the drawing up above so you can see I actually drew that myself! My daughters and I are all obsessed with this feature.
The Osmo game system is specifically designed for kids ages 5 to 12, but everyone in the family will have fun with it. I know we all love it! I like that it works with the tablet we already have and that it's so portable and doesn't need Internet access after the initial setup. We'll be able to take Osmo along wherever our summer travels take us!
I'd recommend this product to families who already own an iPad and are looking to use it as more than a passive consumption tool. Schools would also benefit from Osmo. I know my sister (a 5th grade teacher) was very interested in how it works and the potential it has for classroom use. In fact, Osmo has already been adopted in over 15,000 schools around the world!
BUY IT!
Tech toys like Osmo provide a fun and educational experience for our children and can influence how they learn, build, and grow. With these new kids' tech gadgets and learning apps, keeping your kids engaged this summer couldn't be easier! The Osmo gaming system starts at $79.99 and is sold at Best Buy (the iPad is sold separately, of course!) I can't wait to try the Coding kit next. I have a feeling a little girl I know will be getting that for her birthday later this month. 😉
How do you create fun and educational experiences for your kids?