Sponsored by Cheerios®
My ultimate family vacation… what would it be? I'm torn between spending a couple of weeks backpacking through Europe with my husband, footloose and fancy-free, or heading to the beach with my entire family and just doing nothing for a while. If money (and time) were no object, I'd probably choose the latter, as I can't stand to be away from my daughters for more than a day or two!
I was born in Corpus Christi, Texas, at a hospital that literally faced the ocean. It's in my blood. I love hearing the waves crash onto the sand, the seagulls squawking overhead, and feeling the warm sand beneath my feet. There's nothing else like it.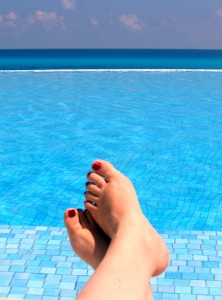 That said, my ultimate family vacation would have to be at an all-inclusive resort. Having stayed at two such resorts in the past, I can tell you from experience that there's no better way to vacay! While I'd happily revisit the Mexican Riviera or the coasts of Jamaica, I'd love to explore a new place. Hmm… the Turks and Caicos sounds nice… yes, those islands would definitely fit into my fantasy!
I'm serious about doing nothing. Lounging around all day, sipping strawberry daiquiris, reading mindless romance novels while watching my daughters frolic in the shallow, blue water… that would be all I need.
What would your ultimate family vacation be?
Don't forget to enter the "Do What You Love" Sweepstakes, for a chance to win your own ultimate family vacation. I was selected for this sponsorship by the Clever Girls Collective, which endorses Blog With Integrity, as I do.