I am. A month from now.
Valentine's Day is one of my favorite holidays. I know it's turned into a big commercial thing, but just the thought that we have this one day where we celebrate how much we love one another is really beautiful.
For the second year in a row I'll be hosting our neighborhood Valentine's Day party, and will also host another smaller one for my Mom's group. I usually make handmade Valentine's for family and friends, but I may not have enough time do so so this year. There aren't enough hours in the day!
Luckily there are tons of options out there.
Nicole, a dear friend of mine, has a wedding and party favor store, called Party Boutique. These favors can be used for so many other occasions other than weddings! I was just thinking some of her products would be perfect for Valentine's Day, maybe even substituting cards.
A few reasons why I love these party favors…
They are :
Unique. I haven't seen anything like them anywhere else!
Of good quality! The packaging is beautiful, and the products themselves are very well-made.
Practical. Most are inherently useful, not just some knick-knack to be thrown away after the party.
A good value. No minimum purchase is required, so you can buy just what you need.
Able to be personalized (most of them).
Shipped fast. Most (non-personalized) items ship within 1-3 days from when the order is placed.
Since no minimum order is required, you can order a sample or two so you can see just what you're getting before you order for your entire party! Nicole is also there to help. If you need a suggestion, just tell her what kind of party you're hosting and she'll pick out a few things for you.
Below are a few favors that would be absolutely PERFECT for Valentine's Day!
Click on the photos for more information.
"A Slice of Love" Stainless-Steel Pizza CutterYour favorite Valentine will take a "pizza" your heart with them with this adorable and useful pizza cutter.

The protective grip says "A Slice of…" just above a red heart, with the letters L-O-V-E appearing as cutouts on the blade, and it's all cleverly packaged in a miniature pizza box.

"Love Beyond Measure"
Heart-Shaped Measuring SpoonsYou could say love is like cooking: when you combine the right ingredients, the result is heavenly!

Each set of heart-shaped spoons has "measures of love" on one side and traditional ones on the other.

"A Pinch of Patience" = ¼ teaspoon
"A Dash of Kindness" = ½ teaspoon
"A Spoonful of Laughter" = one teaspoon
"A Heap of Love" = one tablespoon

"Scoop of Love" Heart-Shaped Ice Cream Scoop
This heart-shaped ice cream scoop mixes sweetness with functionality for a gift that will bring years of smiles… and ice cream sundaes… to your guests.
"Cut Out for Each Other" Heart Cookie CuttersThese heart-shaped cookie cutter favors have a clever tag that reads "Cut Out for Each Other".

Perfect for a cookie swap party!

"Love…Let Me Count the Ways"
Heart-Shaped Calculator

Let your guests tally up the many reasons they love you… and their next month's expenses, with this handy calculator.

"Love Grows" Plantable Wildflower FavorsExpress how "Love Grows" with this collection of blossoming flowers. Embedded into every handmade favor is a lovely variety of wild flowers. When watered and cared for, your guests will love these lovely living favors and think of you, for months after.

This would be the an excellent Valentine's card.
It's a new year, so I'm also thinking about my daughters' birthdays. It's never to early to start planning, right? The baby's birthday is coming up first, and I'm not too big on goody bags since most guests are adults. Nicole sent me the cutest favors that would be ideal for a girl's birthday, and also appropriate for a baby shower: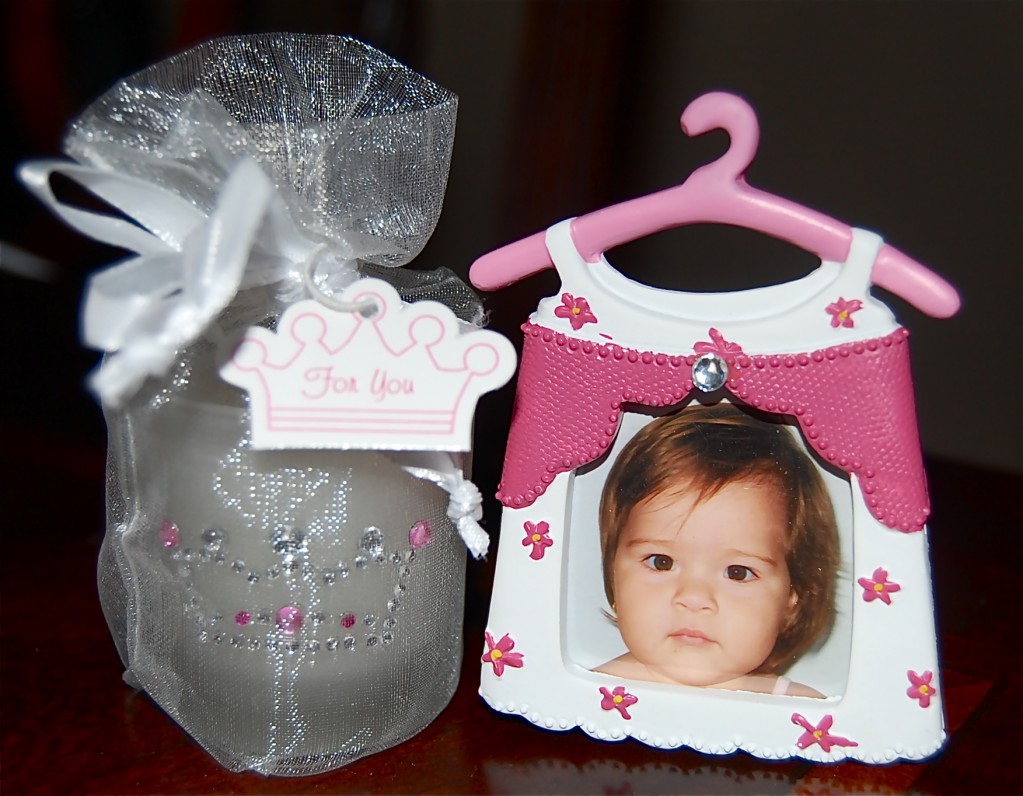 The "Crown Jewels" Frosted-Glass Votive Candle with rhinestones comes in a set of four. Each candle sits in a sheer, drawstring organza pouch and smells SO good.
And to the right… isn't she a cutie?! I can thank guests for "hanging out" at my daughter's birthday party with darling "Thanks For Hanging Out" photo frames.
These are just a handful of examples of what Party Boutique offers! Check out Nicole's site for more information. If you see something you like (and I'm sure you will!) use code: 3361ten for 10% off your entire order.