This is the first year that both my daughters are excited about Christmas. This is also the first year that we'll be counting down the days using an Advent calendar. Playmobil sent us one, and I have a feeling buying a new one every year is going to become one of our holiday traditions!
Best for ages 4 and up, as there are many, many little pieces, Playmobil Advent Calendars are a great gift, and an affordable one at that, retailing for between $16.99-$18.99. Whether you're looking for something Christmasy, whimsical, or a set based on a realistic theme, you'll find a calendar your kids will love, both girls and boys alike. Every year, Playmobil releases a few new sets. For instance, new for 2010 are the "Christmas in the Forest," "Pony Ranch," and "Dragon's Land." Also available: "Unicorn in Fairy World," "Nativity Manger," and "Police," which is the calendar we have.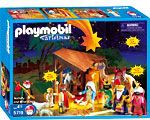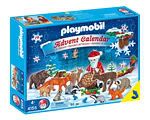 These Advent calendars offer children 24 surprises for each day of Advent. Well, Advent starts on a different day every year, so that's not completely accurate. It's more like a countdown to Christmas, as the calendar covers December 1st through 24th. Children open a box each day and add what they find to the scene, completing it on Christmas Eve. While it is called an Advent calendar, apart from the nativity scene, these sets don't have anything religious about them.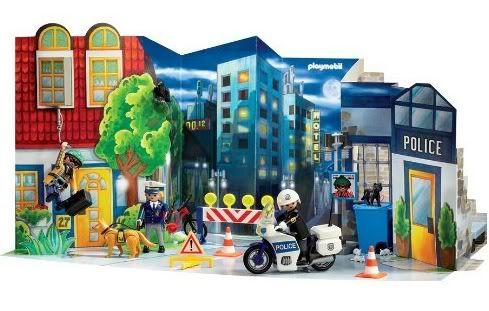 Some assembly is required, so parents should open up the Advent calendar ahead of time – maybe the night before – and get it ready. The box says it takes 45 minutes to set up this particular style, and it took me just about that long. If dad helps out, you could cut the time in half! 😉 I actually enjoyed putting it altogether, though, taking my time admiring all the unique pieces. The parts come in a number of plastic bags, unsorted, ready to be placed in their correct boxes. The boxes are numbered, and must be folded together and attached to a board that can be hung up on a wall. Or set up on a table as I did, in the photo below.
I've always loved Playmobil, and this set does not disappoint when it comes to quality and play value. I'm impressed by all the tiny details in each and every piece, all which transfer seamlessly into Playmobil sets that your kids may already have. The pieces seem to be ordered in a way that that story comes together day by day… the first box is the robber, the second one, his tools, etc. While this may not be an educational toy about Christmas, it is a great tool that nurtures kids' imaginations and encourages them to role play. Oh, and patience… yes, it definitely teaches children about patience! Not opening all the boxes at once, no matter how badly you want to, is tough, but a great lesson in itself.
I'd recommend dedicating a space just for the Advent Calendar, because moving it around may result in lost parts. We have ours on a console table in our living room, where the girls can share it with friends that come and visit. Maya and Maura will alternate, each one opening a box every other day, filled with either one big toy or multiple small ones. They will open up their first little surprise this evening! They're so excited to get started! I'm hoping our system won't be a problem… or else I might just have to go searching for a second calendar!
BUY IT!
Playmobil Advent Calendars are available on the Playmobil website and at more than 2,200 retailers nationwide. If you get a calendar a little later in December, your kids should have no trouble catching up. If you have two kids, you can alternate, like us, or maybe you can count down the 12 days of Christmas, and both children can open a box every day. Hint, hint... you're likely to get these on sale in stores after December 1st, anyway!
Does your family countdown the days until Christmas with an Advent calendar?
Playmobil provided me with the product sample pictured above to facilitate my review.