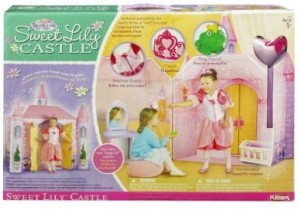 Since Playskool's Dream Town collection hit stores back in 2007, it's been a huge hit! My girls have had the Rose Petal Cottage since Christmas, along with a bunch of accessories, and I'm so impressed at their quality. The house itself is made of fabric, and much of the furniture and appliances are made of fiberboard, so I wasn't sure how it would all hold up to a toddler and a preschooler, but these things have been climbed, sat on, tossed around, and are still going strong. I wouldn't expect anything less from Playskool!
We recently were granted the opportunity to try out one of the newest additions to the Dream Town collection – the Sweet Lily Castle. It's constructed basically the same way as the Cottage – a framework of poles and connectors covered by a sturdy, tent-like fabric. One thing I love about these structures is that no tools are necessary to put them together. Everything you need is in the box – over 100 parts! Having already put together the Rose Petal Cottage, I wasn't intimidated by the sight of all those pieces. I learned from my mistakes the first time, and was much more organized. The only difference was that this time I let Maya help.
I was understandably hesitant to do so, but it ended up being a lot of fun! The instructions are clear, and all of the steel tubing and connectors are color-coded and/or numbered. I did have to go back and reinforce the rods that Maya didn't quite tighten enough, but other than that she did a great job, and was very focused throughout. The look of accomplishment on her face when we were done piecing together the frame was priceless!
The next step – sliding the fabric on – is what I've found a little more challenging on both the Cottage and the Castle. You have to line the frame up just right, and then zip the cover around it. It tends to be pretty tight in some spots, so this was something that I could not let Maya help me with. There's velcro throughout the inside of the walls and the roof to keep everything in its place. The fabric itself is beautiful, printed on both sides. Outside, the Castle looks like it's made of stone with flowers surrounding it. Inside, it's decorated with elegant wallpaper!
From the moment we started, not including a break to have dinner, it took us a little less than an hour and a half to put it all together. If there had been an extra pair of hands helping.. ahem! Dad's, for example… we probably could've been done a lot sooner!
I'd say the Sweet Lily Castle is definitely a step up from the Rose Petal Cottage. My first thought when I was done was – Wow! This is huge! It's always hard to have an idea of just how big something is from the photos on the box. Over 5 feet tall, 4 feet wide, and almost 4 feet deep, the Castle is big enough for the three of us to play in comfortably. It takes up a good amount of space, but since one half is just a little smaller than the other, it can be adjusted (and even stored within itself) to use up to half the space. It's heavy enough that the halves don't fall over easily, but not so heavy that I can't move it from room to room as needed.
Here's a photo of half the Cottage next to the Castle:
I'm not sure about the square footage of either, but the extra height of the Castle really makes a huge difference. Not only can Maya stand in the Castle without hitting her head, but she can even dance and jump around. That's something she couldn't do in the Rose Petal Cottage! The only thing I'd change about the Castle is to make its doors close magnetically, like those of the Cottage.
It's obvious that the Dream Town collection was created with girls in mind, but even boys will like the Sweet Lily Castle, in their own special way! Maya's best friend Ben was very impressed, and quickly turned one half onto its side, and proclaimed it a fort. Maya pushed the other half against the wall, and hid inside. She's quite the actress, playing a convincing damsel in distress!
The Sweet Lily Castle comes complete with a gorgeous princess outfit – a dress, tiara, and a magic wand. The tiara is made of a flexible plastic, just like the wand, and the dress is very well-made and fits Maya perfectly. There was even a cute frog prince in the box which has since become a bath toy! It's the details that make all these products so great.
If space isn't an issue, I highly recommend getting a Sweet Lily Castle for your little princess! It retails for $199.99, but Amazon sells it for much, much less. Like everything else in the Dream Town collection it's made for kids ages 3 and up. If you're thinking of upgrading from the Rose Petal Cottage, all the furniture and accessories fit in the castle perfectly, both size and design-wise.
Maya loves that she has her own hideaway now, where she can comfortably stretch out, maybe even take a nap. I love that it's become her go-to spot for afternoon quiet-time and somewhere where her imagination can roam free. Her first reaction when we opened the box was –
"Now I can have a ball, mom!"
And that's exactly what we've had.