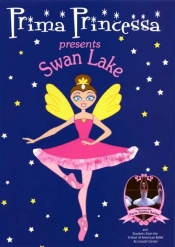 Maya, my four-year old, is just getting interested in ballet. She actually informed me a couple of weeks ago that she wants to be a "fairy princess ballerina" for Halloween. So when I was invited to review 'Prima Princessa Presents Swan Lake', I jumped on the chance. After all, Prima Princessa is – you guessed it – an animated fairy ballerina!
'Prima Princessa Presents Swan Lake' is just what I expected it to be – a perfect introduction to the world of ballet. It features a condensed performance of Swan Lake by the Paris Opera Ballet, with short ballet lessons in between acts. There is plenty of repetition as well as fun clips of animals and children dancing (boys, too!), and students from the School of American Ballet.
I remember watching a performance of Swan Lake when I was younger, but didn't recall exactly what it was about, so this was a refresher for me as well. It's narrated by Prima Princessa herself, in language that's really easy to understand for kids of all ages. Maya was on her feet the entire time, absolutely captivated by the story, and wants to invite all her friends over to watch it. Little Maura sat through the entire show and clapped along with the girls in tutus! I have to admit that even I twirled around the room a few times.
What I find amazing is that this 40-minute DVD was produced by two stay-at-home moms from New Jersey with no prior cinematography experience! Mary Kate Mellow and Stephanie Troeller were inspired to do so by their children's love of dance. They couldn't find a ballet movie appropriate for their children, so they made their own… and they did a fabulous job!
'Prima Princessa Presents Swan Lake' is available in specialty stores nationwide and on Amazon.com. It would make a great gift for any budding ballerina!
Check out their website www.PrimaPrincessa.com for a short video preview and read Mary Kate and Stephanie's blog www.TutuZone.com for even more information. Maya loved the Prima Princessa coloring pages – a nice, quiet way to cool down after all that dancing!
But WAIT… they're giving one of my readers a chance to win a copy of this DVD! All you have to do to enter is leave me a comment telling me who you would like to win this for and I'll announce the winner at 10pm (EST) next Friday night – October 24th.
*** Mary Kate Mellow was the very first person ever to contact me personally about reviewing a product on my blog, and this is my first giveaway, so this makes this review and giveaway extra special to me. Good luck!