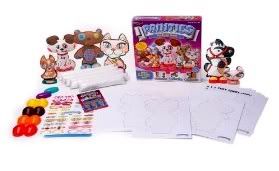 It's no secret kids love stuffed animals. Everyone does! Making your own is especially fun, so when I first stumbled upon this unique way to make stuffed animals at home, I knew my daughters would love it! With Printies Design Studio, all you need is your computer and inket printer, and you're all set to create a custom plush stuffed friend!
I love that Printies allows kids to express themselves and create something on their own. There's absolutely no sewing, gluing, or cutting, so even the youngest kids can do it with an adult there to help out. Design, print and stuff your own Printies in three easy steps:
1. Design Online.
Download the online design studio at MyPrinties.com to bring a Printies to life. You have to register on the site and enter a special code that comes in the Printies Design Studio kit. We used the Ocean Studio. The online design software is simple to use and completely kid-friendly. After I walked her through the different options, my 5-year-old created a dolphin all by herself. Choose a "skin" color, a pair of eyes, a mouth, clothes, accessories, add text or a doodle, and even a photo! Fun!
2. Print on Fabric Sheets.
Feed the special Printies fabric sheets into any inkjet printer to print the custom Printies design. Once the first side is complete, feed the Printies fabric sheet through a second time to print the design on the back side. Double-sided printing can be tricky, but the software guides you through it step-by-step. It's foolproof. The magic Printies fabric sheets work just like paper in any ink jet printer and do not use any more ink than a traditional print out. I noticed ink printed outside of the template itself, which I didn't find necessary. It would be nice if they improved upon this. Also, it's important to pay attention to what colors you're using on the design itself. My neighbor's daughter chose dark purple eyes on her lighter-purple seahorse; it showed up on the screen, but not on the printout itself (so I drew them in!)
3. Stuff and Show Off!
Tear along the perforated shape and pop out the printed, pre-sewn creation. Use the included stuffing and stuffing tool to make it soft. I found tearing the stuffing into pieces made it easier. Place it in any of the enclosed colorful pairs of shoes to seal it shut and put it on display. One downside is that the seal isn't permanent. This is a toy that is really meant more for display rather than play. The stuffing can be removed (so don't leave it within reach of a curious toddler…). A little glue or a needle and thread will fix this.
This is a wonderful activity for a rainy/snowy day. Quiet and time-consuming. What more can I ask for? I pulled out a set for a playdate, and the kids, ranging in age from 2 to 5, took turns working with me on the computer to design their Printies. I did most of the stuffing, but they proudly showed their creations to their moms at the end of the day! A Printies stuffed toy would be a sweet gift; for Mother's Day along with some fresh flowers, for instance. Think about picking up a kit and surprising your kids with it while you're busy baking or putting the finishing touches on the holiday dinner next week!
Enough sheets and stuffing to make 6 Printies is included in each set, which retail for $19.99 each. There are three themes – Ocean, Pets, and Jungle – and 6 sets to choose from. Refill packs, which offer more of the original templates for the child, retail for $9.99 and are available for each of the themed Printies Design Studio kits. I've seen Printies online at Amazon.com, and on the shelves of my local Target. The kits and refills are also available at BJ's Wholesale Club, Toys "R" Us, and Walgreens stores nationwide and online at Target.com, and Toysrus.com. Inkjet printers are so affordable these days, by the way. That printer in the photos – an HP D1660 – cost me $30 WITH ink.
No two Printies will ever be the same. Kids may start with the same fabric sheet and pre-sewn template, but their unique designs result in millions of iterations. So for under $20, kids can make six one-of-a-kind stuffed toys!
WIN IT!
I have 4 Printies Design Studio kits to give away! I'd like for you to receive it as soon as possible, so I'll be doing things a little differently this time. Commenters #250 and #500 on this post will automatically win a kit. The other two will go to my Twitter followers. Follow me, @ohMariana, and @printies and tweet with the hashtag #printies within the next 48 hours for a chance at winning! All winners will be chosen at 12am EST on Friday. Rules: You may leave UNLIMITED comments, but no consecutive comments after the first 25 Comment away! US entries only. Update: If 250-500 comments aren't reached, I'll just pick winners at random from the comments.
BTW, my friends over at www.timetoplaymag.com are giving away Printies everyday this week!
Technosource provided me with two Printies Design Studio kits for review and four for giveaway, at no charge to me. No other compensation was received for this post.