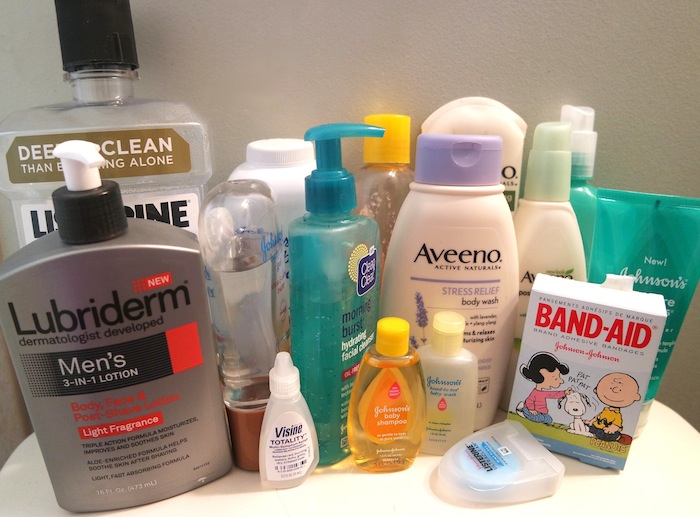 I've always considered myself good at recycling. Most weeks there's twice as much in our recycling bin as there is in our garbage can! But I've realized that most of this comes from the kitchen. I took a couple of minutes to gather just some of the products we currently have in our bathroom right now, and that's a lot of plastic, not to mention the empty toilet paper rolls that inevitably end up in the trash because "no one thinks about walking down to the recycling bin just for that," as my daughter told me when I talked about this with her.
In fact, a 2016 consumer survey on in-home recycling habits, conducted in partnership with Johnson & Johnson Consumer Inc., showed that more than one-third of regular recyclers (34%) admit that it never even occurred to them to recycle in the bathroom! Only one in five recycling families have a recycling bin in their bathroom… and we're not one of them! But this is going to change. I've made space below the sink for a plastic bucket to fill with recyclable plastics and empty toilet paper rolls to make recycling easy and doable for every one in our family.
What bathroom packaging can be recycled?
Look at the numbers on the bottom of your plastic products. #1 and #2 plastics are the ones that are most commonly collected in curbside recycling programs. Fortunately, most plastic bottles are #1 or #2. The clear Listerine® Mouthwash bottles, for example, are made of #1 plastic. So are the clear Johnson's® baby shampoo bottles. Opaque bottles like Aveeno® and Lubriderm® lotions, Johnson's® baby powder, and some shampoo bottles, are made of #2 plastic.
Collection of #5 bottles is increasing, but they are still not accepted at many recycling centers so your curbside recycling program may not allow them at this time. Examples of these are the little Visine® eye drop bottles and Listerine® dental floss containers.
Before recycling any of this bathroom packaging, always give the plastic bottles a quick rinse to remove any leftover residue. You may replace plastic caps, but must remove pumps (these can't be recycled). Then place the plastic products in your recycling bin!
Plastic tubes, like those that contain toothpaste, Neosporin®, and Bengay®, and the plastic film that baby wipes and makeup remover wipes are packaged in are usually a mix of plastic laminates so they are NOT currently recyclable, unfortunately. Toothbrushes aren't either.
So, to summarize…
Mouthwash bottles? YES (#1 plastic)
Lotion and shampoo bottles? YES (#2 plastic)
Toothpaste tubes? NO (#4 plastic)
Dental floss containers? SOMETIMES (#5 plastic)
Cardboard! OF COURSE! Empty toilet paper rolls, soap boxes, tissue boxes, and empty medicine and Band-Aid® boxes can all be recycled.
Ultimately, the more you and your family know about what's recyclable, the more likely you are to do it. This is why it's important to be informed! Visit www.caretorecycle.com for tips and tools on how to become a better recycler. The Care To Recycle® website does a great job of showing that recycling in the bathroom can be easy and fun!
Speaking of fun, it's always neat to turn what many would consider trash into a clever and useful product! I made a mini sewing kit to carry in my purse out of an empty Listerine® dental floss container.
You need: An empty dental floss container
Remove the labels if you'd like.
If there is text printed on the plastic, it can be removed with nail polish remover.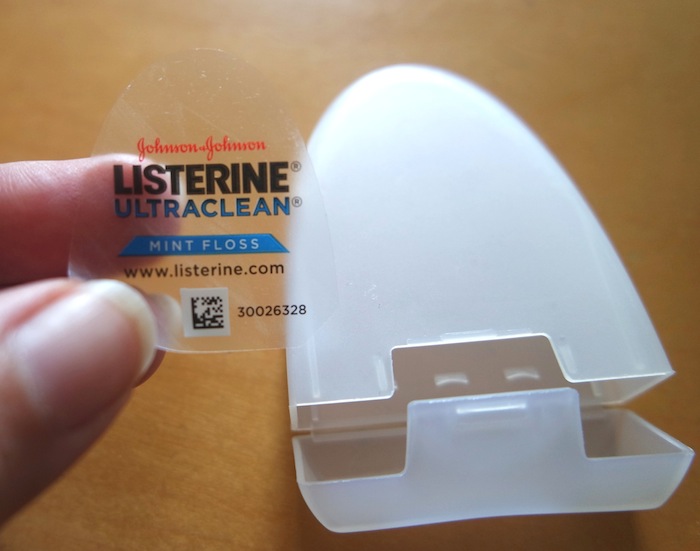 Pop out the top of the floss container that holds the cutter.
Apply a tiny bit of glue to the spool so it stays in place.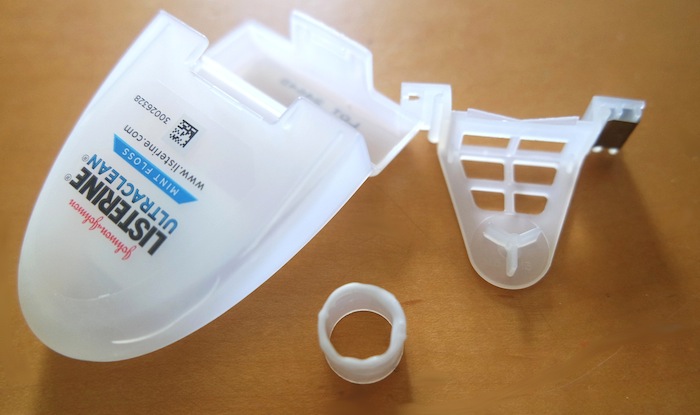 Gather buttons of various sizes, thread, safety pins, sewing pins, a
sewing needle, and a small piece of fabric to hold the pins and needles.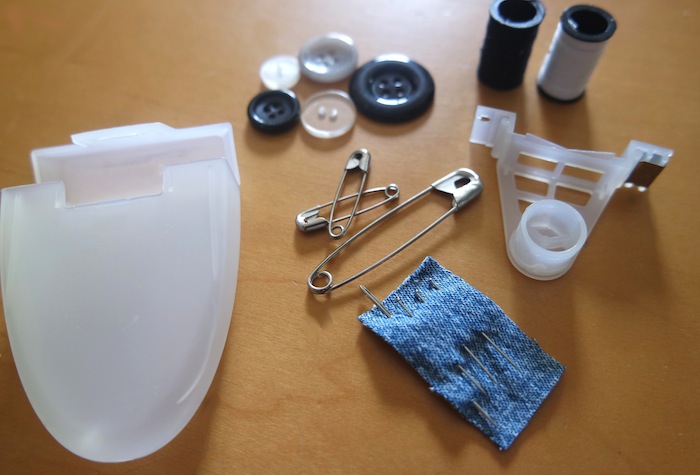 Wrap a bit of thread around the spool and up through the cutter.
I used both white and black. You never know what you might need!
The dental floss cutter is so convenient for cutting thread!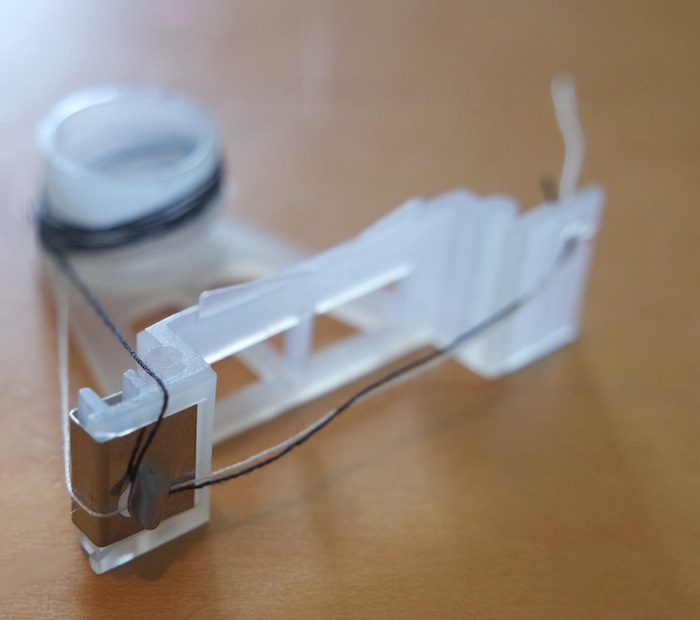 Place the needles, pins and buttons inside the container, then pop the cutter part back in.
There are slots in the top perfect for the safety pins.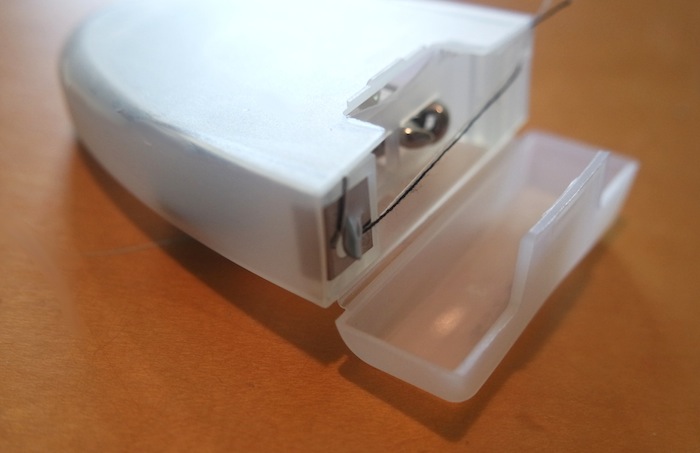 The top stays securely closed and the cutter top pops out easily!
If all you need is a safety pin, just shake it out onto your hand.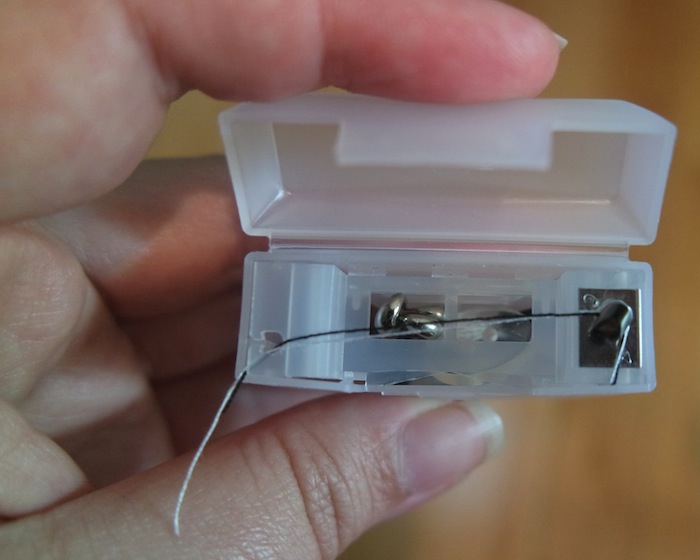 This DIY sewing kit is the perfect size for your purse or glove compartment!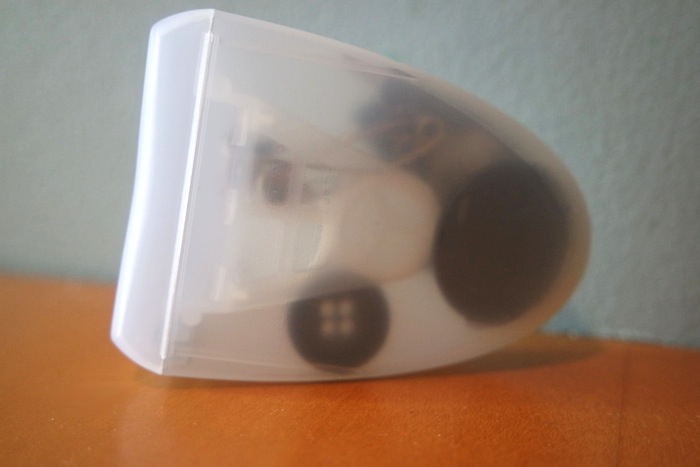 If you want to create your own DIY projects with recyclable materials, here are a few tips:
Limit the amount of glue or paint you add so the project can be recycled eventually!
Try to avoid cutting large bottles. These are more likely to get properly captured at your local recycling facility into small pieces.
Consider using packaging that is NOT currently recyclable, like tubes, #5 plastic containers (like the floss container I used above), and plastic film (from wipes). Get creative!
Remember that everything from shampoo and mouthwash bottles to soap and bandage boxes can be recycled! There are only a few items which cannot be. To get more information about which bathroom products can and cannot be recycled, visit www.caretorecycle.com. Together, we can make a big impact and help create a healthy planet for our kids today, and for future generations to come.
I was selected for this opportunity as a member of Clever Girls and the content and opinions expressed here are all my own.