We rescued Pepper from a nearby shelter last summer, just two weeks after our previous dog, Midori, had passed away. Some people told me that it was too soon to get a new pet, but I felt like it was the right thing to do. I desperately missed having a dog around, and would spend hours looking through Craigslist ads and humane society adoption listings. Nothing jumped out at me. I knew I would never find another Midori, but the girls left for school in the morning, the loneliness of an empty house was overwhelming.
The day we met Pepper, I remember it clearly – Monday, June 2, 2014. My birthday, but that was just a coincidence. I think my husband noticed my sadness, and suggested we visit an animal welfare league in Alexandria after seeing a photo of a newly-listed dog online. We stopped by that afternoon.
As the door opened into the dog room, the barking was immediate and almost deafening. I slowly walked down the aisle, which was lined with cages on both sides. I saw a little Yorkie jumping up and down, yapping like crazy, as if to say "adopt me! adopt me! adopt me!" There was a sweet mastiff that was missing one leg, an adorable Chihuahua, and I could go on and on… so many precious animals needing a home.
Pepper… she was the only dog in the entire room that didn't bark. She actually retreated as far into her kennel as she could, only her head sticking out of the doggy door. This, of course, made her even more endearing. We were able to take her into a playroom to get to know her a little bit. Pepper was found roaming the streets somewhere in West Virginia, so we weren't given too much information about her, other than that she was healthy, if a little underweight. I noticed that she had protruding nipples, so she likely had several litters of puppies. She also walked funny, with her back paws facing out. Probably because she lived most of her first two years in a crate. I just knew in my heart that she was the right dog for us.
It wasn't until we brought her home that we discovered she was terrified of men. Scared to walk in the grass. Frightened by loud noises. Fearful of balls. Petrified of being in a crate. She was pretty much spooked by anything and everything. I cried and cheered as she made progress over the next few weeks. An entire month went by before she finally took a treat from our hands, and soon after that, she began to play with some of her new toys. She went from walking in the street, to delicately treading along the curb, then bravely venturing into the grass one day. The first time she pooped in the grass, I squealed happily and showered her with treats. I probably looked like a crazy person!
A year and a half later, I can't imagine our lives without her! Pepper's become part of our family. We're still dealing with some of her "quirks" – like being afraid of my husband – but she's come so far in the past year.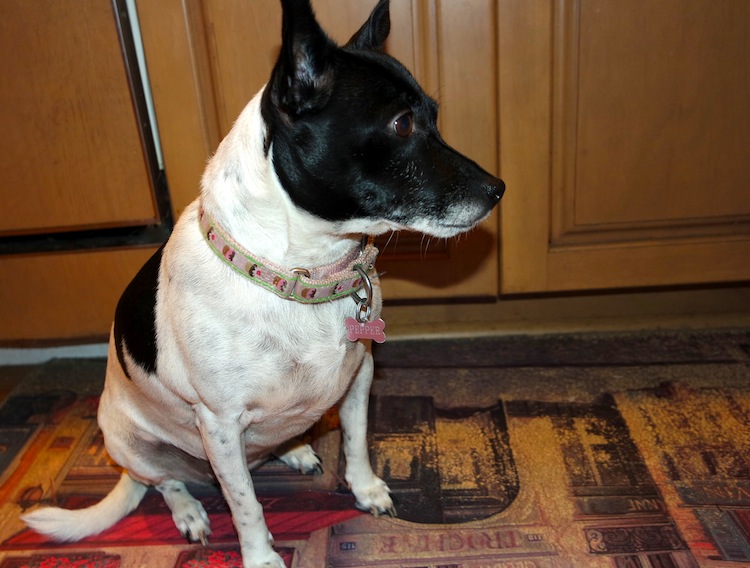 Pepper's eating habits are interesting. She takes a mouthful of kibble and runs off with it. As far as she can, in fact. Usually to the living room, where she'll dump the food on the carpet, and eat it there. Sometimes even outside, if I happen to leave the door open. When I close the kitchen doors and sit down on the floor, she'll stay. I'll talk to her, reassuring her that everything's okay, but she looks up at me after every bite, afraid I'll take her food away at any moment. I even tried changing her food bowl, thinking maybe she didn't like the way the kibble sounds against metal, but that didn't work.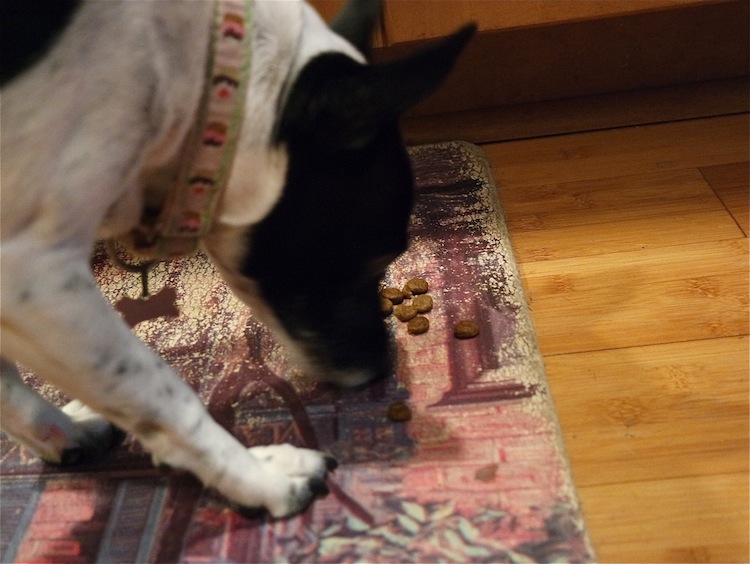 I know this is completely normal. Instinct, even. It's the pack mentality. She's just ensuring she gets her share of food and can eat it in peace. Pepper's not aggressive, so I've learned to just let it go.
Recently, I switched her food over to Rachael Ray Nutrish. I did this slowly, over about a week, adding a little more of the new food to her bowl at every feeding so as not to upset her stomach.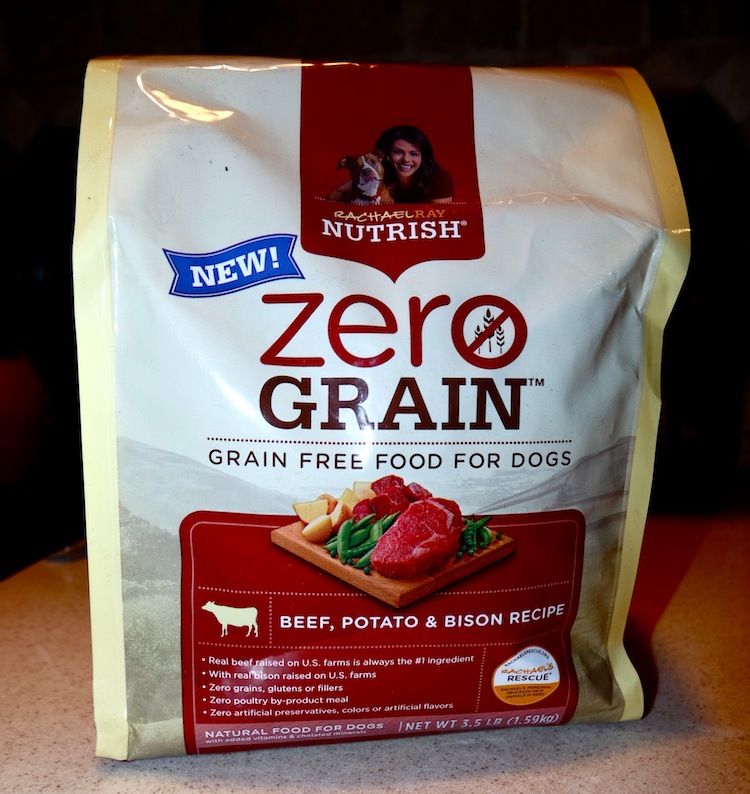 From the moment I first opened the package, Pepper has loved Rachael Ray Nutrish Zero Grain Beef with Bison Dry Dog Food. It has a nice, meaty smell and the kibble is just the right size. I like that it's made with simple, natural ingredients like real U.S. farm-raised beef, from bison raised on U.S. farms. Looking at the nutrition label, real meat is the number one ingredient, combined with wholesome vegetables. There aren't any grains, glutens or fillers in it, or artificial preservatives, colors, or flavors either, for that matter.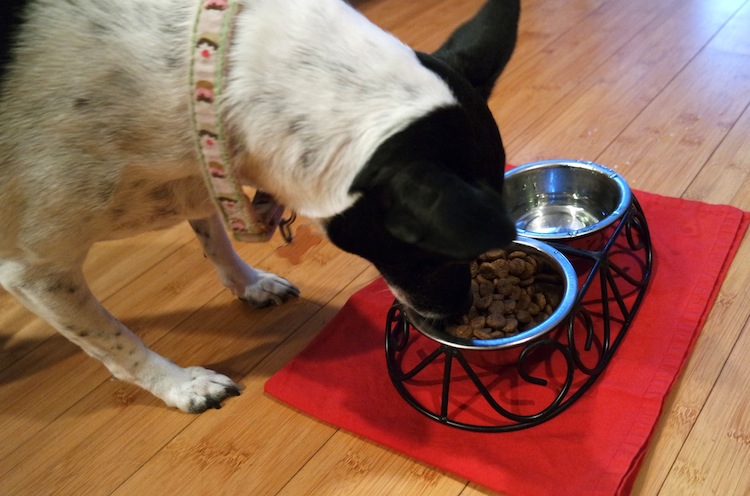 If you know anything about Rachael Ray, you know she loves her dogs! All the pet food recipes were inspired by Rachael's kitchen, and her personal proceeds go to Rachael's Rescue, a charity she created to help shelter pets in need. To date, the company has donated over $9 million to the charity, which has gone toward food, medical supplies and treatments for these beautiful animals.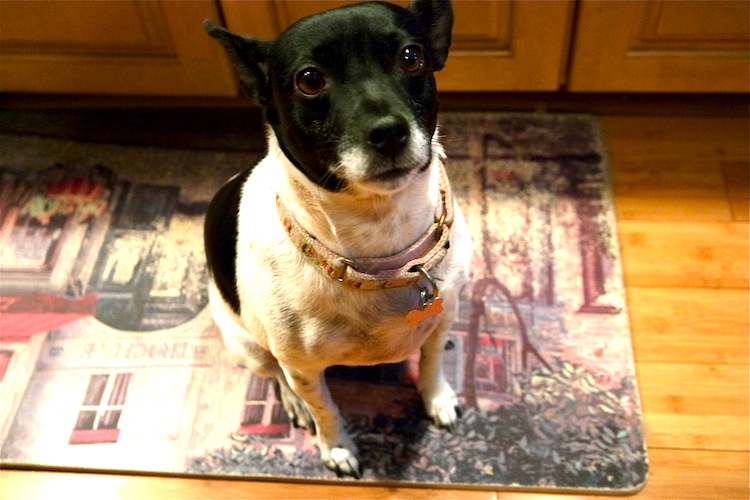 Want to try Rachael Ray Nutrish? It's the first premium brand of dog and cat food that is only available at grocery stores and mass retailers like Target, Walmart and Amazon. Be sure to get your Rachael Ray Nutrish discount for $3 off Zero Grain pet food before heading to the store. Follow Rachael Ray Nutrish on Twitter, Facebook, and Instagram to learn more. Let me know what you think!