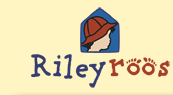 I've said it before – soft-soled shoes are the next best thing to being barefoot. It's all my toddler wears when we're out and about! You can see the difference in how a baby walks or runs when they're wearing hard-soled shoes… they tend to trip and stumble more, because the shoes don't flex and their toes can't curl and grip the ground.
I get so excited when I discover a great, new brand of quality baby shoes! Rileyroos have only been around for 2 years, but I see this brand becoming a classic. Their design is inspired by a combination of European fashion trends and the casualness of the American spirit, and the quality of construction is first-rate.
My daughter has been wearing a pair from Rileyroo's new Spring/Summer 2009 line for the past few couple of weeks. Brookie in the Pixie color. They could not be any cuter! The shoes are hand-stitched, which not only makes for attractive accents on the shoes, but also means they are breathable. And we all know how sweaty babies' feet can be!
These particular Rileyroos are made of a soft, light-weight leather, but there are other styles available in patent leather, micro fabric, wool and canvas. The flexible leather soles have a unique soft rubber padding that gives extra traction. This makes the shoes stronger, more durable, and more supportive than shoes that only have leather bottoms (like Robeez).
What makes Rileyroos different from the competition is that the toe of the shoe curls up slightly. This protects the foot from inevitable falls, and provides leverage as babies make the transition from sitting to crawling to walking… and running!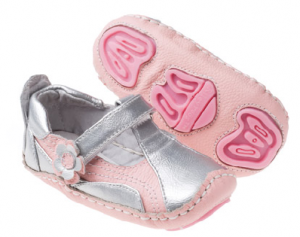 There is one thing that I'm not happy about. Rileyroos only come in four sizes! 3-6 months, 6-12 months, 12-18 months, and 18-24 months. The shoes run a little big, so my 19-month old, who's wearing the largest size (and has BIG feet), still has a little room to grow. But unless the company starts making bigger sizes, this might be her last pair.
Long after she outgrows them, I'll always remember her Rileyroos as the first shoes MJ could put on and take off all by herself. They're the first thing she reaches for when it's time to go!
You can find these adorable shoes online at rileyroos.com, or search for a retailer near you if you'd rather try them on your child before buying. They retail for $30-35.