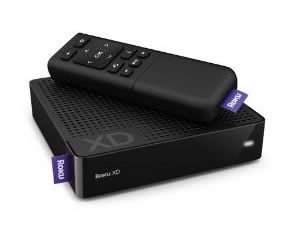 Other than its ability to stream Netflix movies, I knew else nothing about Roku when I received it earlier this month. I avoided reading reviews and didn't even browse the website so I could give a completely objective opinion.
My first impression? Wow, this thing is tiny! I'm not sure what I expected… maybe something the size of a video game console or a DVD player perhaps? Nope. At less than 5 inches wide and only 1 inch tall, Roku is the size of my hand!

It's so simple to set up. Just plug in the included red/white/yellow A/V cable from Roku to the TV. If you have an HDMI cable, that's a better choice, but it has to be purchased separately. Then you follow the on-screen directions to add it to your home network. Don't have wi-fi? No problem. You can plug an ethernet cable into it. And that was it! You control Roku with the included remote. It's tiny and very basic, but that's all you need. We were watching The Princess and the Frog on Netflix in maybe 5 minutes.
While Roku is best known for its partnership with Netflix, I was pleasantly surprised to see that it does so much MORE! Watch Amazon Video On Demand, listen to Pandora Internet Radio and stream your mp3s, NHL GameCenter for the sports fans, browse your Flickr photo albums, and even Facebook photos, too! I particularly enjoyed showing off my Flickr photos with family and friends. Even on a big TV, the photo quality was great. More channels are added all the time.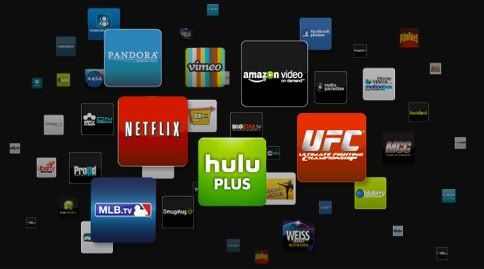 Most recently, Roku partnered with Hulu to provide Hulu Plus service on all Roku players. It's not free, however – hence the 'plus – but at only $7.99 is an affordable option. Cheaper than cable and a DVR and now subscribers can stream current hit TV shows like Glee, Modern Family, and 30 Rock in HD on their TV anytime they want!
Since it's so tiny, Roku doesn't consume much energy at all and always stays on (unless you unplug it, of course). In fact, it doesn't even have an off button. I thought this was a little strange at first, but then found it to be really convenient. No waiting for a device to start up. Just turn on the TV, click over to the Roku Channel you want, and you're good to go! It's an awesome device. I can never complain that I have nothing to watch now!
BUY IT!
Roku players start at just $59.99… a reasonably-priced and practical holiday gift. There's a 30-day money back guarantee and a one-year warranty on the device. You just have to decide which Roku to get! The useful comparison chart on roku.com should help you choose which model is the best for you (or that special someone on your Christmas list!) Plus, this weekend only, Roku is offering FREE SHIPPING on the XD and XDS models. This promotion started today (Friday, December 10th) and ends on Sunday, December 12th at midnight PST, so hurry! To get the deal, simply go to www.roku.com.
WIN IT!
Giveaway is closed. Winner has been notified and is listed here.
One of my readers will win their very own Roku XD! To enter to win, please visit the Roku Channel Store, take a look around, and leave a comment below telling me which channel (other than Netflix!) you'd love to check out.
For extra entries:
Roku provided me with a product sample to facilitate this review, plus the giveaway prize for one lucky reader! Contest ends December 19th, 2010 at midnight EST. US entries only, one person per household. Leave a separate comment per entry and a valid email address. Winner, chosen at random, has 3 days to claim their prize.